With Sadio Mane reportedly a priority signing for Jurgen Klopp this summer, we explore how the Southampton attacker compares to his Liverpool counterparts.
Reports from the reliable crop of Merseyside reporters continue to link Mane with a £25 million move to Anfield this summer.
It appears the Reds have turned their attentions to the flexible Saints forward – of whom Klopp is said to be a long-term admirer – after prime target, Mario Gotze, committed his future to Bayern Munich.
So with Mane seemingly Klopp's chosen man to bolster the attack for next season, how does the 24-year-old compare to the Reds' current options?
Mane at Southampton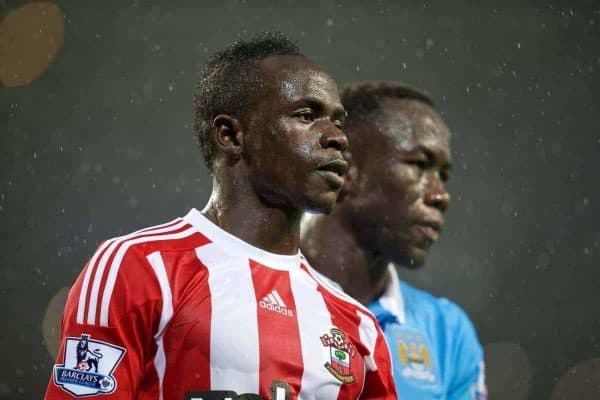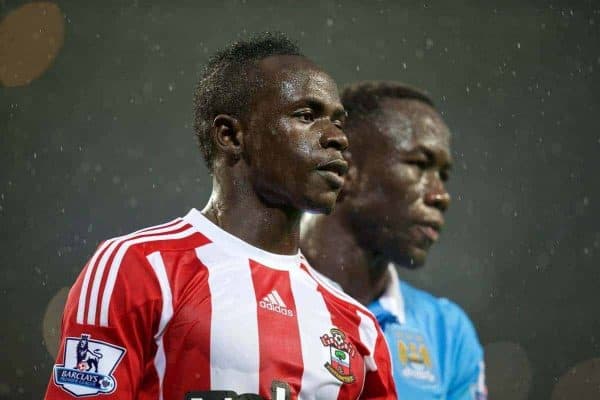 Playing down the middle and from wide positions – predominantly the right side – Mane has become an important figure at Southampton.
His pace and power playing across the front has impressed at St Mary's, where his goal and assists contributions as well as his raw "match-winning" ability, as Saints fan Chris Rann explained, have endeared him to the Saints faithful.
After two years at Southampton, Mane's figures are certainly impressive – as shown by the season-by-season breakdown below – especially when taking his age and the fact he has settled into a new league into consideration.


Mane's impact has been influential, playing a big part in helping Saints to impressive seventh and sixth placed finishes in the league under Ronald Koeman.
Moving from his first season to his second – in which he finished as Saints' top-scorer in all competitions with 15 goals – it's clear to see he has improved in most aspects of those detailed.
Mane clearly carries a genuine goal-scoring threat, while his assists record is respectable if not spectacular, and his defensive work with tackles – vital for the defend-from-the-front style under Klopp – is also promising.
Last season, Mane was involved in a goal every 153 minutes – an improvement on the 164 minutes per-contribution posted during his first season in the Premier League.
Signing for a reported £11 million, Mane has certainly been a success story at Southampton, but the latest Saints player heavily tipped for a move to Merseyside, how does he compare to Liverpool's current attack?
Comparison with Liverpool's Attackers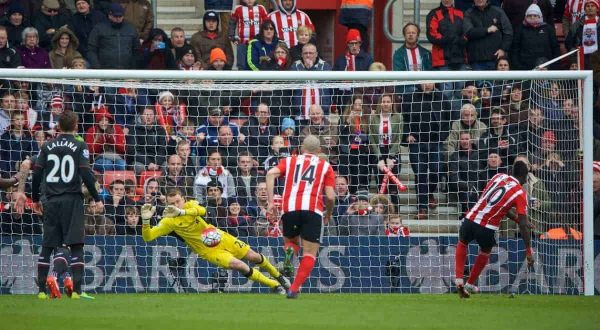 Questions over Mane mainly centre on whether he is an upgrade on what Liverpool already have, and if he will bring the right qualities to Klopp's attack.
Firstly, for context on how he has evolved as a player at Southampton, here is how the current Reds compare statistically in the league last season.


Roberto Firmino matched Mane in number of contributions  – despite playing six games fewer – with James Milner commendably only one contribution behind even with nine fewer appearances.
Firmino was therefore most prolific contributor of the Reds quartet – posting a direct involvement every 116 minutes – with Milner also edging ahead of Mane with a contribution every 151 minutes.
Philippe Coutinho made a telling impact every 154 and Adam Lallana every 211 minutes in comparison, with the England international's output lagging behind his counterparts considerably – a place Mane could perhaps command should he join.
Worryingly, Mane surrenders possession far more regularly than the current Reds, posting the most unsuccessful touches, while he also displays a lack of key passes. But those negatives haven't impacted on his set-ups over the last two seasons.
As shown below, Mane betters both Lallana and Coutinho for assists, while he leads the way for goals scored, even eclipsing Firmino, who posts set-ups and goals in equal measure, but has played regularly as a striker.
This is certainly impressive, considering the amount of games he's played in comparison to Liverpool's attackers.


Inconsistent Concerns
But there is one real concern with Mane that isn't shown in statistic overviews, that being his extended lulls in form and underwhelming production within his lengthy ineffective periods.
As shown by the graph below, Mane went a concerning 20 games without a direct contribution in his first season at Saints, worryingly beating that last season, going a staggering 25 games without a goal or assist, showing such a lack of production was not just a one off.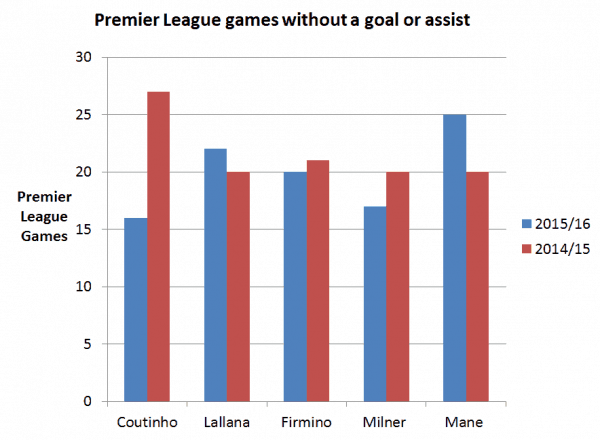 It's a feature Liverpool certainly don't need, with Coutinho – who to his credit made a real improvement after a dire 2014/15 of 26 games without contribution – and Lallana in particular players that endure poor patches.
The significant lax periods arguably make Mane's numbers more impressive, but the fact he plays in bursts is a concern for Klopp, who has made it clear he doesn't want passengers.
Perhaps the thinking is that Klopp can develop the 24-year-old further and make him more consistent. He's certainly done that in the past with similar players.
Mane for Liverpool?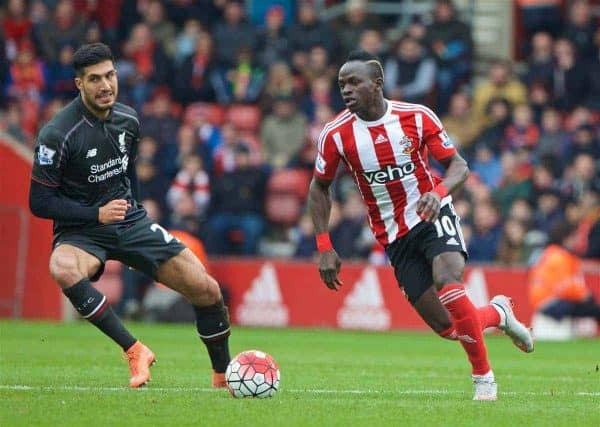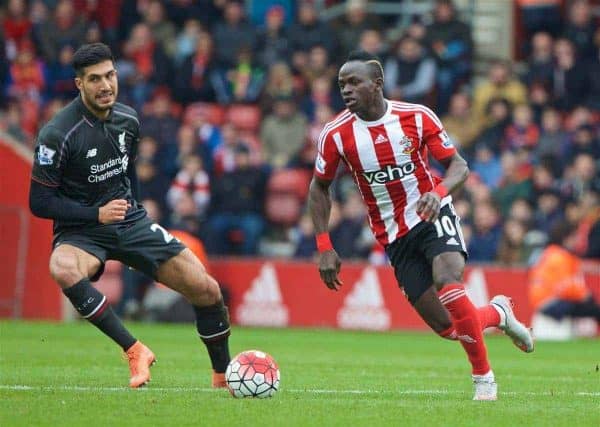 It must be stressed that statistics never tell the full story and are certainly not the only barometer to decide on whether a player is the right man.
However, aged 24 with time ahead of his prime years, Mane is certainly a talented player and one that could add positively to the attacking department, suited to a wide role that Klopp publicly stated he wanted to address.
His goal-scoring ability from out wide – nine of his 15 goals last season came when playing from the right – would be extremely welcome, as would his versatility in being capable of leading the line or playing as part of a support unit with his pace, skill and predatory instinct.
However, Mane's output suggests he wouldn't be an immediate upgrade on the men already at Anfield, and an element of doubt over his suitability comes with his problems with consistency, discipline and reported valuation.
For those reasons, Liverpool would be wise to explore other avenues before committing to the promising but work-in-progress Senegalese international.
But perhaps the inconsistency and fears are something Klopp believes he can address, which, if he can, would make Mane an exciting addition at Anfield.
Stats via Transfermarkt & Whoscored.