On 15 April 1989, 96 people were fatally injured on a football terrace at an FA Cup semi-final in Sheffield. The Hillsborough disaster was broadcast live on the BBC; it left millions of people traumatised, and English football in ruins.
And the Sun Shines Now is a book about what arrived in the wake of unquestionably the most controversial tragedy in the post-war era of Britain's history. The Taylor Report. Italia 90. Gazza's tears. All seater stadia. Murdoch. Sky. Nick Hornby. The Premier League. The transformation of a game that once connected club to community to individual, into a global business.
In powerful polemical prose, against a backbone of rigorous research and interviews, Adrian Tempany deconstructs the past quarter century of English football and examines its place in the world.
Perhaps the most honest account of the relationship between football and the state yet written, And the Sun Shines Now is a brutal assessment of the modern game.

'Sorry, Lad…I Can't Move'
Extract from And the Sun Shines Now: How Hillsborough and the Premier League Changed Britain
By Adrian Tempany
As I emerged from the tunnel leading to pen 3 and into the sunshine, I remember thinking: 'Where would you rather be on a day like this?' The previous year, I had stood towards the front third of the terrace and got lost in a surge.
Now, I leant idly on one of the crush barriers, drinking in the sight of a big Victorian stadium filling up on FA Cup semi-final day. The atmosphere was excitable, tense, expectant. I moved slightly this way and that as the sun moved across the terrace, and chatted briefly with lads who came and went in search of a better 'spec'.
But by 2.40pm. the crowd around me were wheezing and heaving and settling slowly, grudgingly, like cement. My feet were wrapped up in a slight surge, and for half a minute or so I moved softly on the back of other people's legs, before finding solid ground again. But I was now towards the front third of the terrace, and no longer able to move freely. People were starting to jockey for position, using elbows, knees, even heads.
'Sorry, lad, sorry, but . . . I can't move.' Gradually, people around me began to sweat; others were pleading with the people behind them for room. The response was always the same: 'I can't move.'
I can't remember seeing a footballer that day. By 2.45pm my head was turned sideways to the pitch. Hands were pressed on my back, and feet against my legs. Someone's breath was blowing hot on my hair. Rival chants were bouncing the length of the stadium, but no one was coming to help.
Behind us, outside the ground, the police had lost control out there too. With insufficient turnstiles to admit the 10,100 Liverpool fans into the Leppings Lane terrace, and thousands of others into adjoining seats, the crowd had backed up towards Leppings Lane road – around 2,000 people were now crammed into an area the size of a few tennis courts. At 2.47 p.m., Superintendent Marshall, the officer in charge outside the Leppings Lane, was 'having to shout to make himself heard on the radio'.
Fearing fatalities, Marshall radioed the match commander, Chief superintendent Duckenfield, and asked him to open a large concertina gate to relieve the pressure on the turnstiles. Initially, Duckenfield refused. But it was just over ten minutes until kick-off, and there were thousands of people still to get through the turnstiles. Duckenfield could have delayed the kick-off, but he didn't.
Inside, the central pens had been bursting for nearly 15 minutes. By now, intermittently, my legs, my backside, my arms and my chest were numb. My right foot seemed to move involuntarily, until I realised that it wasn't on the ground but planted on another man's calf. Around me, people were passing out.

One of Hillsborough's glaring safety deficiencies was about to turn an emergency into a catastrophe. There was only one tunnel leading from the inner concourse to the Leppings Lane terrace, and above it stood a sign marked 'STANDING'. It appeared to be the only access to the entire terrace, and yet that tunnel led only to pens 3 and 4; access to the wing pens 2 and 5, via other routes, was poorly signposted. To most supporters arriving on the concourse, the tunnel seemed the only route into the stadium.
And yet, by ten to three, people already in pen 3 were sweating, swearing and hyperventilating. Some were crying. Hundreds were screaming for help from the police across the fence, but still no one was coming. The players seemed to be on the pitch – there was a roar around the ground. But I couldn't see them. It felt as if every part of my body was being compressed and stretched at the same time. My lungs were burning and freezing in alternate breaths. A voice behind me: 'Open the fucking gate!'
At 2.52 p.m., someone did open the gate. But it wasn't the gate in the perimeter fence that would have allowed people to escape onto the pitch; it was exit gate C, back out by the turnstiles. Around 2,000 people now moved straight for the tunnel to pens 3 and 4. With no police deployed to seal it, they were compressed into a tunnel just 14ft wide, and built on a one-in-six downward gradient. The natural compression ploughed them into pens 3 and 4. Some were picked up by the momentum and 'thrown' into the stadium. One fan recalls being spun in mid-air and entering the ground 'with my back to the pitch'.
The momentum carried dozens of people nearly as far as the perimeter fence at the front of pens 3 and 4. Around 12 feet from that fence, it felt like someone had hit me between the shoulder blades with a hammer. But I was fortunate: I was hit square in the back and driven forward; some of those around me were clipped on the shoulder and went down – not to the floor; but far enough down that their head space, crucial to breathe, was lost.
People cried out and passed out almost immediately. The screaming was unbearable. Crushed for nearly 15 minutes now, I was still conscious, but starting to fade. The man beneath me, on whose legs I had been standing, had been silent for a while. Pens 3 and 4 were meant to hold 2,200 people; there were now more than 3,000 of us in there.
A crush barrier towards the front buckled and gave way, with a loud snap. But I didn't see it. I was losing my peripheral vision, and my breathing. Every minute or so, 50 or 60 people would wheel as one under the pressure from behind; as they moved, impaling someone's chest or ribs on metal or flesh or bone, a voice would cry out, then fall silent.
The crowd would settle again, helpless and exhausted, trying to draw breath and scream. But the energy was already building up again somewhere behind. We girded ourselves for the movement, tried to arch paralysed backs to protect both our ribs in front and those fans around us – people who seemed to be falling, sinking beneath us. But it was hopeless. The swell would eddy and build and break, and as we moved in a lump of tangled, compacted limbs, someone else would cry out.
At some point I became vaguely aware that the game had kicked off, and that people were dead on their feet: with no room in which to fall, they were carried in the fitful surges like shop dummies. In pockets, the air above pens 3 and 4 was now thick with the smell of excrement and urine as people, slowly being asphyxiated, lost control of their bodily functions.
I had no control or feeling in my body from the neck down. I was exhausted, and stiff with shock. Unable to move, too exhausted now to shout, I began to take in the final minutes of my life. In those moments, I thought about my family, my friends, and mostly about the girl I had started going out with four months earlier, and I realised how much I loved her.
Who had allowed this to happen? People had been screaming for their lives for 15 or 20 minutes now. First, 'Help! Help us!' Then, 'Open the gate, there are people dying in here!' Now, 'Help! There are people dead in here!'
Three men in front of me were going – slowly turning blue, their faces changing from a pale violet to a ghostly pallor, their lips almost trembling with cold. Some people were covered in vomit. Some were weeping. Others were gibbering, trying to black out what was happening.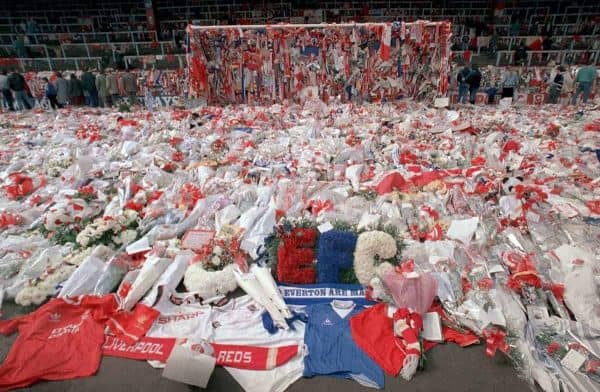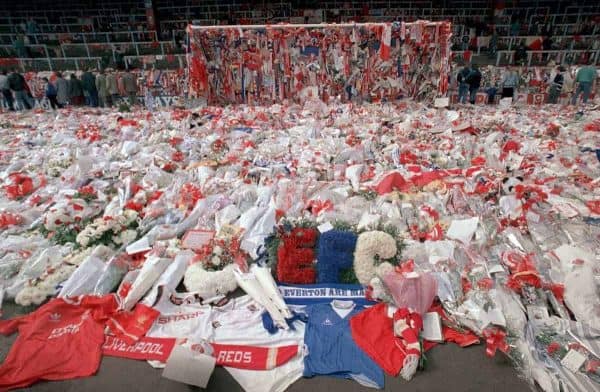 I was losing strength; I knew I couldn't survive much longer. My head was trapped in a channel, looking slightly to the left, to the North Stand, when into that channel walked a policeman. He stopped and looked into the terrace and straight into my eyes. I knew I had him, and I slowly, simply mouthed the words: 'Help. Help me. Help.' The police officer narrowed his eyes, looked at me keenly and paused for a few seconds. Then he screwed up his mouth and smiled, uncertainly, and he walked off.
In the next few moments, I knew that I was about to die. Some people around me had been dead for some time – ten minutes, perhaps. I had no strength left, and something like sleep was beckoning. Then, from the back of my mind came a voice I had never heard before and have never heard since: 'Fifty seconds,' it said, 'you've got 50 seconds left.'
As those seconds began to tick down, I summoned up every last ounce of strength left in my body to shove people off me, lever myself onto their shoulders, climb up and escape. But as I heaved and pressed and heaved again, I didn't move an inch. Those pressed tight around me were heavy, and wet, and some would never move again. My head sank forward, and I gave up.
As the seconds passed, I thought again of my girlfriend, my family and my mates. I knew that my brother would have to identify my body shortly, and I didn't want him to find me with a look of pain on my face.
In those last few minutes on the Leppings Lane, I was overcome with euphoria. In the final few moments before death, the brain can flood the body with endorphins to protect against pain. Now, I began to float away, taking in the end of my life. I looked up at that beautiful blue day, opened my mouth towards the sky and sucked what I could out of it. And then I closed my eyes.
A few moments later, they opened. The police had finally unlocked the gate in the perimeter fence and were swearing at us. And I had survived.
* Adrian's book And The Sun Shines Now is available to buy now.