A video released by Liverpool FC on Thursday shows the recent developments on Anfield's Main Stand as work continues throughout the summer.
No sooner had fans left Liverpool's final home game of 2015/16 — a 1-1 draw with Chelsea back in May — than work began inside the stadium on transforming the Main Stand.
The new Main Stand will take Anfield's capacity to around 53,800, as well as dramatically enhancing the area outside the stadium.
The video above shows the work done so far this summer, from ripping out the stand's remaining seats and the construction of the new 3,000 capacity middle tier, which is now complete.
Work is also ongoing in installing lighting, kiosks, lifts and escalators.
Earlier this week, This Is Anfield brought you photos showing the transformation happening around Anfield, including the public access between the stadium and nearby Stanley Park, for which the landscape gardening is due to commence shortly.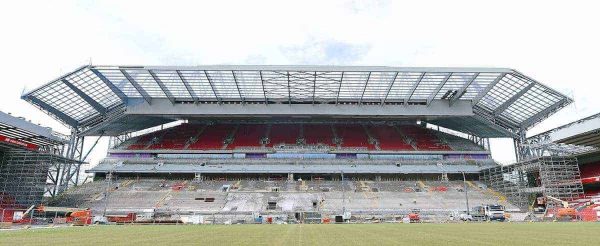 The whole Main Stand project, including all the internal areas – with dressing rooms and media areas being temporary when the season begins – is due to completed by January next year.
Last night it was reported that Burnley have agreed to switch their Premier League fixtures against Liverpool with the Anfield clash having been scheduled for August 20th.
If confirmed, the switch will mean the Reds' first home game of the season will take place on September 10th against Leicester City.
It will be Anfield's highest attendance since May 1977, when 55,675 witnessed a 0-0 draw with West Ham.