The new Premier League season promises to be one of the most exciting in history, and for Liverpool talisman Philippe Coutinho, it represents a period where he must go up another level.
He may be a huge name at Anfield, and quite possibly the most talented footballer in the Liverpool squad, but Coutinho has almost gone under the radar this summer.
Euro 2016 has understandably dominated the headlines, with 12 Reds players participating in France, while Brazil's early Copa America exit went fairly under the radar on English shores.
Constant transfer talk surrounding new signings and potential outgoings has also covered plenty of column inches, as well as focus on possible second-season wonders like Roberto Firmino.
Nobody has really spoken about Coutinho.
For the dazzling 24-year-old, 2016/17 represents the most important season of his career to date, as he reaches a crucial stage in his career.
Pivotal Next Chapter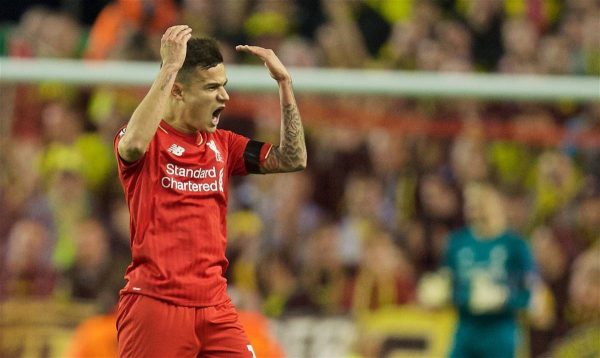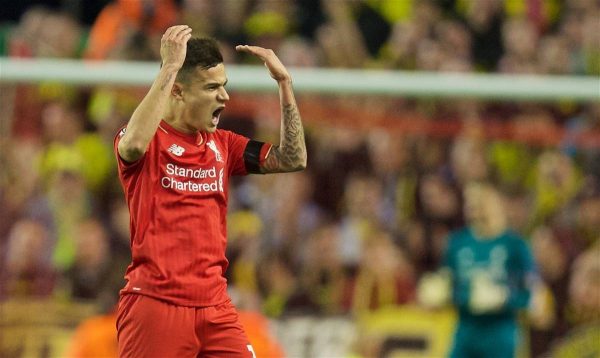 The age at which footballers peak depends on a number of factors, including position, injury problems and the speed at which they develop.
By 24, however, an attacking player should certainly be in or approaching his prime.
Steven Gerrard was that age at the start of 2004/05, and it proved to be the season in which he went from fantastic young talent to one of the best players in world football.
Luis Suarez and Fernando Torres joined Liverpool at 24 and 23, respectively, and their games went up a significant notch upon their arrival.
Daniel Sturridge turned 24 at the start of 2013/14, and is yet another example of attack-minded players really finding their feet in their mid 20s.
Coutinho is now at this exact point in his career, and having wowed us with his brilliance sporadically over the last three-and-a-half years, he can no longer be seen as something of a luxury player.
This is his time to find another level—a level that we know he is more than capable of reaching.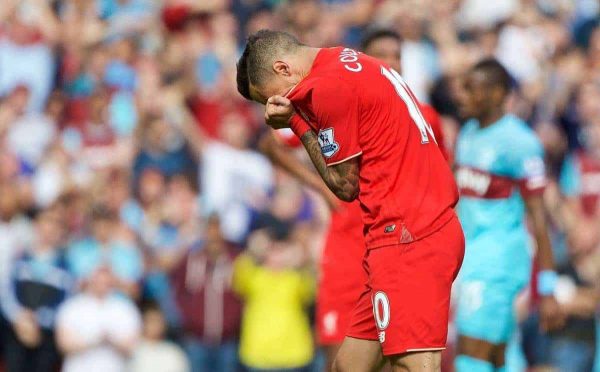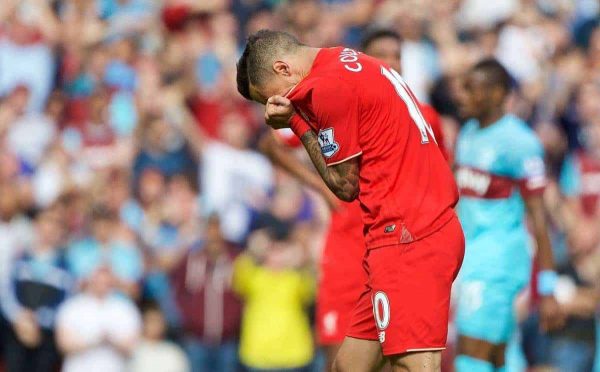 For every magnificent display over the last few years, there has been a mediocre performance thrown in. For every 30-yard thunderbolt, another 10 shots have ended up in the crowd.
This inconsistency is something you can get away with in your late teens and early 20s—Emre Can, at 22, is still awarded that luxury, for example—but there comes a time when it must stop.
No longer can Liverpool afford to have one of their best players on the periphery of matches, as was the case a number of times last season.
It was no more apparent than in the Europa League final loss to Sevilla, in which it was almost painful to see how on the fringe of the game Coutinho was.
Great players know when it is their moment to step up, and Coutinho is a great player—potentially, at least.
Brilliant, But Not Perfect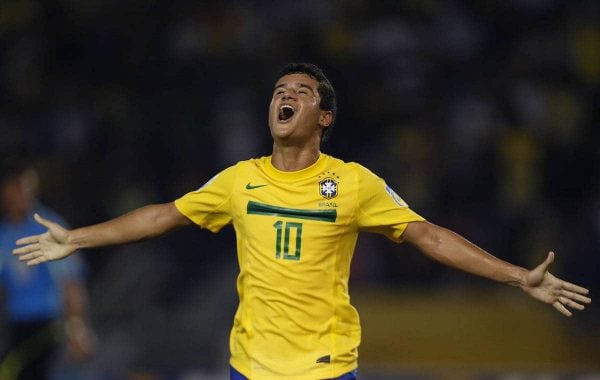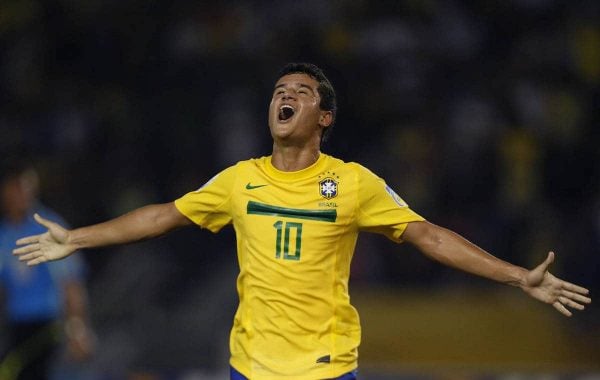 During Brazil's brief Copa America campaign last month, we finally saw Coutinho come of age for the Selecao.
His emphatic hat-trick may only have come against an extremely limited Haiti side, but he stood up and took the game by the scruff of the neck.
It is sometimes claimed that Coutinho is a little too shy and lacking in character, and while that may be true to an extent, he has shown in the past that he can run a football match in arrogant fashion.
The hope is that this is what we start to see week in, week out at Liverpool next season and beyond.
Gerrard, Suarez and Torres did it every week eventually. So did Cristiano Ronaldo when he hit peak age at Man United. So has Eden Hazard for Chelsea, forgetting last season's wretched form.
Sturridge is a special player, Firmino has the ability to become a real star and Can is becoming a colossus, but Coutinho is still the man who makes the Reds tick.
Admittedly opposing supporters will often only see the good things Coutinho does on highlights packages, but most look at the Brazilian as the Liverpool player they fear most.
It is now a case of Jurgen Klopp spending time with him on the training ground—he returned for pre-season on Monday—and turning him from a player of sporadic genius to one who can do it in almost every match.
Twenty-eight goals in 145 appearances is not much to write home about for a player of Coutinho's class, and a more reliable flow of goals and assists is needed from what is likely to be his familiar left-sided position next season.
Marco Reus, who adopted Coutinho's role for Borussia Dortmund during Klopp's time there, scored 53 times in 122 games under the 49-year-old. Those are the kind of figures the Liverpool man should be aiming for.
While Coutinho may not hit those heights, trying to average a goal every three games should be the aim. Fifteen goals a season should be very achievable.
A little more trust in team-mates is also needed, with the 24-year-old sometimes guilty of trying too much and conceding possession in the process.
This decision-making and all-round intelligence is another thing that comes with age, and it is another area where Coutinho can improve.
Special Talent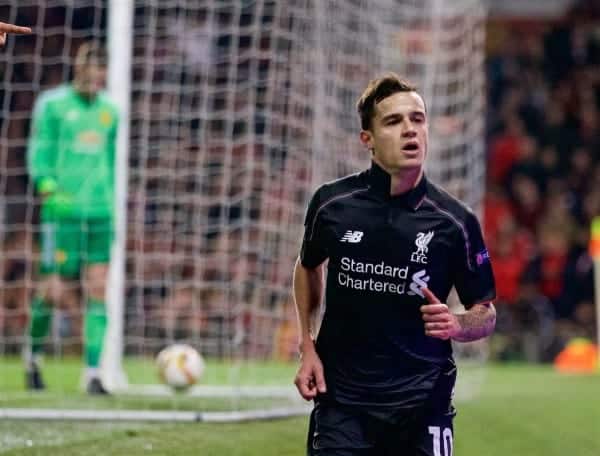 Some of this may sound a little like a rant at Coutinho's expense, but like a proud parent, it is simply that feeling of knowing someone can do better.
He is a fantastic talent who has given Liverpool supporters many great memories already, but he can become one of the best players in the world.
There is a reason why Barcelona have been linked with him so often, and if he can reach the next level, there is no reason why he can't be a future replacement for Andres Iniesta.
For now, we should treasure seeing him in a Reds shirt, but also expect that little bit more from him.
With high-profile managers arriving in the Premier League and some huge players likely to join them, Coutinho has been forgotten about.
He can be one of the standout players of 2016/17, though, with his incredible talent capable of driving Liverpool to glory.
The Reds' diminutive forward must find consistency, however, and reach a stage when rival fans are sat ruing yet another Coutinho masterclass.
He is at the most important point of his career to date, and it would be a travesty if he didn't kick on and become the superstar he can be.