As redevelopment work continues on Anfield's Main Stand, prices for the sale of the old wooden seats has enraged supporters.
Priced at £200 for members and season ticket holders, and £225 for general sale, supporters can buy the wooden seat from the old Main Stand. The eye-watering price has understandably not sat well with fans.
In the era of commercialised football, this represents another own goal for the football club, further alienating the regular match-going supporter.
Fans who had sat in their seat for decades, paying for the privilege to do so, are now being asked to stump up £200 – not that they can actually select the seat that they previously occupied, with choosing your seat not available as an option.
Some fans have suggested that perhaps the club should have priced the seats more reasonably and offered at least part of the proceeds to the LFC Foundation.
The old Main Stand had 9,597 seats, some of which had been in place for 100 years, that's £1.9 million if all were sold for £200. The total figure will be over £2 million with sales at £225 too.
The club are also selling personalised stones for outside the new Main Stand – with the highest priced at a staggering £499.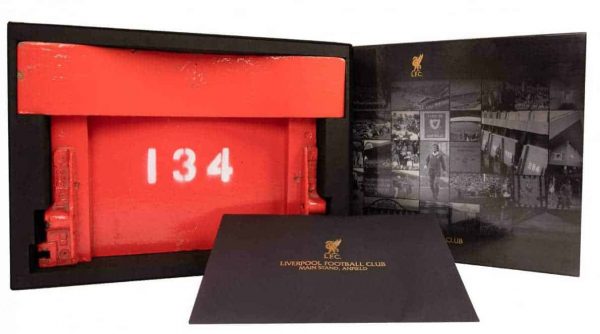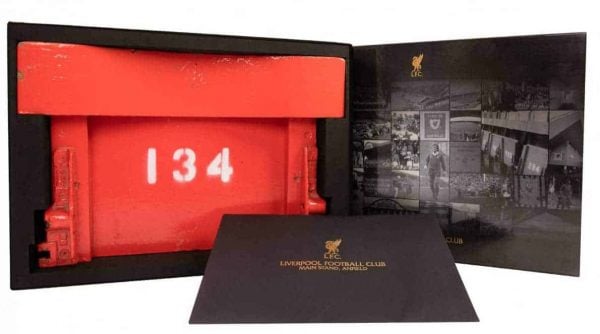 Liverpool's promotion of the seats reads:
"Liverpool FC's main stand is one of the UK's longest surviving football structures, inside one of the world's most iconic grounds. Currently going through a state of the art renovation – the wooden seats that previously dominated the stand were a familiar part of Anfield's historic look and feel. Some of the wooden seats date back to 1906, with all of them witnessing many a famous Anfield night. We are now giving fans a once in a lifetime chance to own one of these historic Anfield Main Stand wooden seats with a specially produced product.

"Until the 2nd August, season ticket holders and members have the first opportunity to pre-order a boxed Collector's Edition Main Stand Wooden Seat.

"The back and base of the each original main stand wooden seat are beautifully presented in a special edition collector's box. The box displays black and white images of the clubs iconic stadium, the stand itself and some of the historic players and moments it has witnessed.

"Each box also contains a certificate of authenticity and a main stand history booklet written by Liverpool FC Curator Stephen Done that are housed in a liverbird branded presentation envelope for safe storage.

"Please note that as this opportunity is exclusively available to season ticket holder and members first, via the clubs online store, and you must be logged in to purchase in order to verify your eligibility.

"This is a once in a lifetime, never to be repeated, opportunity to own a piece of Anfield and LFC history."
* If you want to purchase one of these seats, you can do so at the official LFC club shop here.