Liverpool's final pre-season game ended in defeat as the Reds' midfield was overruled by a strong AS Roma side in St Louis.
Jurgen Klopp fielded an unfamiliar side in the 2-1 defeat as he continued to experiment with the Reds' squad ahead of their opening Premier League fixture against Arsenal.
Daniel Sturridge led the attack as Sheyi Ojo, Sadio Mane and Roberto Firmino supported him behind; Emre Can and Georginio Wijnaldum partnered each other in midfield for the first time; whilst James Milner captained the side from the left-back position once again.
Ragnar Klavan stood alongside Dejan Lovren at centre-back and there were also starts for Nathaniel Clyne and Alex Manninger.
All-in-all, it was a mixed performance in which Liverpool looked confused and disjointed at times but still possessed a threat going forward.
Ojo scored the consolation goal for Liverpool after a bright individual performance and the youngster continued to put a marker down for a place in Klopp's plans for the 2016/17 season; Sturridge still looked a shadow of his brilliant form but he was creative and inventive as Liverpool's main striker and will be expected to develop throughout the opening weeks of the campaign.
However, Liverpool's midfield and defence struggled against a strong Roma lineup, and on too many occasions the Reds were left wide open at the back.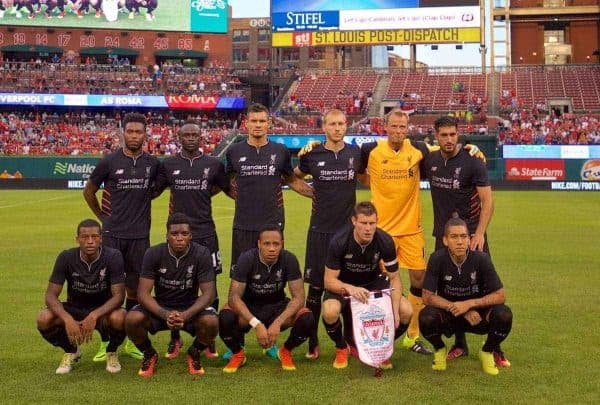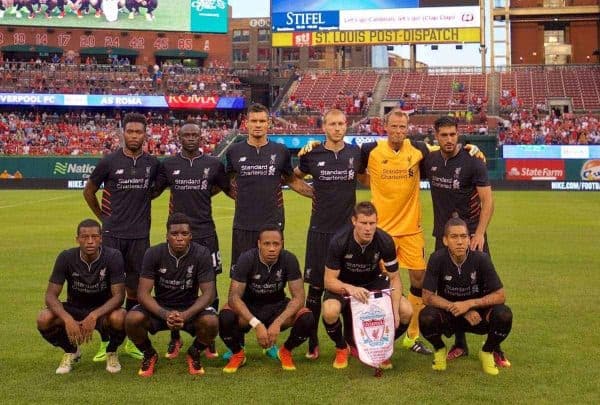 Lovren and Klavan looked reasonably strong in the first half, though former Manchester City striker Edin Dzeko caused problems for Lovren on a few occasions—the centre-back looked hesitant and allowed the attackers to run at him with space in front and was caught wrong-footed at times.
However, much of the mistakes at the back were caused by Roma's ability to break through the Liverpool midfield with ease, and they had too much time on the ball, which created problems for the Reds.
Can and Wijnaldum, who were paired together for the first time during the pre-season campaign, were overrun by the Roma midfield.
Kevin Strootman and Mohamed Salah were particularly dangerous for the opposition and they took advantage of a thin-looking midfield.
Both the Liverpool midfielders have a natural tendency to push forward and can cause problems from deep by driving through the opposition. Can and Wijnaldum are versatile players but are essentially attack-minded and that can be dangerous when they are both entrusted with a balanced role.
This was demonstrated on occasions during the match when both players drifted too high up the pitch, leaving space in behind them.
As a result, Roma exploited this and the Liverpool centre-backs looked exposed.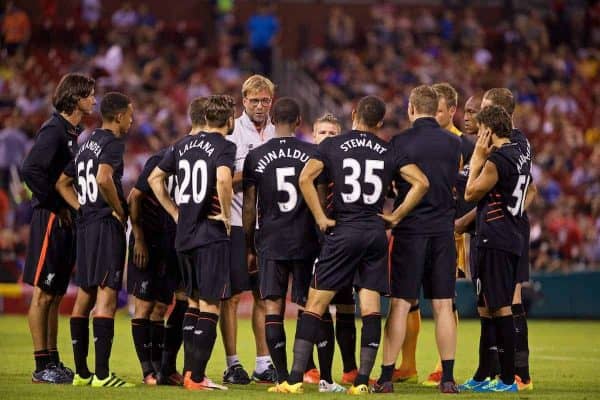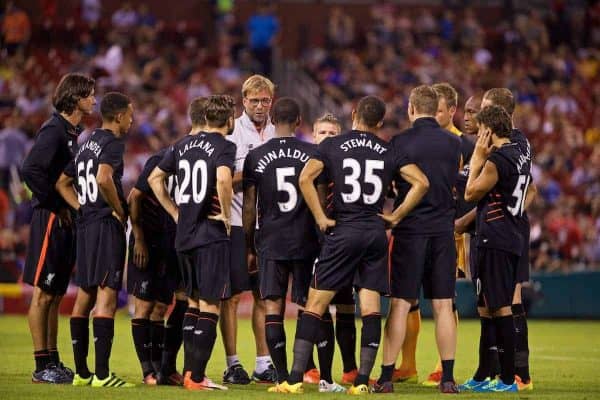 In the second half, the Reds were weakened as Klopp made 10 changes, including bringing on Andre Wisdom and Kevin Stewart for Lovren and Klavan. The changes highlighted Liverpool's lack of depth in defence and it must be a worry for Klopp—as his centre-back options are very slim ahead of the new season.
Mamadou Sakho and Joel Matip's injuries have dented what would've been a much stronger-looking defensive line, but if provided with more solid support in front of them, Lovren and Klavan look competent enough as the Reds' centre-back pairing.
Liverpool's performance highlighted the need for a defensive midfielder more than ever, as Can and Wijnaldum's capabilities were tested in roles that don't come naturally to either player.
Klopp boasts a squad with versatility and options but when it comes to fulfilling a specific role, there's nobody within the current squad who can act as an effective holding midfielder when counted upon.
The natural option, Lucas Leiva, has often acted in that role but he's never quite made it his own, and the Brazilian is expected to leave Anfield before the season starts.
Roma were top opponents, and although Can and Wijnaldum's partnership could be a success against weaker opposition, they weren't a match for the Italian outfit.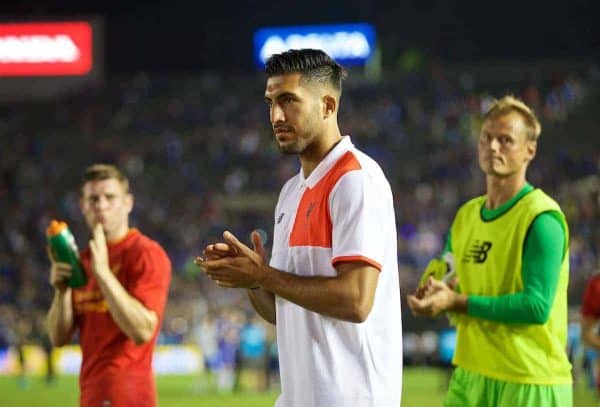 It's a position which has looked increasingly important for the Reds, who like to play in a 4-2-3-1 system often, and it's one yet to be addressed by the German boss.
Liverpool have been linked with a host of holding midfielders throughout the summer, but no real movement has been made in the transfer window to fill the void.
Although Can and Wijnaldum have the potential to progress as a midfield tandem, neither Liverpool player looks up to the mark as a defensive option just yet and it's certainly a limitation ahead of the new Premier League campaign.
The position, if filled, would add more stability to the Liverpool midfield and provide an important barrier in front of the Reds' defence which looks weak at times.
With a holding midfielder in support, Liverpool's creative players will have more freedom and license to move, adding another dynamic to the Reds attack.
In defence, they'll be supported further and it will limit the threat coming through the middle—which happened on too many occasions against Roma.
It's a role many Liverpool fans have called to be filled for some time, and if Klopp's side hope to compete against the Premier League's top clubs, they'll need to strengthen departments in midfield and in defence—and the holding role should be a priority.
---
---