This was a clash of cultures. North against south, the juxtaposition of heritage with the nouveau riche and the authentic versus the manufactured.
There may have been no mass plastic flag show, but the silly light display before kick off made the point just as well. It was the same on the pitch as Liverpool served up a first half that took us back to the glory days; full of hard work, grit and class, while Chelsea sat back and did their nails.
Jordan Henderson might have had a good feeling before Friday night's game but, if we are honest, most of us would admit to a sense of trepidation going into the game. We needn't have worried.
This felt like a watershed moment. Yes we've had them before, only for them to evaporate before our eyes. But, at the risk of inviting the scorn of our rivals, and some of our own, I'm going to agree with John Henry, but go further. Victory over the Londoners wasn't just 'huge' it was pivotal.
Huge!

— John W. Henry (@John_W_Henry) September 16, 2016
The construction of Liverpool's new era in concrete and steel back in L4, meant three tough away games in the capital. Anyone predicting 7 out of 9 points from that would have been understandably described as a fool.
When you consider that Liverpool could and should have taken all three points at White Hart Lane, then The Reds start becomes all the more impressive. Of course Burnley stands as a cautionary tale against counting chickens, but the weight of evidence so far suggests that the team that walked out of Stamford Bridge was the real Liverpool F.C.
That said, Jamie Carragher was rightly perplexed by Antonio Conte's apparent inferiority complex before the game. How could the manager of an expensively assembled group of all-stars on a hot streak, and tipped to challenge for the title, argue that "it was the wrong time to face Liverpool"?
Clearly it was this negativity informed his tactics and got into the heads of his players. For a home side, sitting second in the table, to sit off Liverpool the way Chelsea did, in that first half, is hard to fathom.
The Reds took full advantage and went at the Londoners from the off. This was a team missing Roberto Firmino, with a midfielder filling in at left back, a centre back pairing still learning to live with each other and a captain refashioned into a defensive midfielder, after a season blighted by injury – but none of that mattered. Klopp's Liverpool are a team who believe in the plan, and they put in a shift wherever the manager tells them to play. This is a platform on which really big things can be built.
Chelsea on the other hand looked anaemic in the fist half, a sort of half-blood prince to Liverpool's magic. Diego Costa was anonymous and Branislav Ivanovic so bewitched he looked like he could walk into the referee's book at any moment. He was extremely lucky not get his marching orders for a cynical and deliberate stamp on Adam Lallana. The resultant free-kick came to nothing. Not so with his next infringement.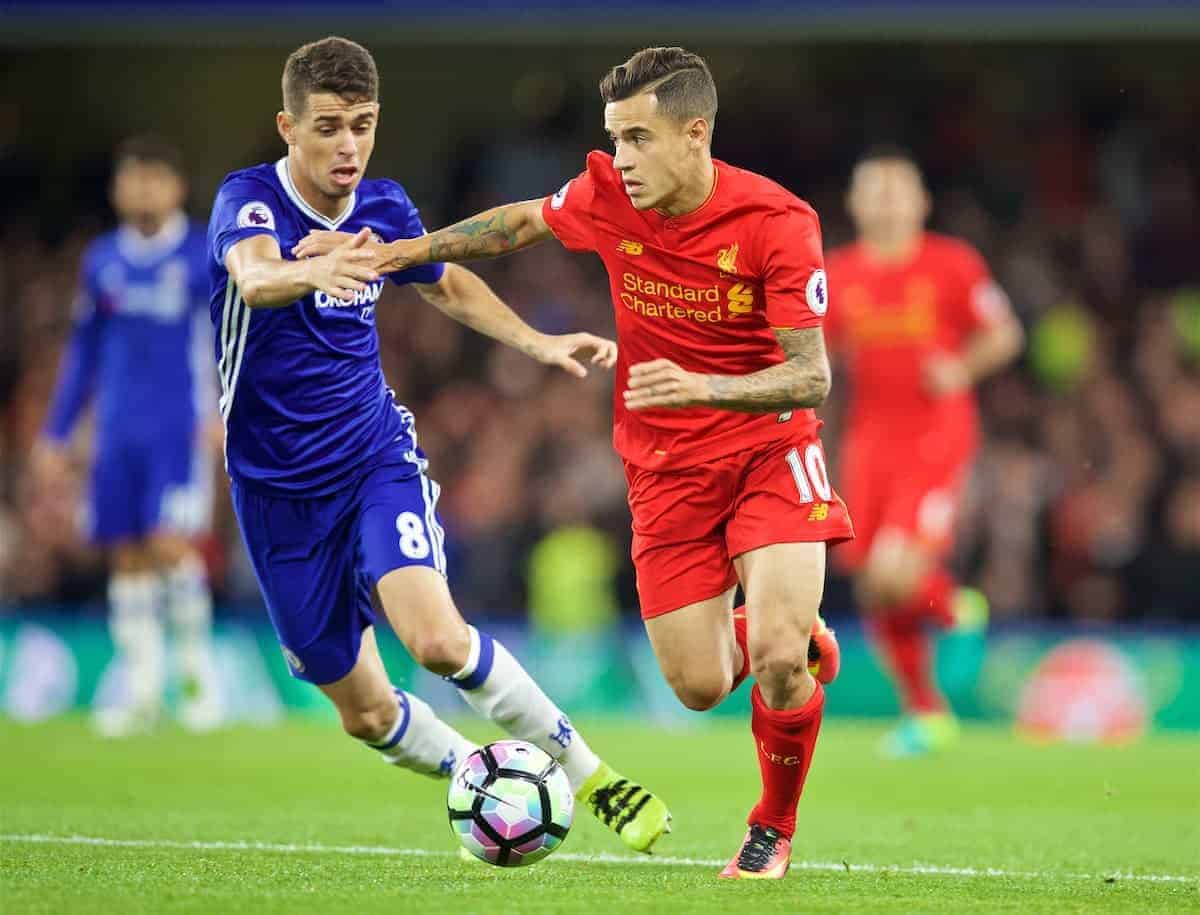 This time it was Wijnaldum he upended and again he was lucky to be on the pitch. Chelsea were finding it hard to live with Liverpool, but it was about to get even more difficult. Coutinho played the ball along the line and upon receiving it back floated in a delightful cross to the far post, which a gleeful Lovren dispatched like a pedigree striker.
The away end, magnificent all night, were delirious. Something similar must have happened to the Chelsea defence because the Reds centre back had found himself amongst a queue of Liverpool players waiting to score.
It was too early in the game to get carried away and a fightback from the Blues seemed inevitable. It didn't materialise. I'm struggling to remember a Chelsea attack worthy of my nervousness.
Liverpool simply handled everything with distinction in that first half. On 35 minutes it got even better. From a throw in, deep in Chelsea territory, Lallana found himself in the box once again. Cahill clearance was rushed and weak and Henderson intercepted. I expected him to take the ball on, maybe try to find a teammate. Instead he controlled the ball sublimely, looked up to notice the keeper's position, and then in one flowing move stroked the ball into the top corner, passed the outstretched hand of Thibaut Courtois from fully twenty yards out.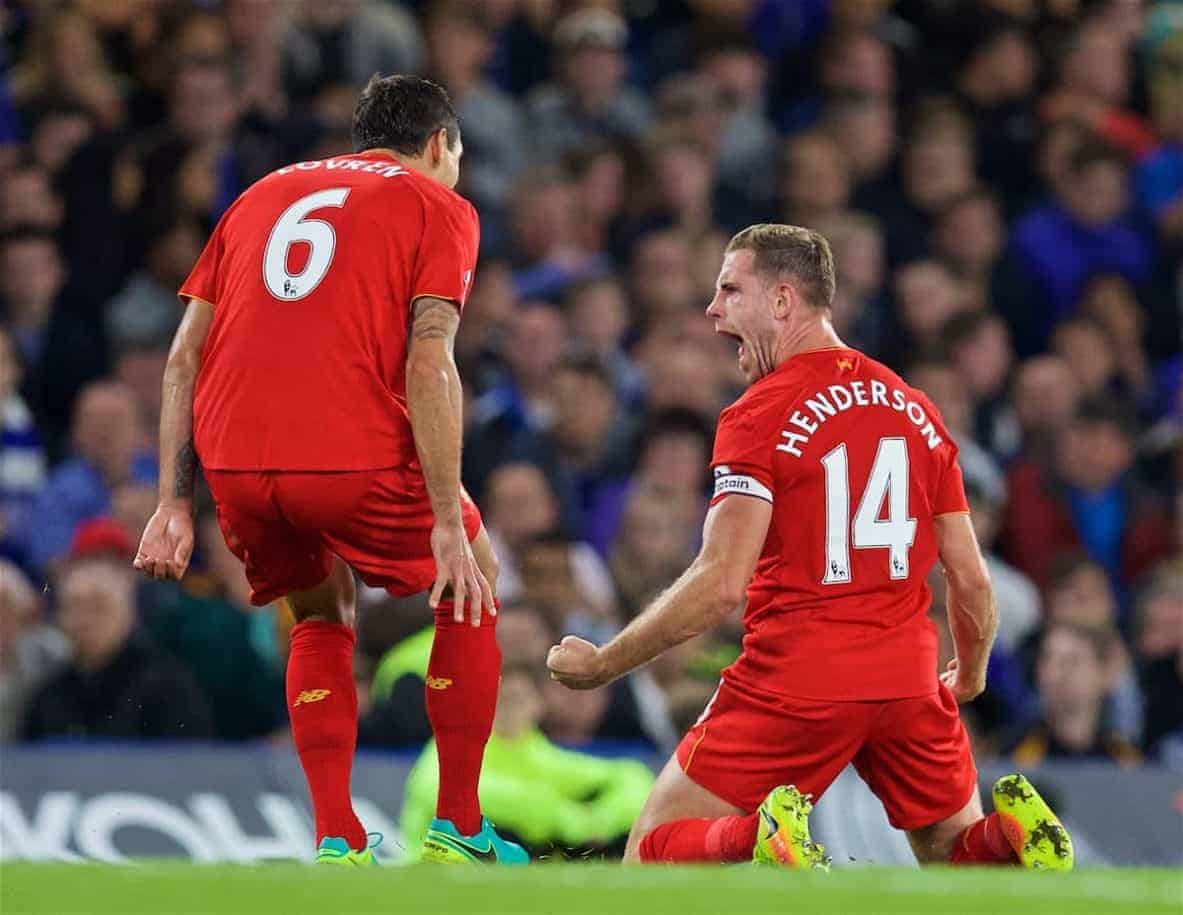 The captain deserved his celebration and the look on Marko Grujic's face, as he lept from the dug out said it all. Klopp added the epilogue anyway; "Boom, boom, boom, boom!" Liverpool were purring now. This was the stuff of dreams and has the half slipped away from Chelsea a remarkable victory seemed on the cards.
Liverpool's defensive frailties have been a Sky Sports editor's dream for too long. It's true successive manager have failed to recreate the defensive solidity created in the Houllier and Benitz eras. "Where are the really tough gritty defenders these days?" debated Martin Tyler and Gary Neville, in commentary.
Finding players as rock solid as Hyypia and Carragher is a tall order. However, in Lovren and Matip, it is clear that Klopp is beginning to carve a defence out of sheer granite. It's true that Chelsea's ultimate consolation goal was soft. Klopp was right to bemoan the fat the three of his players were on their arses when the ball hit the net. You could also point the finger at a midfield that for the briefest of moments switched off. But for me all this seems unfair.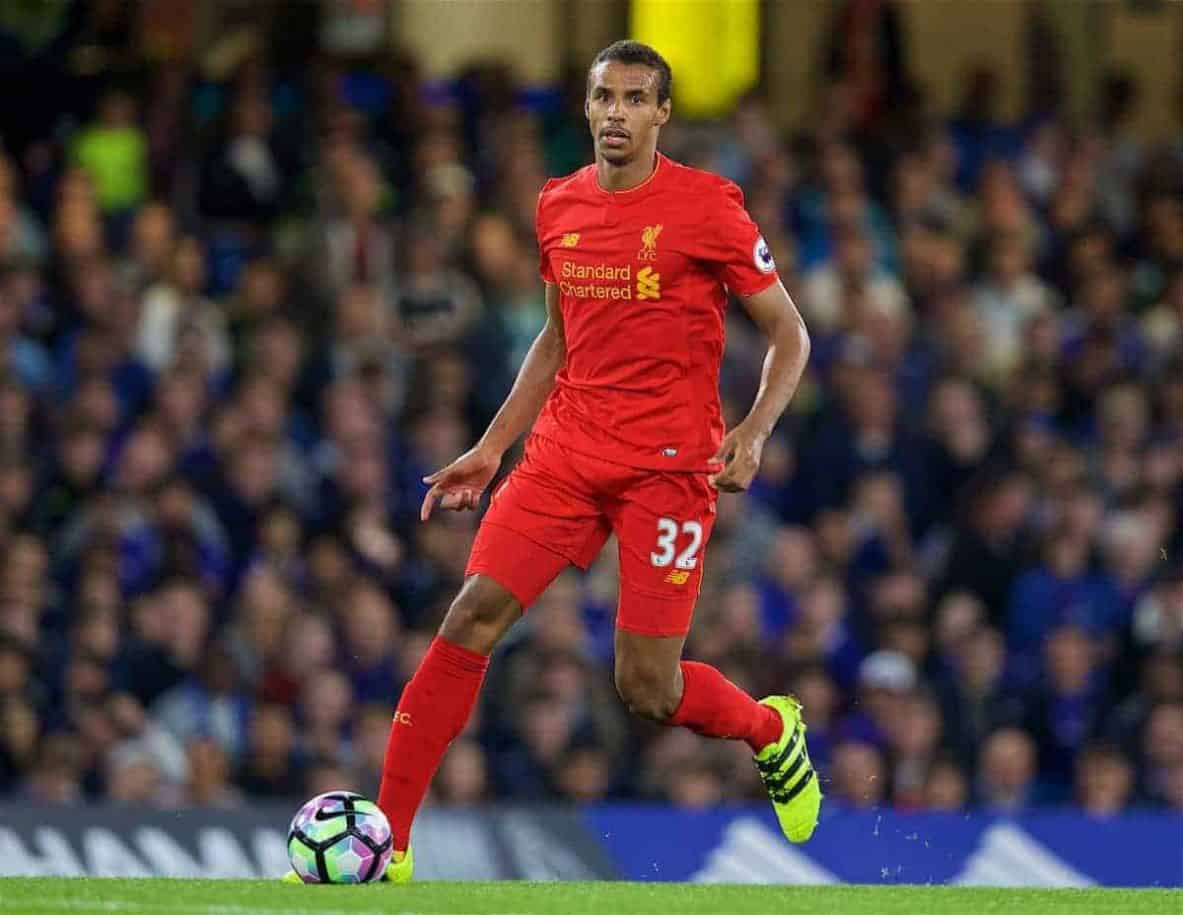 In football mistakes are made. Even the greatest of teams fall victim to lapses in concentration or poor decision making. On occasion you just have to credit the opposition. This was true in the glory days and it's true today.
Liverpool conceded daft goals under Shankly, Paisley, Fagan and all the rest. What was important then, and still important now, is your ability to stand tall afterwards and see the game out. Liverpool did that against Arsenal, they repeated it against Leicester, and against Chelsea they turned it into an art form.
Resilience is as important as flair. All the great teams have it. Their heads never go down. You can knock them to the ground but they just get up and keep coming at you. We saw glimpses of this last season; the Dortmund game being the pinnacle.
This season there are tantalising signs that, under Klopp, this is becoming a defining characteristic. If it does, then Friday night's victory may well turn out to be a truly pivotal one.