Liverpool manager Jurgen Klopp admits his side have to prove they can consistently play the sort of football which saw Premier League champions Leicester beaten 4-1 at Anfield.
Roberto Firmino began and ended the scoring, with goals from Sadio Mane and Adam Lallana in between, while Lucas Leiva's mistake briefly gave the Foxes hope when Jamie Vardy made it 2-1 just before half-time.
Some of the football played by Klopp's side was reminiscent of the opening weekend victory at Arsenal but the manager knows performances like the 2-0 defeat at Burnley can always throw a spanner in the works.
"We knew we had to do the job today and that is what we did," said the German.
"We were strong physically, flexible, quick, creative. We scored wonderful goals and conceded a not-too-wonderful goal and had a few minutes where you saw what can happen in a football game.
"At half-time I told the boys 'This is our challenge'. When we are good, we are really good but when we had some problems it is not easy.
"This is the challenge for the whole season. We had a minimum 30 to 35 minutes at Arsenal which I didn't see until then from us in the movements, which were so strong and clear.
"Leicester are really difficult to play. They are so tuned and apart from one player they played with champions [from last season] so everything is clear.
"We were not tuned. We had to change in a very decisive position yesterday. We had to bring in Lucas; a great player but the most difficult game for a centre-half, especially when you don't play it 500 times in a row."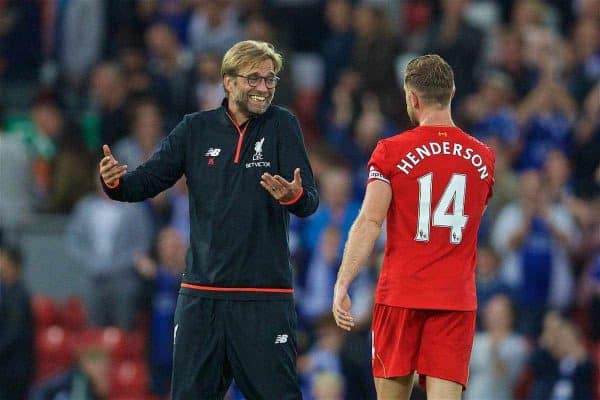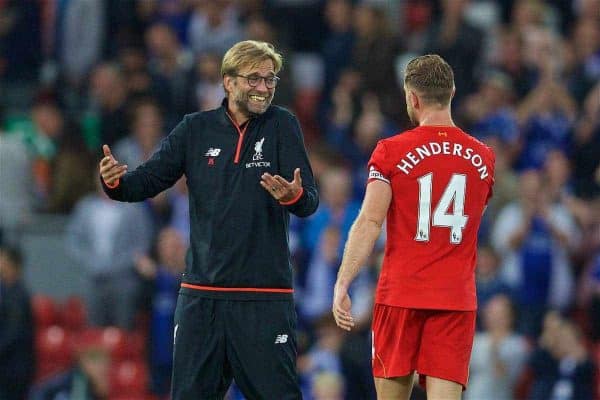 Mane was Man of the Match with another scintillating display while summer arrival Joel Matip did well as the senior centre-back and Firmino and Daniel Sturridge created plenty of problems up front.
Klopp wanted the players to take the credit and explained why he reacted so angrily when the Kop began to sing his name in the second half.
"Please don't sing my name before the game is decided," he said.
"When the Kop started singing it [Leicester] were alone in front of Simon Mignolet.
"I don't play. It was the same at Arsenal. It is nice but not necessary.
"I am really on the side of the players. I am responsible for our bad performances, they are responsible for the good performances.
"That is an easy deal. That is what I expect from us, what we did today."