Liverpool manager Jurgen Klopp has urged supporters to "be as loud as you can" following the expansion of Anfield's Main Stand.
The Reds' home stadium now boasts a capacity of 54,074, after the bolstering of the Main Stand.
This saw the addition of over 8,000 seats, as well as the improvement of facilities both inside and outside the stadium.
After being officially unveiled on Friday morning, Anfield will play host to Liverpool's first home game of the season on Saturday evening, when Klopp's side take on Premier League champions Leicester City.
Speaking at the unveiling, Klopp provided an emphatic message for supporters on Saturday, as well as into the future at Anfield: "Be as loud as you can."
"The acoustics in the stadium are better," he joked, after holding a training session at Anfield on Thursday.
"Be as loud as you can, it will help. Hopefully we'll have a lot of wonderful nights here.
"I'm not too interested in the atmosphere before the game. But when the game starts, I'd like to ask for a little bit of support.
"We don't expect them to come here and celebrate themselves. We want to inspire our fans with the kind of play [they expect].
"Let's make the first step in our future in this wonderful surrounding."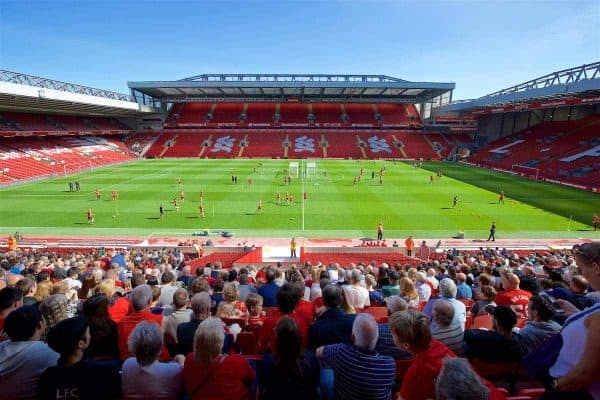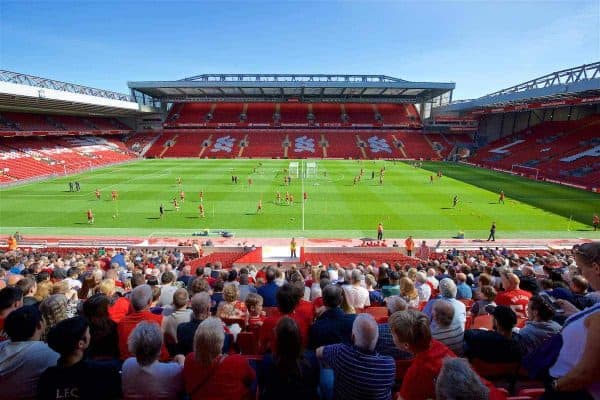 Klopp made his first visit to the new-look Anfield on Tuesday, taking in the improvements made since his last trip there in May, for Liverpool's 1-1 draw with Chelsea.
The German was clearly impressed with what he saw, as he explained to the assembled media and a host of Reds legends at Friday's event.
"It's one of the nicest stands I've seen in my life," he continued.
"I played in front of the Yellow Wall in Dortmund, 25,000 standing there.
"This club is built on our fantastic history. Now this stand is better than before, and we have to use this. Starting tomorrow."
Klopp's side have so far taken four points from three gams in the league in 2016/17, and sit 11th in the table, level on points with Leicester.
They will be hoping to stabilise their form with a victory over the Foxes on Saturday evening, and as Klopp attests, this can be aided by the backing of an extra 8,712 supporters.
---
---