There are increasing calls for Jurgen Klopp to try Philippe Coutinho in a central midfield role, but would the Brazilian be a success there?
Coutinho has arguably been Liverpool's standout performer over the last two seasons, with his back-to-back Player of the Year awards testament to that.
His dazzling footwork, eye for spectacular strikes and growing influence have been key to the Reds' success.
Under Jurgen Klopp, he has always been tasked with a left-sided role in either a 4-3-2-1 or 4-3-3 system, but there are many who feel his talents are better used more centrally.
He featured heavily in a midfield three during the second half of the 2013/14 campaign, alongside Jordan Henderson and Steven Gerrard.
The 24-year-old was on the bench for Saturday's 4-1 destruction of Leicester following international commitments, and in his absence, the front three of Sadio Mane, Roberto Firmino and Daniel Sturridge were exceptional.
It led to calls for the trio to be Liverpool's first-choice attacking unit moving forward, with Coutinho deployed in a deeper role in the middle of the park.
This is certainly something Klopp should consider, although the Reds manager has seemingly been reluctant to do it in the past.
Such is the depth within Liverpool's midfield and attack now, it would mean certain players have to make way to accommodate Coutinho.
Who misses out?

Adam Lallana has made a highly impressive start to the season, scoring twice and being involved in everything good about Liverpool's play.
A contract extension is reportedly on the horizon, and in terms of form, he has not played as well since his Southampton days.
Despite this, were Klopp to move Coutinho centrally, the logical player to relegate to the substitutes' bench would be the 28-year-old.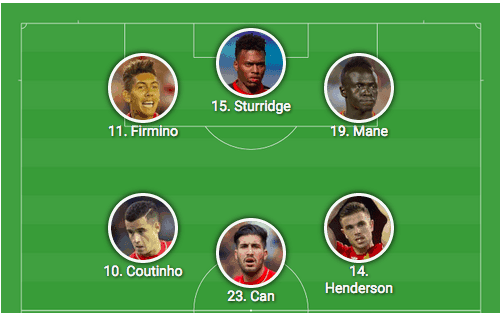 Both he and his Brazilian teammate are too attack-minded to start together in midfield – to have them, Mane, Firmino and Sturridge in the same line-up would make Liverpool's 2013/14 team look defence-minded.
Klopp is a huge admirer of Lallana, however, and as things stand, it would take something special for him to leave him out.
The work-rate he offers is greater than Coutinho, and it could even be argued that his end product is better at the moment.
We must, of course, not be too knee-jerk about either player, though, with Coutinho a far more important member of the team over the last couple of years.
Were Coutinho given a chance to shine alongside Emre Can and Jordan Henderson, he would really have to excel to sway Klopp's though process.
Had this been a year ago, Lallana being dropped would not have been an issue, but for the first time in his Liverpool career, he feels like a key man.
Could playing both Coutinho & Lallana work?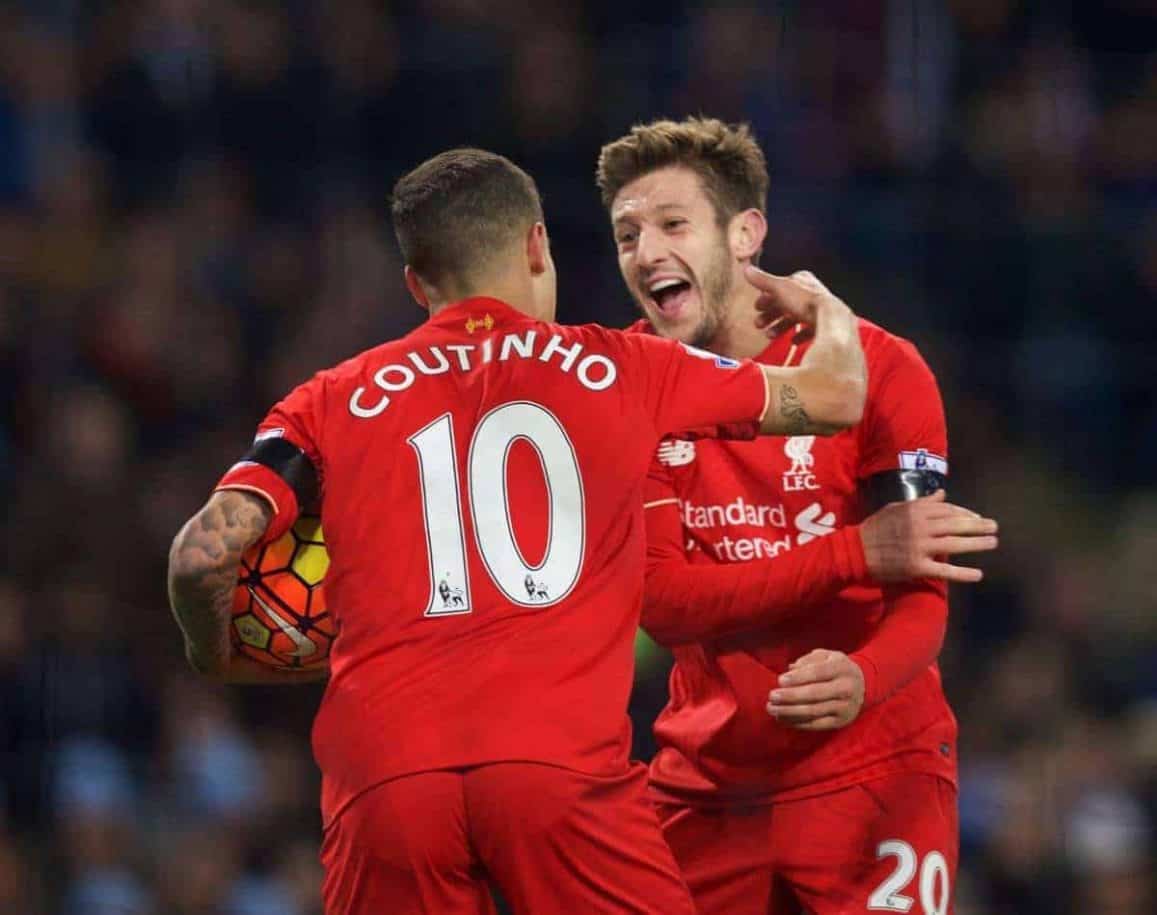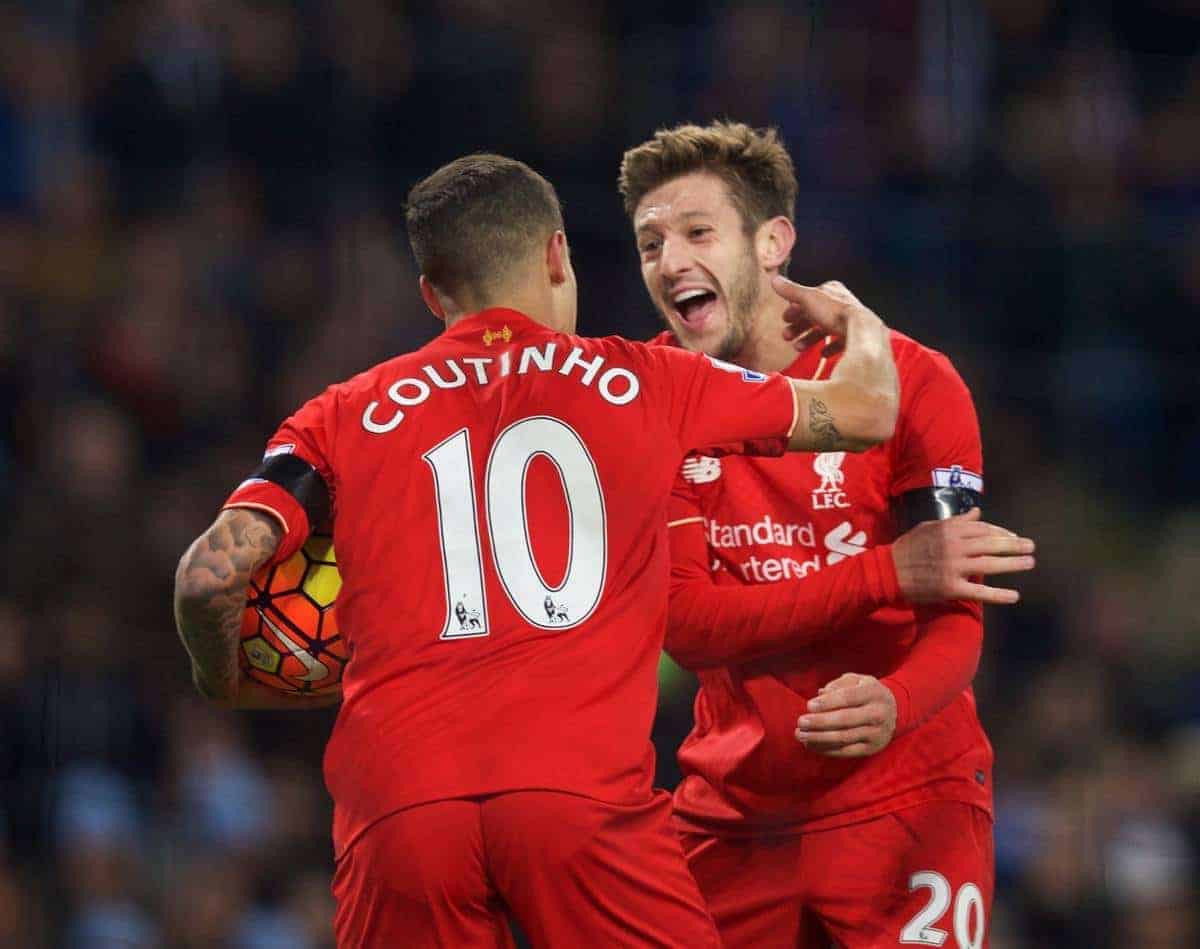 The performance against Leicester was superb for the most part, and the way in which the Reds out-worked and out-passed the champions was thrilling to watch.
Georginio Wijnaldum was quite possibly Liverpool's most low-key performer at an atmospheric Anfield, but he did a job in midfield at both ends of the pitch.
Had Coutinho started in place of the Dutchman on Saturday, would it have worked as well?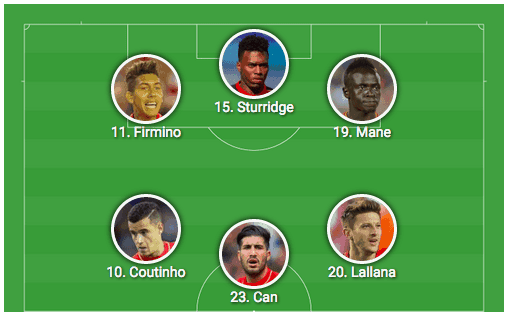 As aesthetically-pleasing as it would be to see both Coutinho and Lallana dovetailing in the same midfield, there is simply not enough defensive nous between the pair.
Both lack natural defensive instincts, and while Wijnaldum may have looked a relatively ineffective performer, he added a physicality and discipline that Coutinho perhaps would not.
This was highlighted when he played there in 2013/14, with Brendan Rodgers' side often alarmingly easy to run through down the middle of the pitch.
Whether it be Can or Henderson in the deep-lying role, they would be left horribly isolated by Coutinho and Lallana, much like Marouane Fellaini was by Paul Pogba in the Manchester derby, for anyone who watched it.
Much as it would solve a potential selection headache for Klopp, it is not a viable solution, especially against teams nearer the top of the Premier League table.
Guaranteed starter?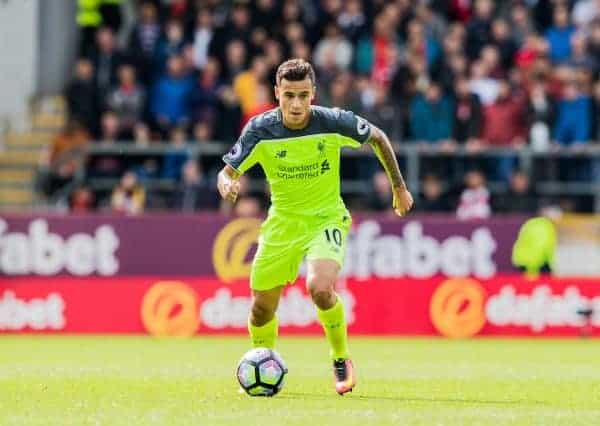 There will no doubt be cries of horror from some upon reading this, but for the first time in his Liverpool career, Coutinho does not walk into this Reds side. Which, is actually a positive – a sign of how strong Klopp's options now are.
He is a player of undeniable quality, who has saved Liverpool's blushes many times since joining from Inter Milan in 2013, but the team takes precedence over the individual.
Against Leicester, there was slightly more flow to the Reds' football in the final third without Coutinho.
Nobody was trying to produce individual pieces of magic on their own, something that the South American can be accused of.
You couldn't help but sigh a little when he needlessly tried his luck from distance immediately after coming on, leading to the ball being blocked and Leicester mounting a dangerous counter-attack.
Firmino was majestic coming inside from the left, while Sturridge was extremely sharp and unselfish up front. Mane again looked unstoppable.
Many will argue that it is not even worth contemplating leaving out a player of Coutinho's ability, and it may well be a fair argument.
How do you drop the reigning two-time Player of the Year?
Realistically, there are only two players who could make way for him, in terms of keeping the balance right and not just selecting the most talented players.
First on that list would be Sturridge, who along with Coutinho and Firmino, is the most gifted player at Klopp's disposal.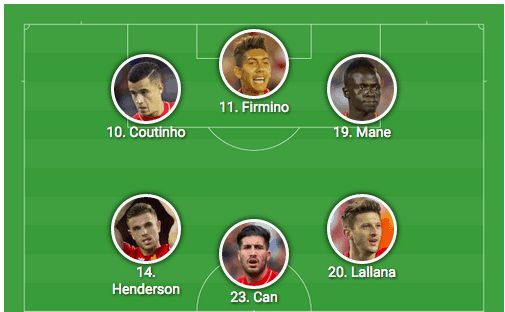 The 27-year-old has often been left out by the German, with Firmino taking up a central role and Coutinho and Mane either side. There is every chance that this will happen on Friday, when Liverpool visit Chelsea.
Sturridge would have every right to feel aggrieved, but Firmino and Mane are genuinely undroppable currently, while he just about is.
The other is Lallana, in order for Coutinho to slot into the central role that many want to see him in.
While Coutinho is the superior footballer, there are doubts over whether he would do the same job for the team, pressing endlessly, keeping the ball and doing his defensive duties.
He has almost become an issue for Klopp. Moving him centrally would have the potential to disrupt things, but a left-sided role doesn't always get the best out of him.
The fact that Firmino was so brilliant there – even better than when he leads the line – makes it even tougher for Klopp.
In truth, it is a nice situation for the manager to be in, with some fantastic attacking players to choose from, but accommodating Coutinho is now a tricky one.
Many supporters still see him as the first name on the team-sheet, which is understandable, but he is not as indispensable as he once was.
Klopp's love of Lallana makes it unlikely that he will be used centrally any time soon, but it still feels like Coutinho's best position moving forward.
The likes of Andres Iniesta, David Silva and Santi Cazorla have shown they can thrive there with the right players around them, and Coutinho would be no different.
It might be something worth trying in the League Cup against Derby County next week?
What is your first-choice Liverpool XI currently? Let us know in the comments below.