Jordan Henderson's goal of the season contender against Chelsea on Friday inspired Liverpool to victory, but the captain claims it was "about time" he found the back of the net.
The Reds produced yet another excellent result away to a rival club, with Jurgen Klopp's men fully meriting their 2-1 victory in west London.
Dejan Lovren's well-taken effort put Liverpool 1-0 up in the first-half, before Henderson's stunning 30-yard strike doubled the lead, in what was a man of the match display by the skipper.
Diego Costa's second-half effort proved to be nothing more than a consolation, as the Reds saw the game out in impressive fashion.
On his starring role, Henderson played down what was one of the best goals of 2016/17 – his first since the 5-4 win at Norwich in January – but spoke glowingly about the team's performance against a strong Chelsea team.
"I took a good touch out of my feet then just tried to bend it in the far corner and thankfully it went in. He's a world-class keeper but it's about time I got a goal!" Henderson told Sky Sports.
"It's a big victory, it keeps our momentum going.
"We've been brilliant the last few weeks and in training we've been brilliant all week, so I had a good feeling going into the game [and] we produced.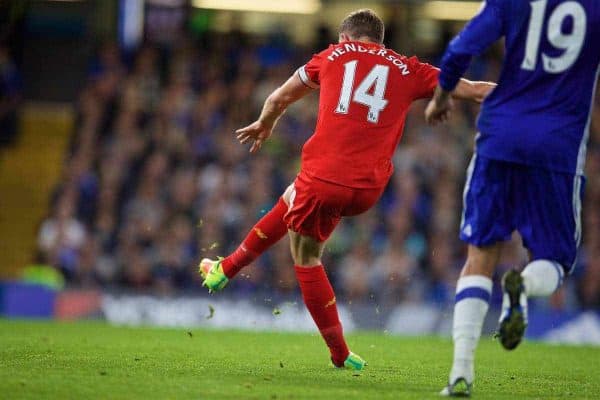 "It was difficult, we knew it would be because Chelsea are a very good side with very good players. You've got to defend well and I thought we defended excellently throughout the game and deserved the three points.
"It gives us confidence. [We need to] Keep doing what we're doing.
"We've been training really well, following what the manager and his staff want us to do all week and executing it at a weekend like we did today. If we keep listening to what the manager says, keep working and keep performing like that, then we'll see where we are at the end of the season."
Liverpool's win takes them to fourth in the Premier League table for the time being, which considering how tough their start has been, is very promising.
Ten points from fixtures against Arsenal, Tottenham, Leicester City and Chelsea, three of which were away from home, will make the rest of the league sit up and take notice.
As every game passes, the 2-0 defeat at Burnley last month is looking more and more likely an anomaly – next weekend's clash with Hull City at Anfield is a great chance to further prove that is the case.