Liverpool midfielder James Milner, a veteran of the Premier League, has hailed Jurgen Klopp as one of the best managers he has worked with.
Moving to Merseyside in 2015, Milner joined his fifth side in the English top flight in a 14-year senior career so far, during which he has played under 20 different managers.
These include Terry Venables, the late Sir Bobby Robson, Graeme Souness, Sam Allardyce, Martin O'Neill, Roberto Mancini, Manuel Pellegrini, David O'Leary, Kevin Keegan and Brendan Rodgers.
But moving into a new stage of his career under Klopp, Milner firmly believes the German is up there with the best of them.
"I've probably had too many managers but every manager is different. They all have their own strengths and weaknesses," he told reporters after Saturday's 2-1 victory away to Swansea City.
"[Klopp] is a top manager and he's definitely one of the best that I have worked with.
"His organisation sessions are different to anything else that I have ever experienced. His passion can only be a good thing.
"Sometimes, when he is bouncing on the touchline with enthusiasm, the only thing you could say is that he is maybe too emotional."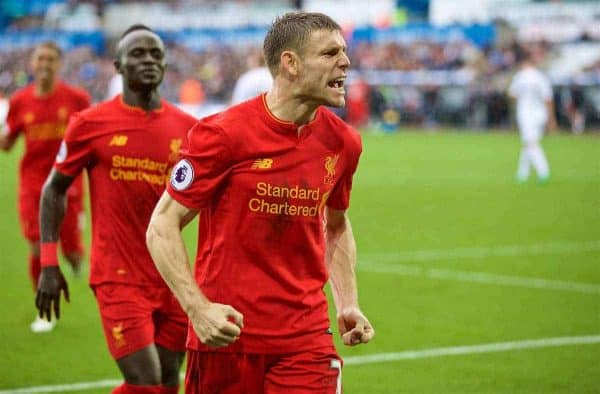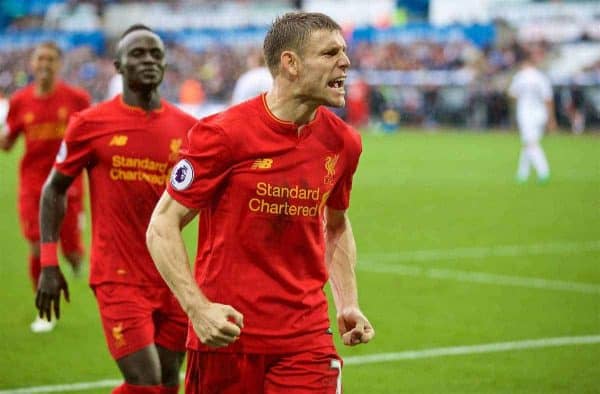 Klopp is unlikely to argue with Milner's closing testimony, but as the midfielder continued, he was able to keep this bottled up during a tempestuous first half at the Liberty Stadium.
The Reds went into half-time at 1-0 down, following an early strike from Leroy Fer, and Klopp would have been right to tear into his squad at the interval.
But as Milner continued, the vice-captain explained how Klopp took a refrained approach, but was still able to motivate his side to a comeback victory in south Wales.
"That's something he could easily have been at half-time with the performance we'd put in," he added.
"But he held it in just enough. We knew he was angry, you could tell, but he still put his words across well.
"It's easy to fly off the handle and not be very productive. We know how emotional he is but he did a great job.
"He said the right things and we came out and performed how we should.
"He deserves a lot of credit. He is top manager. He has proved that before and hopefully we can be very successful with him.
"There's a long way to go and it's early stages. We're pleased with the win and we know we can beat anyone on our day. We have got to keep that going."
Milner is a two-time Premier League champion, who has also won the FA Cup and the League Cup in his long career in England, and he will be hoping to add to that during his time under Klopp at Liverpool.