Georginio Wijnaldum's hamstring injury has given Jurgen Klopp a selection dilemma ahead of Liverpool's Premier League face-off with Man United on Monday.
It was always going to take a miracle for all of the Reds' players to return from the international break unscathed.
Just as it looked as though that may happen, Wijnaldum limped out of the Netherlands' 1-0 loss to France on Monday, making himself a major doubt for the United game.
He will undergo a scan on Wednesday, which will reveal the full extent of the injury.
It is a big blow to Klopp, with Wijnaldum an understated member of a Reds team playing with huge confidence in the last month.
With the 25-year-old likely to miss out for the visit of Jose Mourinho and his side, there are several options that Klopp can go with.
Option 1: Straight Swap With Can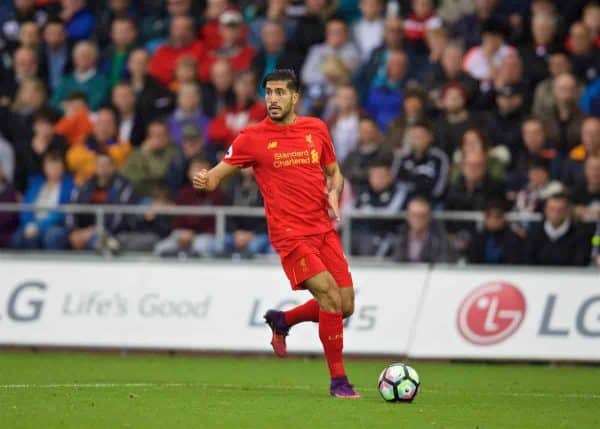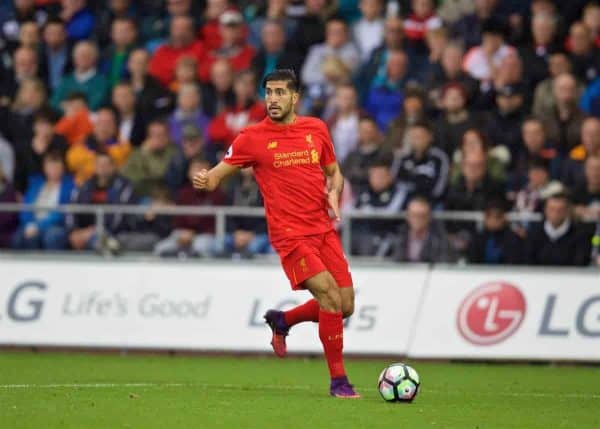 Perhaps the most likely option for the Liverpool manager to choose is to bring Emre Can back into the side, and straight into Wijnaldum's role.
The German has suffered an injury-plagued start to the season but we all know what quality he possesses when fit and firing.
Although Can played much of last season in a deep-lying berth, and performed excellently there, he is also more than capable of thriving further forward.
On the standout occasion that he was given a little more freedom in midfield – the 4-1 win at Man City last season – he was outstanding, combining brute strength with eye-catching creativity and work-rate.
As we discussed recently, a future box-to-box role could get the most out of Can in the long run, much in the way it did Steven Gerrard.
The 22-year-old may be a little rusty on his return, but it would be an error not to start him against United, should Wijnaldum be ruled out.
Option 2: Can in, Henderson moved into Wijnaldum's role

There is, of course, also the option of Can adopting his more common holding role at the base of the midfield, and starting from where he left off in 2015/16.
While not as defensively-astute as some who play there, he felt like the focal point of the team, and he played a major part in the march to the Europa League final.
This would mean pushing Jordan Henderson further up the pitch, however, which may feel a little unnecessary given his current form.
The Liverpool skipper has excelled in front of the back-four, barring an aberration at Burnley, and seems to be growing in confidence by the week.
Henderson's best position in the past has been as a box-to-box midfielder, though, so there is no reason why he can't impress there as well.
Both Can and Henderson need to be on the pitch, and the beauty of their versatility means that Klopp has a couple of options to work with.
Option 3: A Return To 4-2-3-1

Having been famed for his use of the 4-2-3-1 formation throughout his managerial career, Klopp has ditched it so far this season.
His preference has been to use Henderson on his own in the deep-lying position, with Wijnaldum and Lallana situated ahead of him.
Should the boss decide he wants a little more stability in the midfield against United, he could revert to a 4-2-3-1, with Can and Henderson alongside one another.
The duo did well together in that system last season, with a mutual understanding and bags of energy making for an effective partnership.
Despite this, it would perhaps be a surprise if Klopp changed system for such a big game.
And if no Lallana or Wijnaldum available…

With Wijnaldum at the forefront of Liverpool's injury concerns, it is easy to forget that Adam Lallana is also facing a race against time to be fit for the United match.
The 28-year-old limped out of the Reds' 2-1 win at Swansea City with a groin problem and it remains touch and go as to whether he will make it or not
Should Klopp be without Wijnaldum and Lallana it will be an undeniable blow, but the depth within the current squad means it would be far from disastrous.
Philippe Coutinho can easily slot into an attacking central midfield role, as he did so well at Swansea, whether than be in a 4-2-3-1 or a 4-3-3.
Roberto Firmino is gifted and versatile enough to move out to the left, or back to the No.10 role he occupied last season, which would then allow Daniel Sturridge to come in and lead the line.
Can and Henderson could then be paired in midfield in a 4-2-3-1, or one of the two could sit alongside Coutinho in a 4-3-3.
Hopefully it doesn't come to this, considering how brilliant Lallana has been, but it goes to show that Liverpool can now make do without key men.
The triumvirate of Henderson, Wijnaldum and Lallana has been vital to the Reds' strong start to the campaign, but it looks set to be broken up for the first time in the league.