Liverpool Football Club have a huge worldwide following, and some of the most recognisable faces in popular culture follow the Reds avidly.
As Liverpool have entertained the country and moved to the top of the league table, we've seen Hollywood A-lister Samuel L. Jackson regularly tweeting to his 6.1 million followers his delight at every Liverpool victory.
Liverpooooooooooool!!!!!!!!!!!!!!!

— Samuel L. Jackson (@SamuelLJackson) November 6, 2016
Jackson, pictured above in front of the Liver Building while filming the movie 51st State alongside Robert Carlyle and Ricky Tomlinson, recently told of his love for the club and city.
Recently explaining how he became a Liverpool supporter, Jackson said: "I shot a film there and I had never been to a proper football game until I got to Liverpool.
"That was like my first football experience so that's why particularly I am a Liverpool fan, that was my introduction to football and I spent a lot of time in the stadium singing 'You'll Never Walk Alone'."
"I love Liverpool, the city," he said, explaining how different it is now to when he first visited. "God, it's changed. The whole river front has changed and there's loads of nice tapas restaurants.
"I was kind of like 'tapas in Liverpool?' When I was originally there shooting…not so much.
Jackson isn't the only celebrity Red and we've picked a supporting cast of 10 more – plus a local cameo role.
Daniel Craig
Having James Bond support your club isn't bad, and current 007 Daniel Craig is a big Liverpool fan.
The 48-year-old visited the Reds on their tour of the US in 2012, with the footage featuring in the much-criticised documentary 'Being: Liverpool'.
Craig has been spotted at Anfield on numerous occasions in the past, and once stated, "Steven Gerrard would make a good Bond. He is a good leader so you know what, seriously, who knows?"
It wouldn't work, Daniel.
Brad Pitt
Ok, so this feels a little flaky on Brad Pitt's behalf, but he has in some way claimed to be a Red in the past.
In a 2011 interview, the Hollywood A-Lister claimed, "I have some friends who are very close to Liverpool, so if I went another way I might be disowned."
Pitt starred in the film Moneyball in the same year, which incidentally saw Aaron Eckhart play the role of John W. Henry, Liverpool's current owner.
LeBron James
One of America's biggest sporting icons in recent years, and one of the greatest Basketball players in history, LeBron James is another keen Red.
The 31-year-old made his first trip to Anfield late in 2011, and spoke glowingly about the experience.
"To see all the history and achievements was very powerful," he said.
"Liverpool have won 18 league championships and it meant a lot to read about King Kenny and Steven Gerrard – a hometown kid who now captains the team.
"And then to be at Anfield and see 40,000 fans screaming at the top of their lungs, the whole game was an unbelievable experience for me.
"King Kenny is something else. His accent is very strong. So it was very difficult to understand what he was saying – but it was great being around him and (Luis) Suarez and Gerrard and Dirk (Kuyt) and those guys. I was very humbled that they knew me."
We could do with his height from set-pieces.
Mike Myers
Perhaps one of the more surprising Liverpool supporters is comedy actor Mike Myers – famous for his portrayal of Austin Powers.
Myers' parents were both from the city, and although he grew up in Canada when they emigrated there, he has always had an affiliation with the Reds.
He was made guest of honour for the visit of Fulham in November 2013, as Brendan Rodgers' side romped to a 4-0 victory.
The legendary funnyman clearly knows his stuff, saying, "when (Daniel) Sturridge and [Luis] Suarez get the ball you just don't know what's going to happen."
In the months that followed, Liverpool's 'SAS' tore the Premier League to shreds.
Caroline Wozniacki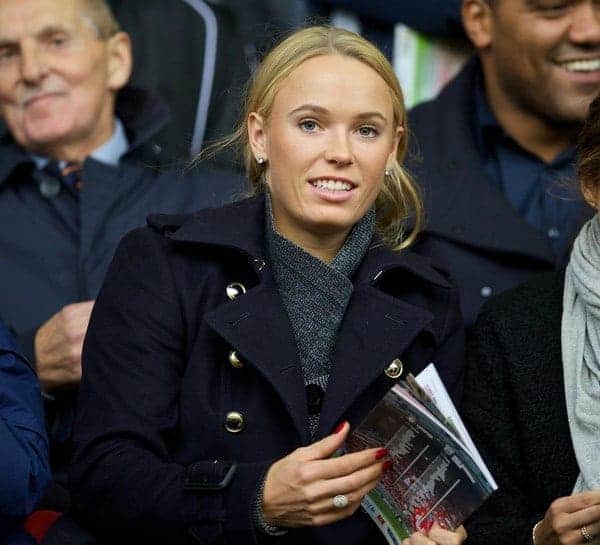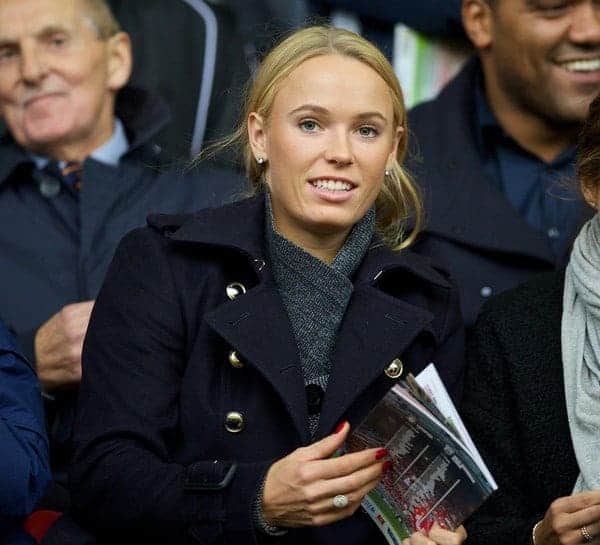 Some famous people "support" football teams, and others genuinely support them. Caroline Wozniacki certainly falls into the latter category.
The former world No. 1 adores the Reds and often posts about them on social media. She once wore a 'Gerrard 8' shirt during her warm-up before a game in 2011 and attended a match at Anfield in 2013.
https://www.youtube.com/watch?v=d_AflVOPYEQ
Following her split from golfer Rory McIlroy in 2014, Woznaicki took to her Twitter account to say, "It's a hard time for me right now. Thanks for all the sweet messages! Happy I support Liverpool right now because I know I'll never walk alone."
Millie Bobby Brown
https://twitter.com/milliebbrown/status/780367805866704896
Few TV shows in 2016 have been more popular than Stranger Things, with 12-year-old Millie Bobby Brown's performance earning her worldwide acclaim.
In September, the actress revealed that both she and her family are Liverpool fans, with her brother following them "obsessively", but she is still awaiting her first Anfield experience.
Philippe Coutinho is the youngster's favourite player – she's not alone there.
Damian Lewis
Damian Lewis #SoccerAid2016 is a massive LFC fan, after watching him tonight I would take him to replace Coutinho

— Phillip McWilliam (@phillymclfc) June 5, 2016
Damian Lewis has proved to be one of England's most successful TV actors over the last decade or so, playing a starring role in both Homeland and Billions.
Not only is he a talented footballer, as showcased in celebrity matches, but he is also a lifelong Liverpool devotee.
Lewis has described Steven Gerrard as "one of my all-time heroes", and once spoke about almost giving up on watching the 2005 Champions League at half-time.
"It was so depressing that I walked out to see a friend who is not a football fan. But he had the good sense to tell me to get back in to see the rest of the game," he admitted.
"He reminded me that with football you can never tell what's going to happen. I knew he was absolutely right. So I went back into the pub and the rest is history."
Lewis persuaded Kenny Dalglish to play a role in the movie 'Will' in 2011.
Liam Neeson
Who's still unaccounted for after the International Break, and when do we send LFC fan Liam Neeson out to find them? pic.twitter.com/KXABBmlrux

— Zo (@NTXZO) September 6, 2016
Those with Irish roots often have a strong love of either Liverpool or Man United, and actor Liam Neeson chose the former, fortunately.
The 62-year-old is another who has been seen cheering the Merseysiders on at Anfield over the years, and he was vocal about Gerrard leaving in 2015.
As a side note, he sounds remarkably like Rodgers.
Clive Owen
Not many realised just how big a Liverpool fan actor Clive Owen was until he told a superb story about the Reds on Late Night with Seth Meyers, one of America's biggest chat shows.
Owen discussed the 'Miracle of Istanbul' in 2005, and also an intro he featured in in the build-up to the Champions League final in Athens two years later.
Watch it here:
Dr. Dre
Very few people from the music industry have earned more success and acclaim since the early 1990s than Dr. Dre, with the legendary rapper and producer incredibly influential in the meteoric rise of rap music.
In 2001, it was revealed that the 51-year-old, real name Andre Young, was a Liverpool fan, speaking of his love of John Barnes.

"They're the team I always look out for when I'm at home. Back in 1988 I was in London on a promotional tour with NWA, and one night we were watching TV and these cool cats in red came on the box. They whupped some poor dudes four or five zip," he said.
"John Barnes. He was bad. Kinda reminded me of Magic Johnson. I'm from LA and dig the Lakers, especially when Magic was there, and Barnes was like him, in that he made the ball talk. The cat was cool."
Being the genius that he is, Dre even predicted the Reds to finish ahead of United in the 2001/02 Premier League – something Gerard Houllier's achieved by coming second.
Cameo: Sam Quek

Hockey has struggled to enjoy much of a following since the glory days of Sean Kerly in the late 1980s, but that all changed at this summer's Olympics in Rio.
Great Britain's women's team took home the gold medal in memorable fashion, and Sam Quek was one of the stars of that team.
6-1 for @LFC and top of the league – not a game anyone would want to miss! ?????

— Samantha Quek (@SamanthaQuek) November 6, 2016
Born in Birkenhead, Quek is a lifelong Liverpool supporter, with Ian Rush cited as an early hero.
She is now a more familiar British name after starring on the recent series of 'I'm a Celebrity… Get Me Out of here!'