While Liverpool sit top of the table thanks to a free-flowing attack which is taking plaudits from all angles, one man sits sidelined and underutilised as a result. Daniel Sturridge is still key for Liverpool, though, and the Reds must work hard to keep him involved.
With just 19 minutes to make an impact in Liverpool's most recent Premier League game, and his side already 5-0 up when he entered as substitute, Daniel Sturridge could have been forgiven for making a half-assed effort, strolling around for a bit before returning, barely having broken a sweat, to the dressing room.
The Reds didn't need his impact, Watford were already dead and buried and had long been battered into submission, but the No. 15 took an alternate approach.
Instead he forced the issue, taking the initiative by coming deep, particularly in the right channel, to get involved in the build-up and ensure the tempo of the game remained as high as possible, something which would in turn benefit him if the Reds created more chances on goal.
In those 19 minutes (plus injury time), Sturridge took aim again and again, attempting to restore the team's five-goal lead after Watford had clawed one back, trying to net his first Premier League goal of the season.
In those few minutes he took five shots – in the entirety of the match, nobody else managed more.
Four of Sturridge's efforts were on target. Again, nobody in the match managed more, or even an equal amount.
He didn't score, but the woodwork took a pounding and Gini Wijnaldum's first goal for the Reds was a tap-in as a result of Sturridge's endeavours.

In case you missed the point, this was not a sulking, resting, reactive squad player, this was a striker who was motivated, determined and a class above the opposition, in all the space of just 19 minutes.
Preventing an issue
There's no getting away from the fact that opportunities have been few and far between this season for Sturridge, as a consequence of less games to play, less rotation being required and the splendid combination play of Sadio Mane, Roberto Firmino and Philippe Coutinho. That trio remains in the side on merit, but keeping Sturridge involved as much as possible is of paramount importance.
If securing the future of Coutinho is top of the new sporting director Michael Edwards' must-do list, keeping Sturridge motivated and feeling involved, even when named on the bench, is pretty close to the same spot on Klopp's.

The manager is very much aware of this. Hark back to Firmino's goal against Leicester City at Anfield; it was not the finish, nor the build-up, that Klopp spoke of, but instead the movement and selflessness of Sturridge, who initially created the space.
Putting him on for a 'cameo' role in matches which are already wrapped up, it's not quite the same; there, instead, it can be seen by Klopp as a test of Sturridge's readiness, his mentality, his willingness to keep the team at a high level when others are beginning to tire.
It isn't the role Sturridge wants, nor arguably deserves, but it's the one which is available at this moment.
That won't always be the case, and that's why Liverpool must keep Sturridge on-side.
2017
A weird insistence in the footballing world—fans, media, pundits—on naming and listing a team's "strongest XI" often gives a misleading impression that one player or another is not as good, not required, not really going to contribute as much as others. It's an incredibly, though wilfully, blind way of looking at top-tier football, where at worst a manager needs to have 14 or 15 players who are all of the same level if a team's form is not to fluctuate wildly with absence or inconsistency of a particular individual.

In midfield, Liverpool have played most of the campaign with Jordan Henderson, Wijnaldum and Adam Lallana. In the past few matches, Emre Can has taken the Dutchman's place, yet the style, the brash combination of athleticism and technique in midfield, has not changed. Importantly, nor have results, with top spot in the league over the international break proving the importance of being able to change the odd player and still emerge victorious in the same swashbuckling manner.
In attack, it's no different.
The two Brazilians and one Senegalese hold the cards in the final third right now, but fast forward to the new year and an entire spectrum of possibilities emerge.
Mane is off to the Africa Cup of Nations. Will Firmino be able to keep producing such good form in his first season without a winter break and being in the starting XI from the onset of the campaign? He wasn't in the side much under Rodgers last term and only began to catch fire from around November onward. The winter break wasn't required as he didn't already have 1,500 minutes of game time under his belt. In fact, by this time last year Firmino had played more than 70 minutes in a single league game on precisely one occasion.
Away from individuals, the collective is also a factor.
The Reds are irrepressible at present but scoring close to three goals per game in league play is almost certainly an unsustainable rate over the longer term.
At some point, form will tail off, the attack won't quite link together in a manner as free-flowing and instinctive as it has been, or defences will wise up and find a way to combat the rotation of positions and quick one-touch passing.

When that point hits, there's only one sure-fire way of overcoming creativity issues: turn to a pure striker, an instinctive, relentless shot-machine who needs barely a yard of space and a second on the ball to turn an aimless pass into a moment of danger. Generating a shooting opportunity with minimal backlift and ferocious power is a Sturridge trait which is too readily overlooked or passed off as 'greedy,' as though scoring were possible by any other means than actually taking a shot.
Yes, he shoots when a Firmino or Lallana might pass to someone else.
But Sturridge also scores when most of the rest of the squad wouldn't even realise there was a route to goal from where they stood.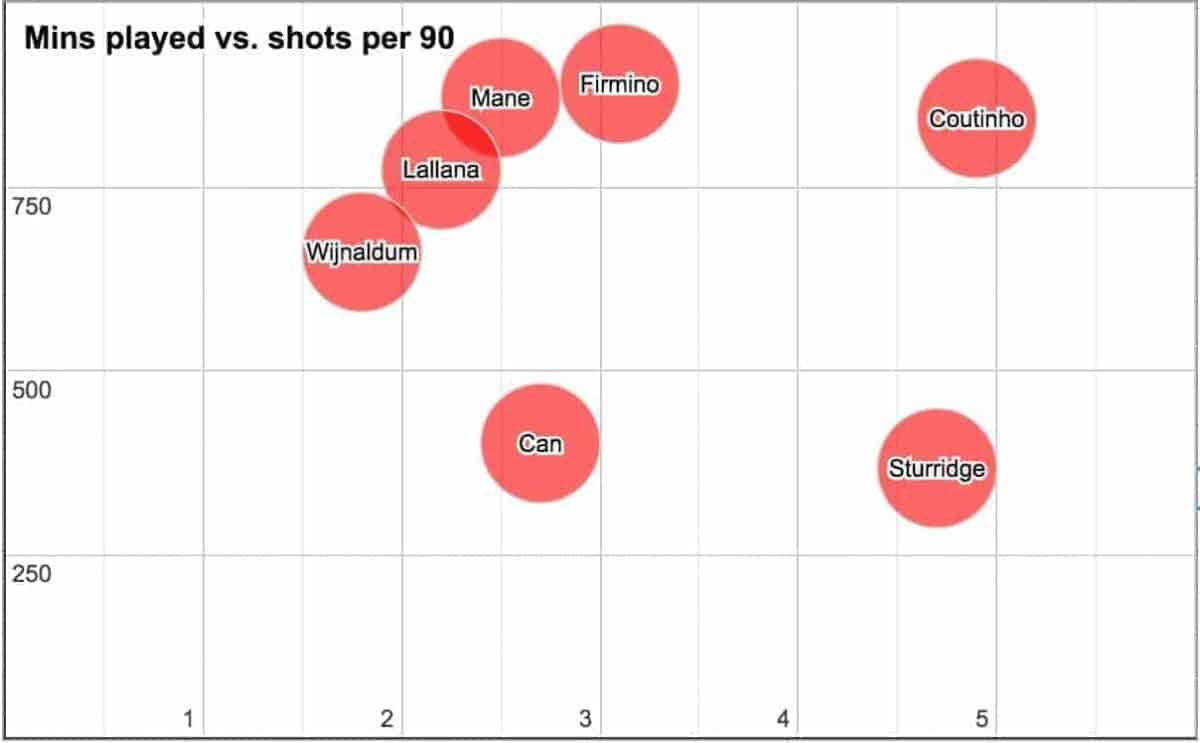 When the moment strikes in a vital game and a goal is needed, any goal at all from anywhere at all, it will be Sturridge Liverpool turn to. And they need to ensure he's ready to play his part.
Coutinho
Nobody associated with Liverpool wants to anticipate Coutinho's departure, but it could realistically come at any moment—not just by way of a transfer, but injury also.
Without him, creativity drops as well as the will to shoot relentlessly. The graph above showcases how Sturridge is the only one who even approaches Coutinho's rate of aiming for goal, even though he has had far less game time than the rest of the key starters. It's not just in shooting from anywhere they share similarities either.

Sturridge and Coutinho are the only two players in the squad who average two shots per game or more from outside the box (excluding Marko Grujic, who has only played half an hour in the league) and Sturridge is the only player who averages over two shots per game on target. Coutinho weighs in at 1.8, Origi 1.7, Firmino 1.5.
Lose Coutinho and you lose a lot more than just having to find someone to play from the left and be skilful. He's the creative fulcrum, a visionary in possession and is possessed of the single-mindedness to test the 'keeper from anywhere in the final third.
Only one player matches Coutinho in that regard, and that is Sturridge.
Liverpool need him, focused and ready to play his part. For that time will most certainly come, and the striker, given his chance, has already shown he is capable of wreaking even more havoc on Premier League defences than they have had to suffer at the hands of the Reds already this season.