Liverpool manager Jurgen Klopp will give Steven Gerrard all the help he can as he forges a new career after reiterating the "door is always open" for him to return to his boyhood club.
Gerrard announced his retirement as a player on Thursday after his contract with the Los Angeles Galaxy expired.
The 36-year-old former England and Reds captain has already turned down the chance to manage League One MK Dons but is looking at moving into coaching.
There have been suggestions Gerrard could get a role somewhere at Liverpool – Klopp virtually guaranteed it – and possibly with the youth teams.
However it seems highly unlikely he will be invited into the German's well-established inner sanctum with the first team.
"This is not the room to speak about it. There is nothing to talk about and I am absolutely the wrong person to talk about it," said Klopp in a press conference.
"When something is announced then we will talk. It is clear that one day in the future there will be something to announce, that is pretty sure too, but until then there is nothing to say.
"The door is always open for him. If he wants to make a different career to his former career then we want to help him.
"There is nothing else to say – but maybe that is already too much."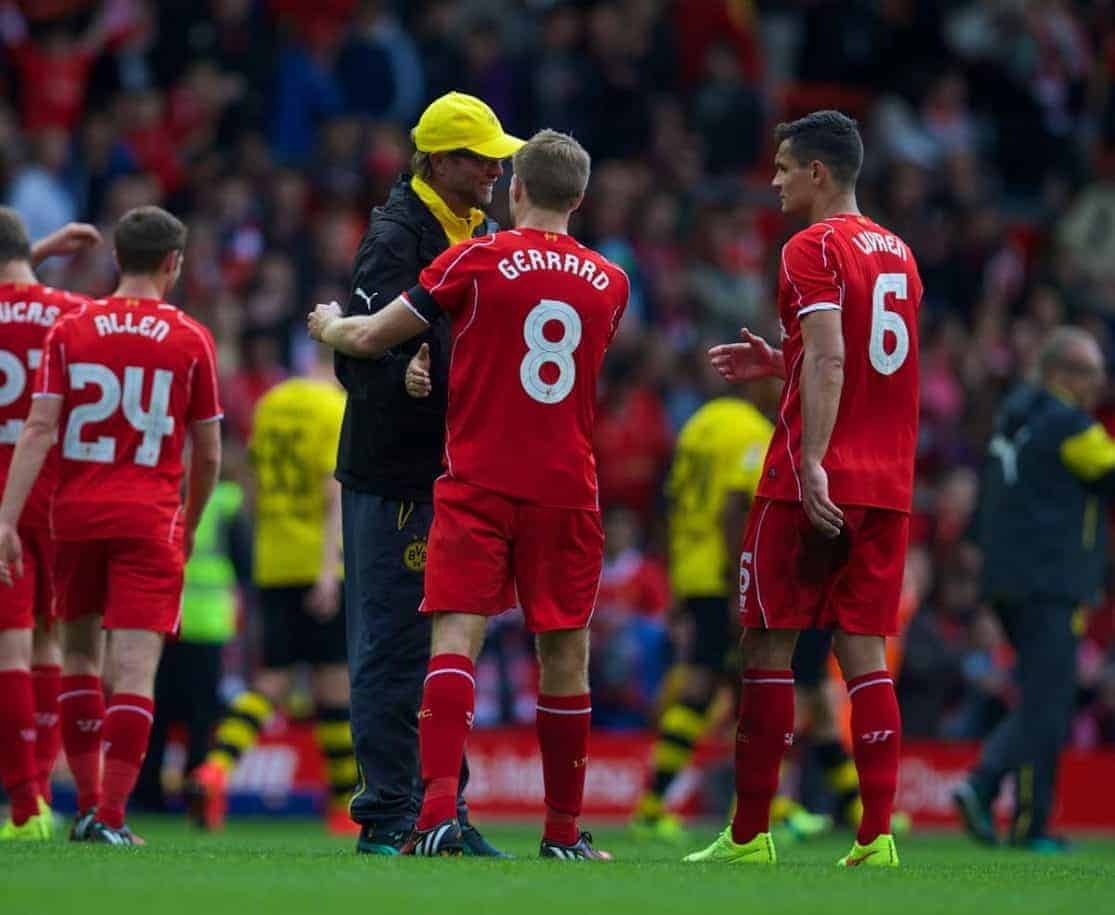 Klopp's demeanour and his responses to constant questioning about one of the club's greatest players gave the impression he was trying to distance himself from the focus which will inevitably follow Gerrard as he makes his way in his new career.
With his side in second place in the Premier League and looking like making a genuine tilt for the title, the Reds boss does not want anything to upset the equilibrium.
Trusted assistants Zeljko Buvac and Peter Krawietz are locked in as Klopp's closest confidants, and with Pep Lijnders the first-team development coach there is actually no room for Gerrard to join the German's backroom staff.
Although Klopp offered his support to Gerrard, he gave no indication as to what form that would take.
"I will give him all the help I can if he wants, that is 100 per cent sure, but stop talking here because it will not help Steven and it will not help me," added Klopp, whose exasperation at being questioned on the same subject matter became clear.
"The first thing you should all learn is if someone wants to help Steven Gerrard (then) stop being so excited about each step he is doing next.
"For everything in your life you need room and space to jump in and learn something new."
With his press conference drawing to a close, the topic returned to Gerrard once again when Klopp was asked to rank him against the world's best.
"Top players. How many do you have? Is Pele involved? Is Franz Beckenbauer involved? Is Johan Cruyff involved? Where should I start and end?" Klopp said.
"He is a top player but it is not important what I think, it is important what the people think. I like him as a person. "I saw him once playing live in a stadium when we lost with Dortmund here 5-0 (actually 4-0). It was not my best experience and that is all.
"But stop using me for stories about Steven Gerrard. You don't need me. If you want to write a story about him write it because he deserved it.
"I have only been here 14 months so how could I be the person to say how big these people are or how it is to live with legends at Liverpool?
"I've met a few (legends) and I've met Stevie and he is far away from wanting to be a legend."