Sadio Mane says Chelsea's lead in the Premier League title race cannot distract Liverpool from Monday's Merseyside derby.
Trips to Goodison Park are always occasions in their own right for the red half of the city and victory in the storied fixture is a cause for celebration regardless of how either side is faring.
But Jurgen Klopp's side are genuine title challengers this season and know they cannot afford to slip too far short of Chelsea's mark over the busy festive period.
Antonio Conte's side racked up their 11th win in a row at Crystal Palace on Saturday and three points against the Toffees would still leave Liverpool six points off the pace.
Mane is happy to focus on the opponents at hand, though, allowing the bigger picture to take care of itself.
"I think we have a bit of distance to Chelsea, but we all know what can happen in football," the Senegalese told Liverpoolfc.com.
"For us, the most important thing is not to think about where they are, it's to focus on ourselves and go game by game, and try to win the games, until the end of the season.
"I think in the Premier League everything is quite the same, it (Everton) is a tough game, but why not? I think with the quality we have we can beat every team in the league, so I don't know why we can't go there and win."
Liverpool started a run of five matches in 19 days with a handsome 3-0 win at Middlesbrough and meetings with Stoke, Manchester City and Sunderland follow hot on the heels of the derby.
Mane is in his third season of English football and is ready for the rigours of the calendar.
"It's not easy but I think everybody's used to doing it," he said. "I think it's no problem for us so everybody's excited and looking forward to this time, I think we can do it."
Like Mane, Roberto Firmino is slated for a big role on Monday. On face value the slight Brazilian might not seem the kind of player who would flourish in a fixture that can be full-blooded to say the least, but he has no concerns about the physical side of the game.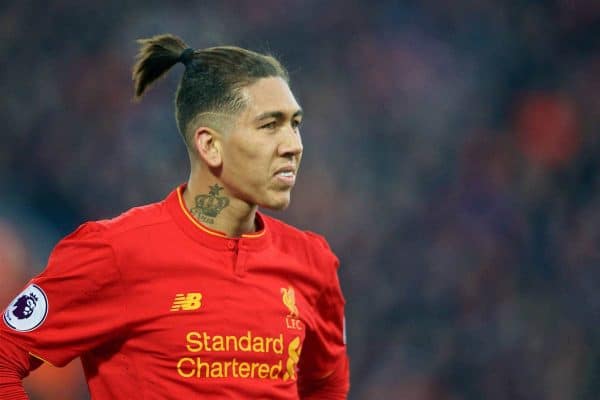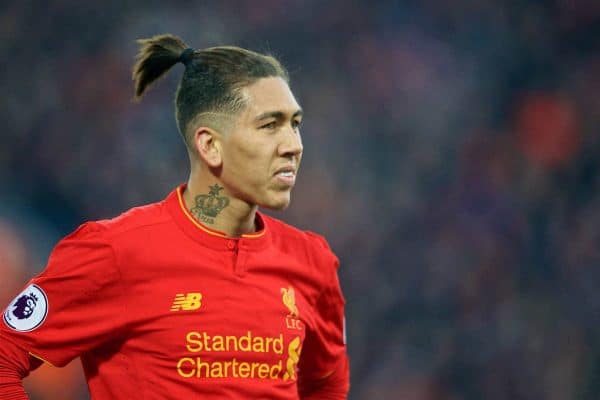 "There is no fear at all," the 25-year-old told the Liverpool FC magazine.
"Sometimes people see you as skinny and then they think, 'Oh, he is not a strong player'.
"But what matters is what you feel and what you do inside the pitch. No matter how skinny you are, the important thing is how you think psychologically.
"If you think you are strong, you are really strong and I class myself as a strong player. I'm not intimidated by powerful defenders.
"Maybe when you are younger, playing against huge centre-backs might cause some fear to you, but when you are an older player there is no more fear. You simply play as best you can and go about your work."