To say there is little patience in today's football would be a gross exaggeration, because there is actually none.
Sometimes the ink is barely dry on a player's contract and he is written off as a flop, a dud and a waste of money. It's tough for young players in particular, especially when they have swapped countries and are finding their way in a new league.
It's arguably even tougher for goalkeepers.
An outfield player can make any number of mistakes in a game and get away with it. A goalie's life is far less forgiving.
Loris Karius would certainly testify to this. The young German has borne the brunt of Reds' supporters ire after the Reds' capitulation at Bournemouth, prompting his manager to publicly rebuke his keeper's critics; most notably Jamie Carragher.
I'm with the manager on this one. That doesn't mean I believe that Karius has covered himself in glory since his arrival at Anfield. It's just I've seen this sort of thing before and I wouldn't bet against the lad turning it around and proving his critics wrong. What he needs now is the support of his teammates and all of us.

---
I'm reminded here of the life and times of one Bruce David Grobbelaar. Of course many supporters, even the younger one's will remember Bruce for his heroics in a penalty shoot out against Roma in the Olympic Stadium in Rome, in 1984. His wobbly legs probably won Liverpool their fourth European Cup and would inspire Jerzy Dudek to win us our fifth 21 years later.
Grobbelaar is regarded by many as one of Liverpool's great keepers; eccentric yes, but a true legend none the less. He made 628 appearance for Liverpool over 13 years. In that time he amassed six League Championships, three FA Cups, three League Cups and of course the European Cup. 13 trophies in 13 years.
A magnificent career, but it was one that got off to a very inauspicious start.
Bruce signed for the Reds in March 1981 season from Vancouver Whitecaps for £250,000. He'd been spotted by Liverpool during a loan spell with Crewe Alexander. He was actually our third keeper, with Clemence the first choice and Steve Ogrizovic established as the reserve goalie.
Clemence shocked everyone by leaving for Spurs at the end of the 1980-81 season and Bruce found himself wearing the number one shirt for the greatest club in Europe. He had huge shoes to fill and to cap it all, Liverpool were a team with a lot to prove.
Yes they'd won the European Cup and League Cup the season before, but their league form had been disappointing, finishing fifth. This was a club who lived by the mantra, first is first and second is nowhere, so to end a season a full nine points off the eventual winners was sobering to say the least.
Grobbelaar was joined in 1981 by Ian Rush, Ronnie Whelan, Craig Johnston and Mark Lawrenson. Together they would go on to great success, but this was unmistakably a season of transition for Liverpool.
After seven games the signs were not good. The Reds won just two, drew three and lost two. Bob Paisley was particularly furious after a 2-0 defeat to Ipswich. Normally softly spoken, Bob took no prisoners: "They have got to be professional not playboys or fly-by-nights. I am talking about the attitude. The players seem to be saying sorry and think it's over and done with. They will have to change their attitude."
Paisley was particularly annoyed with his gaffe prone keeper, but would save the worst of his fire for the dressing room. Bruce was left in no doubt though as to what was at stake, if things didn't improve.
They didn't and the keeper would be largely responsible for a string of errors that saw Liverpool slump to 12th in the table, 11 points off top spot, after a Boxing Day defeat to Man City.

By his own admission Bruce was directly responsible for two of City's goals and he feared he would lose his place permanently.
Grobbelaar was the original 'sweeper keeper' with a penchant for racing out of his goal. A tactic that confused a back-line who had developed a symbiotic relationship with predecessor Clemence.
However, much to the keeper's shock, Paisley called a team meeting and told the squad that those goals could have been cut out before they got anywhere near the goalie. Grobbelaar would keep his place and Phil Thompson would lose his captaincy.
Paisley did give the Grobbelaar a verbal volley or two though, but he did it behind the scenes. He was furious about Bruce's habit of "clowning around." It would prove to be a lecture the keeper found hard to heed, but his form improved beyond recognition nonetheless.
Phil Thompson was understandably gutted, but Bob told him he needed a break from the captaincy, which the boss felt was taking its toll on him. Both the decision to award the arm band to Graeme Souness and to keep faith with his troublesome goalkeeper, proved to be masterstrokes.
The Reds started the New Year with a new sense of purpose and somehow put their early season inconsistency behind them. They went on to win 20, draw three and lose two of their remaining 25 games. A spell which included a club record 11 straight wins. Grobbelaar would keep 15 clean sheets during this run.
The Reds would clinch the League Championship for the 13th time, after a 3-1 victory over Tottenham in the penultimate game of the season. They had also beat Spurs in the League Cup final back in March by the same scoreline, albeit after extra time.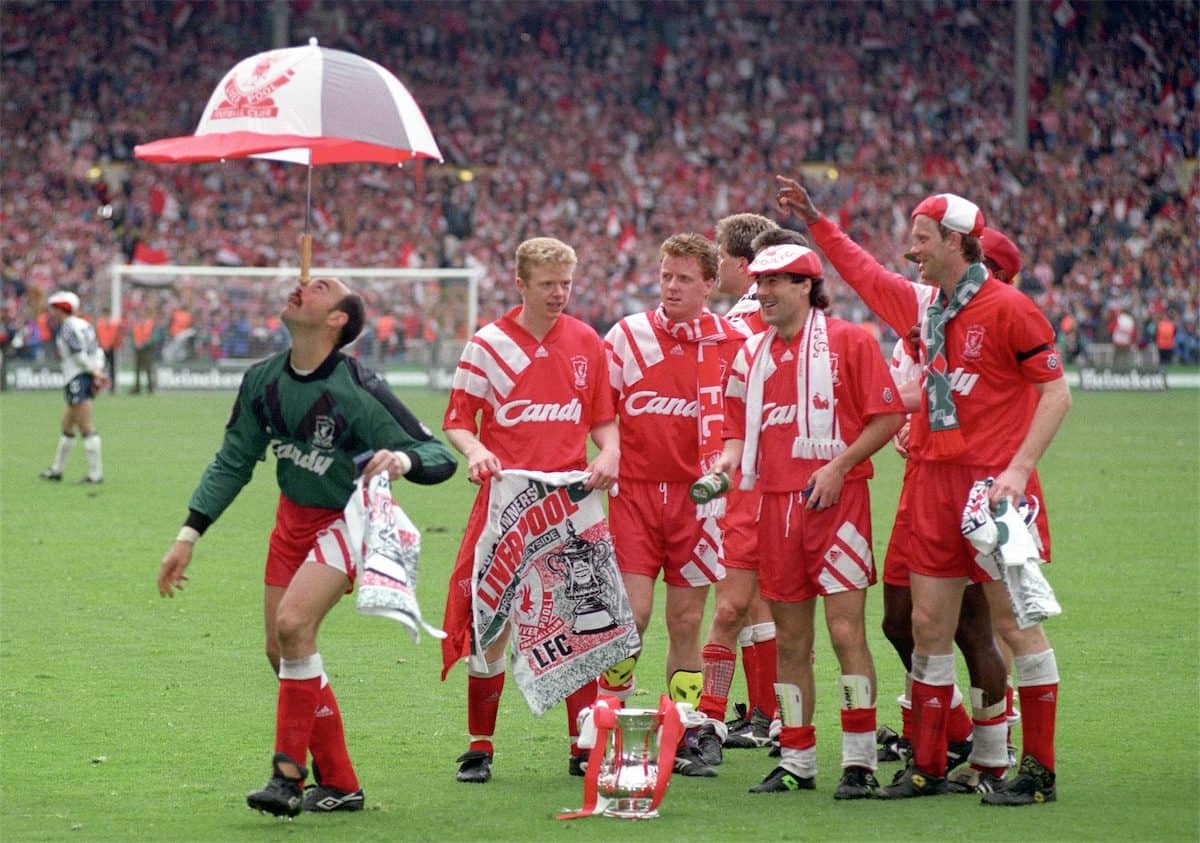 Lining up for Spurs in goal was former Reds number one Clemence. The torch had now been passed and Grobbelaar would go on to become the bedrock of a team that would dominate English football for a further decade.
As I remember that season, all those years ago, I am also struck by how fallible those Liverpool sides could be at times. We often think of them as all-conquering heroes, instead of the battlers they sometimes had to be. They lost games and sometimes struggled for consistency. Our legends had rough patches and were as much in need of an arm around the shoulder, as any player is today.
Perhaps we should think of that before writing off the career of the next youngster from overseas, after poor run of form. If Paisley's Reds could turn mid-table at Christmas into a title win in May, then Jurgen's Liverpool has every chance of doing the same with a top four place in early December.
Of course that was then and this is now. There are those who will argue, with some justification, that football has changed in the years that have elapsed since the 1981-82 season. However, one thing will never change and that's the value of having a manager who can hold his nerve, when all around him others are losing theirs.
Paisley had that in spades and Grobbelaar and Liverpool went on to reap the rewards. Maybe, just maybe it's too early for Reds to push the panic button on their goalkeeper just yet.