Jamie Carragher has hailed Roberto Firmino as a better striker than Everton's Romelu Lukaku due to the Liverpool star's higher work rate.
Firmino and Lukaku have established themselves as first-choice centre-forward at either Merseyside club, but the former has proved more effective than the latter so far in 2016/17.
Both have scored and assisted a combined total of 10 goals in the Premier League, but Firmino's all-round game has spurred Liverpool's early title charge.
This is where Lukaku has run into trouble, according to Carragher, who analysed the difference Firmino has made this season compared to other strikers in the English top flight.
Carragher boils it down to a simple factor, each player's work ethic, with Lukaku paling in comparising to his contemporaries.
Meanwhile, Firmino has both covered more ground and made more high-intensity sprints so far this season, running a remarkable 23.6 miles further than Lukaku, despite playing just 50 more minutes heading into the weekend's games.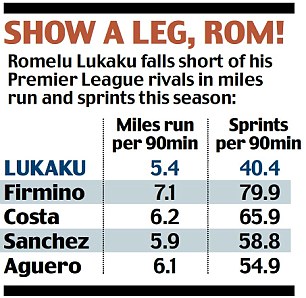 The Brazilian runs more on average per 90 minutes (7.1 miles) than Arsenal's Alexis Sanchez (5.9 miles), Manchester City's Sergio Aguero (6.1 miles) and Chelsea's Diego Costa (6.2 miles), too.
This has set Firmino apart from his competitors, and given Liverpool the edge in attack, with their No. 11 also averaging more sprints per 90 (79.9) than the quartet.

"The difference is colossal," Carragher wrote, and this is likely why Jurgen Klopp has put his faith in Firmino as his key man up front, ahead of Daniel Sturridge.
Divock Origi's recent run the first team is no doubt inspired by the 21-year-old's excellent work rate, too, and with Sturridge currently sidelined with a calf injury, this could see the English drop further down the pecking order.
While Lukaku's tally of league goals this season is admirable, this is not enough in the modern game, with strikers expected to contribute in a variety of areas—much like goalkeepers, too.
Firmino is the prototypical modern South American striker, and in many ways has provided the energy and tenacity that Liverpool have been lacking in attack since Luis Suarez's move to Barcelona in 2014.
While he has a long way to go to reach the Uruguayan's level of expertise, Firmino is certainly an able replacement, making supporters forget about the failure to sign Sanchez two years ago.
Lukaku is currently stagnating in his role up front for Everton, while Firmino is leading the pack as the new face of attacking talent.