Jamie Carragher was critical of the manner in which Liverpool fell to pieces against Bournemouth, saying the players once again lost their heads.
The Reds lost in heartbreaking fashion on Sunday, throwing away a 3-1 lead to lose 4-3 in the dying seconds at Dean Court.
It was a big blow to Liverpool's title hopes and once again proved to be an example of them capitulating when previously in total control of the game.
It is now the fourth time since Jurgen Klopp's arrival that they have led 2-0 and failed to win.
Carragher did a typically brilliant analysis of the Reds' performance on Sky's Monday Night Football, outlining exactly what went wrong for Klopp's men.
The Liverpool legend believes his former side panicked when the pressure got to them – something that has happened too often in recent years.
"Liverpool have been involved in this a lot. It was no surprise," Carragher said.
Jamie Carragher analyses Liverpool's dramatic defeat to Bournemouth: https://t.co/Hwb0b011rf #MNF #LFC pic.twitter.com/Gz2V8QjDWy

— Sky Sports Retro (@SkySportsRetro) December 5, 2016
"Don't forget Arsenal earlier this season, Norwich last season, the panic sets in.
"This has been a common theme for the last two to three years. You have to look at the personnel and also the two managers.
"There's 15 minutes to go but they don't change or make a defensive substitution. Just alter the way you play."
Carragher also spoke about Loris Karius, who was arguably at fault for two of Bournemouth's goals at the weekend.
The 38-year-old swatted away claims that the Reds are poor defensively, and expressed concern at Karius' lack of influence between the sticks.
"Liverpool have not got a poor defence, and they are not poor defensively," he added.
"If you've got a poor defence, your goalkeeper gets worked a lot.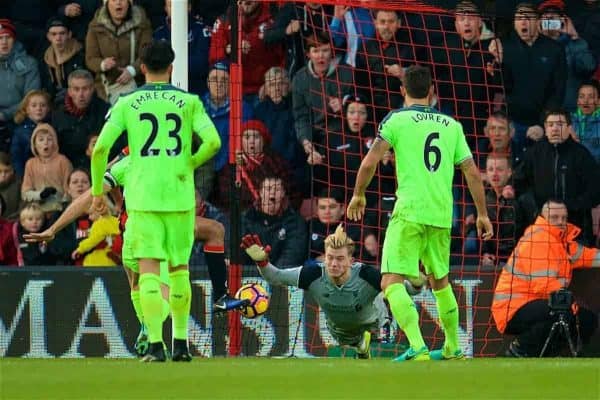 "The fact Karius has not made many saves tells me Liverpool have not got a poor defence because the 'keeper has not had to face anything, he has not had to do anything.
"The reason why we were critical of Karius after the Bournemouth game is because you cannot expect your defence to press constantly for 90 minutes, there will be games where people make mistakes.
"There have been two games where he has had questions asked of him; Swansea, where he struggled and was lucky, and Bournemouth, where he did not have the luck, the ball bounced out and he conceded.
"That is why we are critical because he was asked questions and he failed to answer them.
"Having said that, it's still early days for his Liverpool career, we are not saying he's finished by any stretch of the imagination. However, over the next 12 to 18 months he has got to improve."
As ever, Carragher is spot on about the issues troubling Klopp's side, and they must be eradicated if they are to have genuine title aspirations this season.
The hope is that this latest brain-freeze becomes an anomaly, but it has caused understandable concern among the fanbase.