The last time Liverpool played Middlesbrough, they suffered a disappointing 2-0 defeat at the Riverside Stadium on February 28, 2009.
An own goal from Xabi Alonso gave the hosts the lead after 31 minutes before Middlesbrough's Tuncay Sanli doubled their advantage and secured victory.
It was a defeat which signified the end of Liverpool's title hopes under Rafa Benitez and capped off a devastating fortnight.
A draw against Manchester City in the previous league fixture was a huge blow but Middlesbrough delivered the final dagger to the heart and there were very few away fans remaining in the Riverside after 90 minutes.
Liverpool in 2009

Less than two years after the Reds had competed in the Champions League final defeat against AC Milan in 2007, Liverpool were mounting a title challenge and had been top of the table at Christmas.
Benitez's side had shown how to over-achieve in Europe but they were struggling to shake off the tag of "under-achievers in England" and by the time they travelled to the Riverside in February they were a team losing their way.
The squad was lacking depth, European football was taking its toll and Benitez had failed to successfully add to the team in the summer transfer window.
Four of the biggest signings weren't even on the teamsheet, with Robbie Keane already offloaded to Tottenham, while Andrea Dossena and Albert Reira struggled to hit any kind of form.
Philipp Degen was wrapped up in cotton wool following another spout of injuries and Fernando Torres was suffering from a thigh injury.
Liverpool were still second in the league though and they went into the clash on the back of a historic 1-0 victory against Real Madrid at the Bernabeu.
European football was at its best for the Reds and they were in the thick of it, competing against rivals Manchester United and Arsenal for the league title.
Middlesbrough 2-0 Liverpool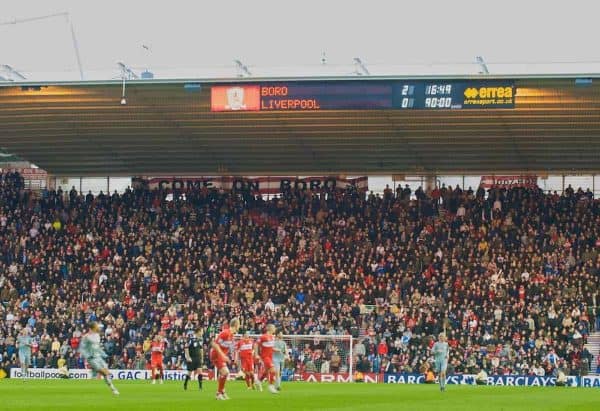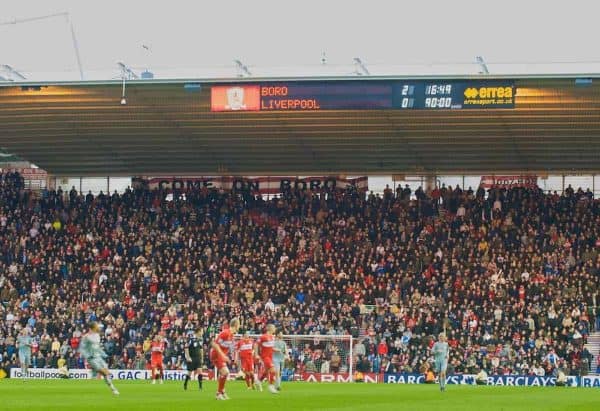 It was a horrific display from Liverpool and will certainly be up there as one of the worst performances under Benitez.
Signs were there early on when Martin Skrtel was being forced to play out of position at right-back and Nabil El Zhar was ahead of him in midfield.
Dirk Kuyt was a lone striker and he had very little support from Ryan Babel, who looked lacklustre and out of his depth.
The hosts weren't spectacular either and they had failed to score in the league for almost nine hours prior to the clash against Liverpool.
It was telling how poor the Reds were then when Alonso's unfortunate own goal gave Middlesbrough the lead going into the half-time break.
Tuncay's goal doubled the hosts lead but it was not a reward for Middlesbrough, who had done very little to trouble Liverpool, but a punishment for the hopeless visitors.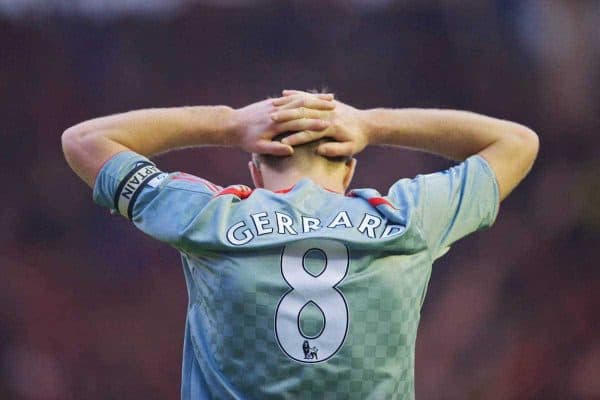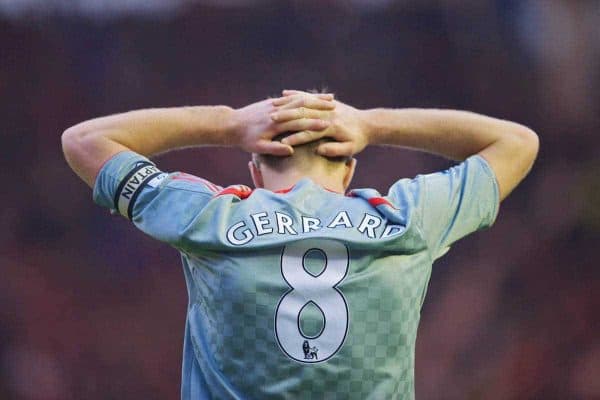 Liverpool's title hopes were well and truly over and second-half substitutions for Steven Gerrard and Jamie Carragher confirmed there were no intentions of mounting a comeback.
The game ended in disappointing fashion, with very little to excite the away fans who had traveled the long distance up north.
It was just the second defeat of the season for Liverpool but too many costly draws meant it was enough to put Benitez's men through 90 minutes of misery.
What Happened Next?

Liverpool ended the season as runners-up in the Premier League, four points behind Manchester United and three points ahead of Chelsea.
The defeat against 19th-placed Middlesbrough was just the second of the campaign and Gareth Southgate's side had suffered relegation despite that historic win.
The Reds did bounce back in the immediate aftermath, recording impressive wins against Sunderland, Madrid and United.
Liverpool have failed to achieve success and in the last seven encounters at the Riverside, losing three games and drawing four.
Liverpool will be hoping to put that statistic to bed when they travel there on Wednesday evening but they have to look back to August 2008 for their last win against Boro in normal time.
Liverpool also reached the quarter-finals of the Champions League but were knocked out by bitter rivals Chelsea following a dramatic 4-4 second leg encounter at Stamford Bridge (Chelsea won 7-5 on aggregate.)
Glen Johnson, Alberto Aquilani and Maxi Rodriguez all joined in the summer of 2009 but Liverpool waved goodbye to Alonso, Alvaro Arbeloa and Sami Hyypia.
Liverpool XI: Reina; Skrtel, Hyypia, Carragher (Benayoun 71′), Aurelio; Gerrard (Lucas 76′) Mascherano, Alonso; Babel, Kuyt, El Zhar (N'Gog 68′)