In an exclusive interview with Milan Baros – who was unveiled at Liverpool on Christmas Eve in 2001 – the striker recalls his first days in L4, discusses his relationship with Gerard Houllier and Rafa Benitez, and offers his response to suggestions he put a dent in the European Cup.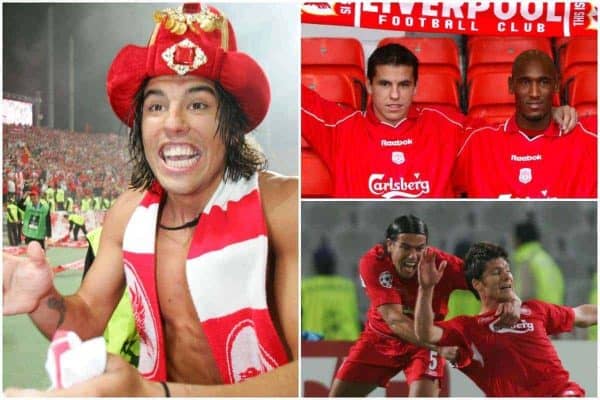 We've read that you were nicknamed the Ostravan Maradona as a youngster. Was he the star you looked up to as a kid?
I never really had an idol. I had one dream and that was to play in the English league.
I was so happy that my first experience in England was with such a huge club like Liverpool. My father was a red and we'd always watch the matches on TV. Liverpool became my favourite team. Tottenham were also quite popular in the Czech Republic back then, but Liverpool were the team for us.
After impressing in the Czech league, you joined Liverpool at the age of 19. Was that slightly overwhelming at first?
Of course. Everything was different. The lifestyle, the food, the pace of the game – everything. I was still a teenager and I was naive because I thought it would be easy to come to England and play as well as I had back home.
I had to adapt and it took time. I learned the language and needed to get used to the speed of the English league. I had to get fitter physically too.
For the first eight months I was just acclimatising. It was very difficult. After a few months I had some offers to go out on loan. I decided to stay and fight for my place. The following season I got a chance to play in the first-team, so I was happy that I was patient. I hadn't got so close to my dream to give up after just a few months.
You talk about adapting to the language. English is one thing, but how did you find Scouse?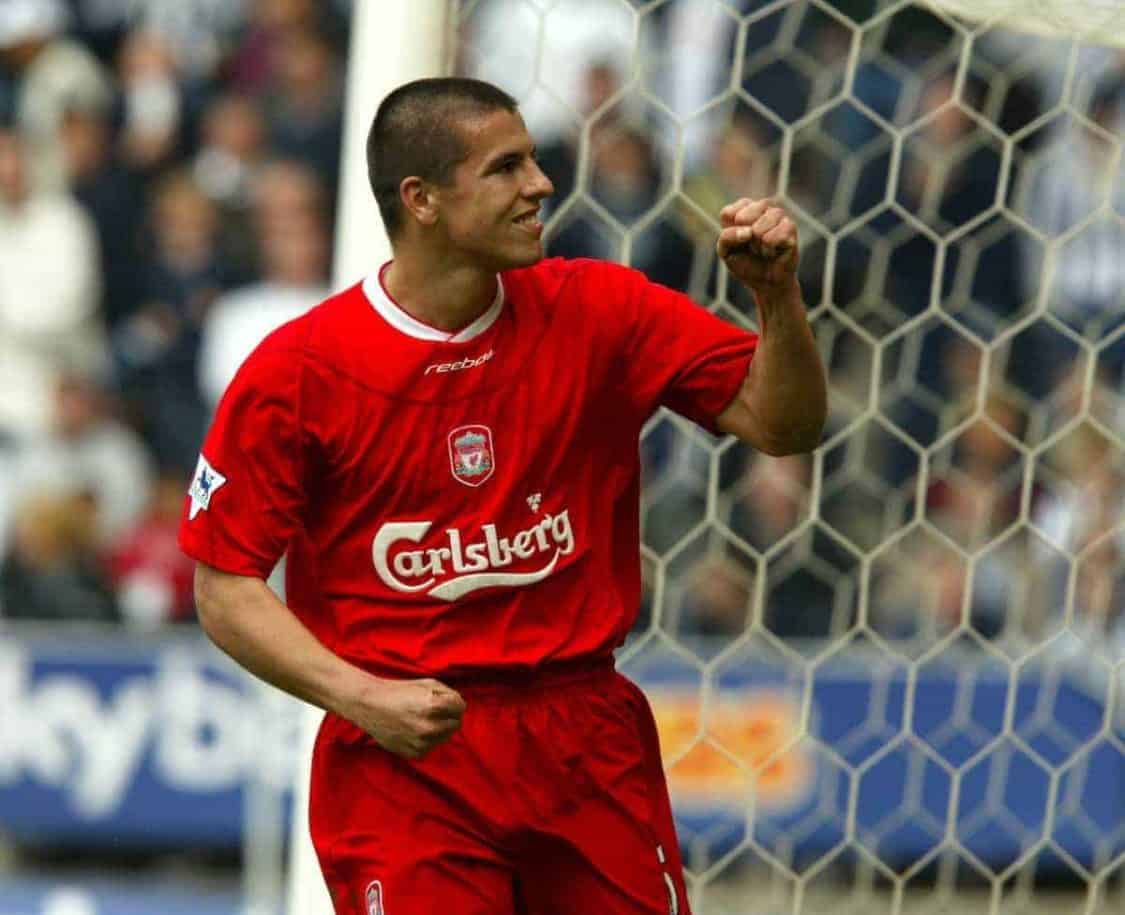 It was difficult in the beginning, especially with Carra in the dressing room! But you get used to it.
When you live there and you hear it every day, you start to understand it better. It always raises a smile when I hear someone with the accent now. Good memories.
Tell us about your relationship with Gerard Houllier. You're quoted as saying you would have left Liverpool in 2004 if he'd stayed as manager, but you later went on to play for him at Lyon. What changed?
I think the media made more of it than there was. We never really had a problem. Sometimes the player and the manager will have different views on things. We had that but I always respected him.
He is one of the biggest influences on my career. He took me from the Czech league to England and I always have to thank him for that. There wasn't a major issue, so when he looked to sign me again for Lyon, I was grateful for a new opportunity to play for another successful club.
You wore the number five shirt at Liverpool. Many feel that is a strange squad number for a striker. Did you choose that for any particular reason?
No, Liverpool just gave it to me and I wasn't going to argue! No big story behind it, though I realise it's not a usual number for a striker.
You made a big impact for the Reds in 2002-03, netting 12 times. What do you remember about your full debut at Bolton?
It's one of the biggest moments in my career. I was so nervous before the game. Bolton was a really tough place to go back then, they always fought. It was more of a battle than a football match.
I was so happy with how it went. I managed to score two goals and almost got a hat-trick because I hit the post too. It's a moment that will stand out in my mind forever.
It was my first start for Liverpool and I got the two goals, amazing.
You had appeared as a sub a couple of times prior to Bolton, including your first ever appearance for LFC at the Nou Camp – not a bad place to start!
Yes, it was when Phil Thompson was in (temporary) charge. I was on the bench but wasn't nervous because I never expected to be involved.
It was a big surprise to get 15 minutes and it was great to play in front of 75,000 people in one of the world's best stadiums, but my bigger memory is the Bolton game. I knew I was going to start three or four days before the match and could prepare myself. It made the experience more emotional for me.
Liverpool won the League Cup that season, beating Manchester United at Cardiff's Millennium Stadium. Was that a bittersweet day for you as you came on as substitute but were then replaced late on?
At the time I was unhappy. You don't want to go off as a substituted substitute, but it's especially disappointing in a cup final against massive rivals.
We had just gone 2-0 up and the game was won. I was stunned because I had only come on for Heskey with half an hour left. I was young, so I was disappointed but you have to think of what's best for the team. That's the most important thing. We won the trophy and that was what mattered.
I let it get to me in the celebrations because I felt a bit embarrassed. I should have savoured the moment more. It's over 13 years ago now and I only look back with pride. It was the first major honour of my career, so I have a very different view of it now.
If 2002-03 was a breakthrough season, the following campaign must have been frustrating as you missed a large chunk of it after breaking your ankle at Blackburn….
You have to expect that you will get injuries in football, but it still doesn't make it any easier. I was out for five-six months and didn't return to action until late February.
I was a substitute a lot and wasn't at my best. I was unhappy at that point and wondered about my future at Liverpool, but the fact we had Euro 2004 that summer motivated me and gave me something to focus on. The coach of the national team had told me to get myself fit and ready, and that I'd be in the squad. That gave me a boost and provided some light at the end of the tunnel.
You went to Euro 2004 and were the tournament's top scorer with five goals. In a strange way did the injury mean you were fresh and in top condition for the competition?
Yes, it may well have helped. Even now you watch the major tournaments and you can see many of the top players are tired because they have played 60+ games in a season. I hadn't had many games for Liverpool and I was very excited about the Euros.
If I was a tennis player, being the No.1 might be up there as a big achievement, but I would change being top scorer for the trophy right now! We lost the semi final to Greece which was devastating because I think we had a team good enough to win the tournament. We had some big names and while it's nice to be the top scorer, I'd rather have the winner's medal.
Did you have any concrete interest from any of Europe's major clubs after starring on such a big stage? You were linked with Barcelona and Real Madrid at the time….
My agent told me there was some interest but in the end I chose to stay at Liverpool. I felt that we could be successful and I think I made a good decision because the next season we won the Champions League.
Rafael Benitez had come in to replace Houllier and he had a different style that had been very successful at the time. He had done well with Valencia and brought something new to Liverpool. He was much more focused on the tactical side in training sessions. We maybe had a more defensive style but it served us well in Europe that year.
Did you expect to be given a more leading role with Liverpool after the Euros, particularly as Emile Heskey and then Michael Owen departed?
At a club like Liverpool you have to expect there are going to be more than a couple of top strikers. It provides competition but it helps you raise your game. You need to try and improve all the time. I never expected that I would be the main man up front.
They signed Djibril Cisse for a lot of money but I had many chances to start. I actually scored a lot of goals early in that season. I think I hit double figures by mid-November, including my first hat-trick for the club against Crystal Palace. It doesn't get more dramatic than a last-minute winner in front of the Kop. That was one of my best matches in a Liverpool shirt.
Unfortunately the goals dried up a bit in the second part of the season but I tried to contribute in other ways too. We were very inconsistent in the league but we went on that big adventure in the Champions League.
Let's talk about the Champions League run. When did the players start to actually think you could go all the way and win it?
You always dream but every round was tough. We had been the underdog pretty much all the way to the final but I think that made it easier for us against Juventus and Chelsea. The pressure is on the other team.
You are so close when you get to the final – but then you find yourself 3-0 down at half time! I don't think anyone in the world thought we could change that, but we did. We did it the hard way, that's for sure.
Somewhere in the sky it was written that we were going to win it. Someone up there wanted Liverpool's name on the trophy.
If we just take you back to the semi final, second leg against Chelsea at Anfield…. You're a footballer who has played in some fervent crowds in Turkey, but that night in 2005 was surely one of the best atmospheres you've experienced, wasn't it?
I always say that was the noisiest game I've ever played in. It was powerful before the kick off and during the game, but after that final whistle it was unbelievable.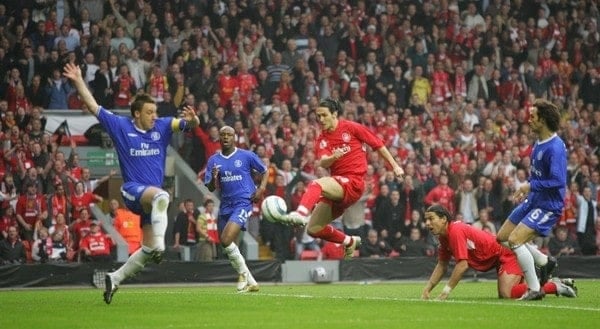 I can remember how crazy it was for Luis Garcia's goal. I tried to get to the ball and got brought down by (Petr) Cech. I looked back at the referee expecting a penalty but then Anfield just exploded! I don't care what is said about it being over the line. We scored. It was better than getting the penalty, you can always miss that. It gave us the lead and we fought with everything to make sure we held onto it.
And so to Istanbul. Were you surprised by Benitez's line-up? Didi Hamann was on the bench and Harry Kewell also started alongside you….
To be honest, I was surprised that I started. Djibril (Cisse) had scored twice in the last league game before we flew out for the final. I was expecting him to play. Rafa chose me and I was also surprised Harry Kewell was in the side as he had been injured a lot. But that's the manager's job. He picks the side and has his idea for the match.
You mentioned Hamann there. Maybe he should have started but he came on and wasn't just important in the second half and extra time, he scored our first penalty in the shoot-out. If he had started maybe he wouldn't have been as fresh when we needed him in the later part of the match, you just don't know. I
t's easy to say what you should have done afterwards. Djibril also scored a penalty after coming off the bench, so all of the players in the squad played their role.
What about those six incredible minutes after half time? What do you remember about that Vladimir Smicer strike that you did so well to get out of the way of?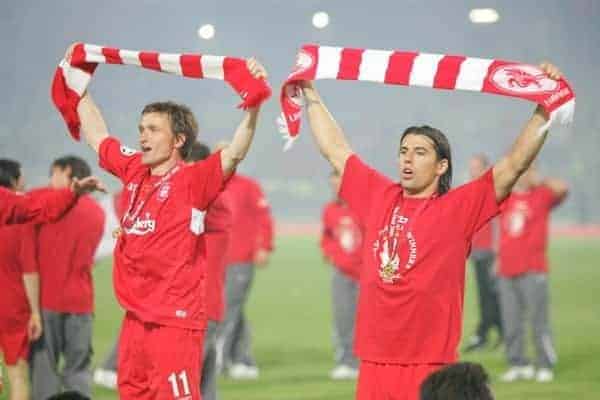 (Laughs). Whenever I speak with Vladi about the game, I always wind him up and tell him it is my goal! I tell him 'it just brushed me, a very slight touch but it counts!' I'm only joking of course. He hit it really well and I could tell it was going on target. I just got myself out of the way. Thankfully it went in and it gave us massive belief.
You had a hand in the equaliser too, touching the ball back for Gerrard who was brought down for the penalty….
Yes, Stevie shouted to me that he wanted the one-two. I had my back to goal and tried to touch it into his path. He got in front of his man and it was 100 percent a penalty.
Rafa had picked Xabi (Alonso) to take it before the match and I was so relieved he got to that rebound! I was first to celebrate with him but accidentally hooked him over by his neck! It was an amazing fightback.
Were you disappointed to be replaced before extra time and would you have liked to have taken a spot-kick in the shoot-out?
No, it had been a very difficult game. I was physically down. I had run myself into the ground for 85 minutes and we were under pressure again. We needed the fresh legs, they were important. Djibril came on and had the legs to run and offer an outlet. He scored in the shoot-out too and his freshness definitely helped the team in extra time.
What went through your mind the moment Jerzy Dudek made the save from Andriy Shevchenko and you realised you were a 'European champion'?
(Laughs and then pauses) …. I can't tell you! There's 10 seconds or so there where I can't remember anything. Sometimes I watch the highlights of the penalties and I see us all running like madmen towards Jerzy. I can't remember that run. It was crazy, you can't describe it. The emotion and the euphoria, just wow.
There were some incredible celebrations – and the story goes that you put a dent in ol' big ears. How did that happen?
I hate to wreck the tale, but that's total rubbish. It never happened. They said that I dropped the trophy, but it never happened. It's got a dent in it and the papers reported that I was supposed to be the one who did it as we celebrated. I know they say it adds character to the trophy, but it wasn't me!
You didn't have much chance to set the record straight as Istanbul proved to be your last significant moment with LFC. You made two substitute appearances in 2005-06 before moving on to Aston Villa after four years at Anfield. Is it fair to say Liverpool was the best period in your career?
Yes, I think so. We won the Champions League and playing in England for the team I had watched on TV with my father was amazing. 2004 to 2005 was a special period for me with Euro 2004 and then that run in Europe. I still watch every Liverpool game now and hope they can go on to win their first trophy under Jurgen Klopp this season.
* Read more from Milan, on Sturridge, Gerrard and Klopp, here, and read more exclusive LFC interviews, here