Liverpool need a change in mentality to halt their current slump. Could a change of formation facilitate this?
Given the poor run of form Liverpool are currently on, Jurgen Klopp must be scratching his head as to how he can turn things around against the Premier League leaders.
The Reds are one of only three teams to defeat Chelsea this season, but that victory came back in September when Antonio Conte was still finding his feet – and before the Blues' change to three at the back.
Klopp's side, on the other hand, were starting out on a run which would see them go 11 games unbeaten in the league.
How times have changed. Chelsea are cruising at the top of the league having lost just one of their last 16 games, while Liverpool are yet to win a league game this year and have lost their last three games at Anfield.
In his press conference after his side's FA Cup exit at the hands of Wolverhampton Wanderers, Klopp commented that he knew what was needed to turn things around.
"We know what we have to change, only we have to show it," he said. "We are on it, we know about it, and we will work on it."
As Klopp says, knowing it and then showing it are two different things, but that they're aware of what is going wrong is a good start!
Shapeshifting

One possibility is a change in the team's shape, which could give them more chance of competing with their opponents while the chips are down.
Klopp has switched to a back three in games against Southampton and Wolves when the side have been struggling, and there have been some encouraging signs when using this formation.
It's previous use shows that it's a system most players are aware of, and something they might have worked on in training.
In the second half of the game against Wolves, Liverpool operated in a 3-1-4-2 formation. This lineup could work better once Joel Matip is back in the side as he could provide height and good ball playing ability from the central position.
Matip's ball playing ability would make up for the fact that the club still don't have a specialist defensive midfielder, and would allow one of Can, Wijnaldum, or Henderson to play more of a box-to-box type role.
Left-footed Klavan would be the natural choice for the left of the back three, while Joe Gomez's previous outings at right back for Charlton and comfort on the ball would make him ideal for the slot on the right.
Both Klavan and Gomez operated in these positions during the second half against Wolves, with Lucas in the middle looking a lot more comfortable than he did further up in midfield.
If Lucas or Dejan Lovren were to be used in this system, the central position is the only one they could play as the pair struggle when they are exposed out wide or in midfield.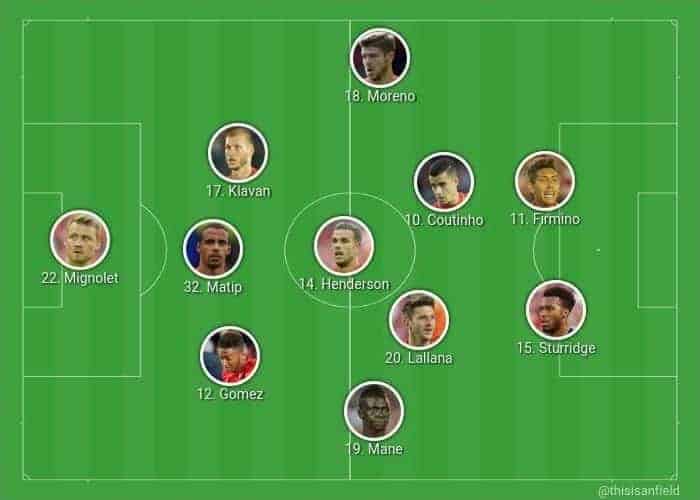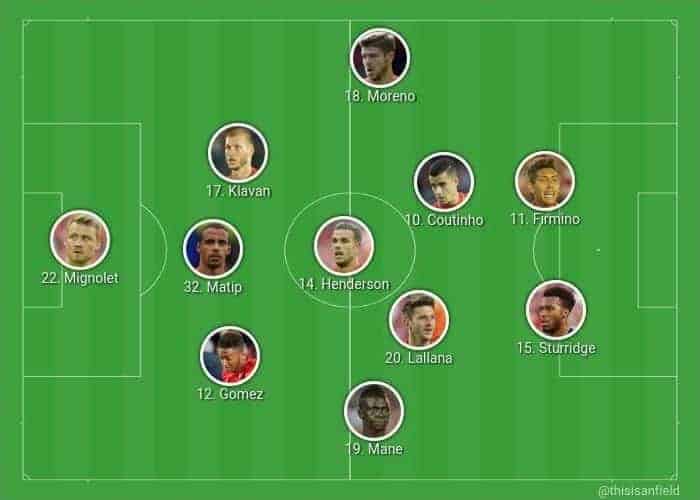 The formation allows for two out-and-out strikers, and a bank of five midfielders across the park who have numerous avenues through which to feed these forwards.
The wing-backs have a little less defensive responsibility as they're now part of the midfield, and it's for that reason that the likes of Sadio Mane could be used in the position. The three central players can operate as they would in a 4-3-3, but with increased passing options.
Against Wolves it produced Liverpool's best moments of the game, and the coaching staff must at least be considering its use from the start of a game, especially against Chelsea.
Matching Conte's Chelsea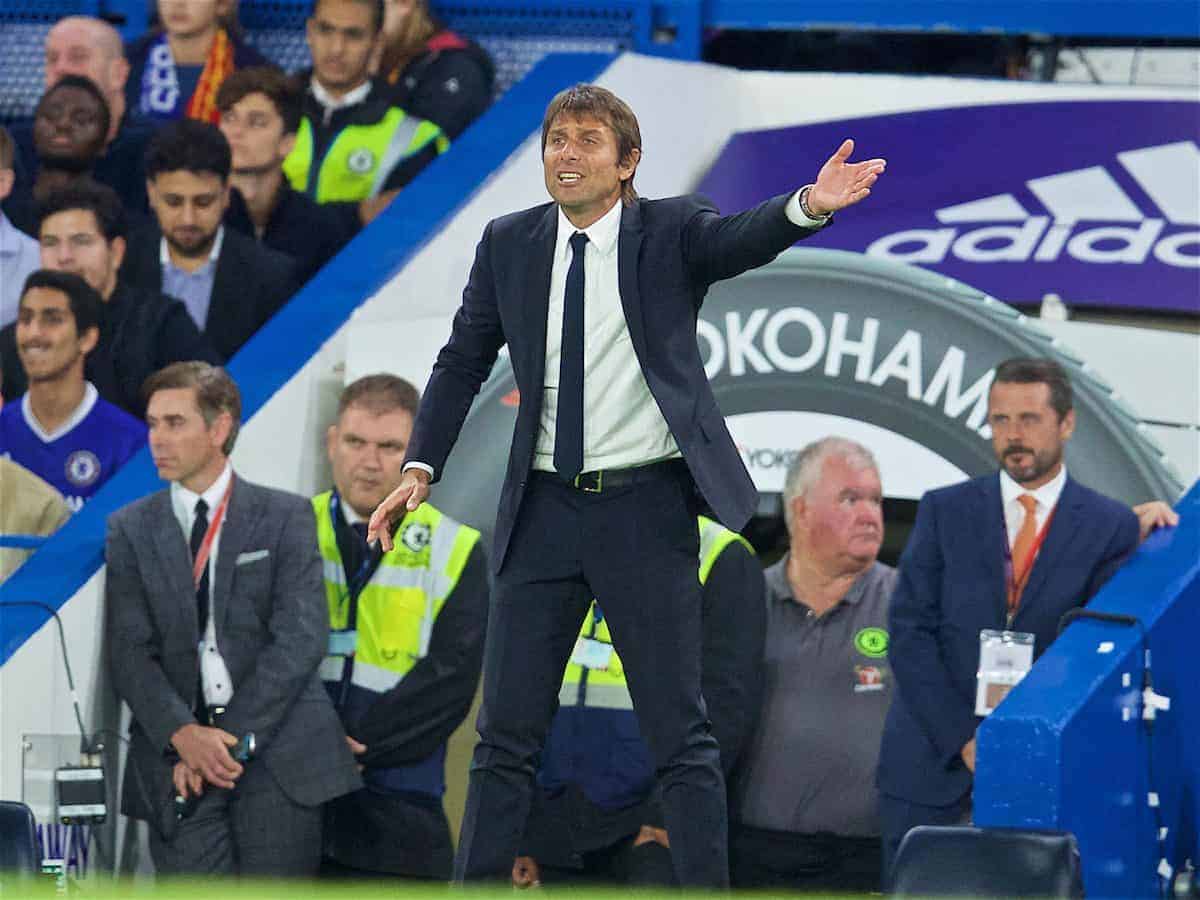 Chelsea's second defeat of the season came in the form of a 3-0 drubbing against Arsenal at the Emirates. Following that loss Conte switched to the back three formation he'd used at Juventus and the Italian national team, and his side haven't looked back since.
They went on a 13-game winning run which ended with a defeat at Tottenham early in January, but normal service was soon resumed with convincing league wins against Leicester and Hull.
Many teams have tried to match Chelsea's system in an attempt to nullify them, but only Spurs — a side who've also had success with a back three this season — were able to find a way to beat them.
Some of these sides have dabbled with a back three prior to facing Chelsea, but others changed their lineup especially for their game against the league's form side.

Championship side Brentford have used the formation before and did so again in the recent FA Cup meeting between the sides, while Hull, Leicester, Tottenham, Stoke, Bournemouth, Sunderland, Man City, Everton, and West Ham have all used a back three against Conte's team even if it wasn't the formation they use on a regular basis.
Francesco Guidolin and Walter Mazzarri also used a back three in games against Chelsea for Swansea and Watford respectively, but these were earlier in the season when Conte was still using a back four.
Proactive or reactive?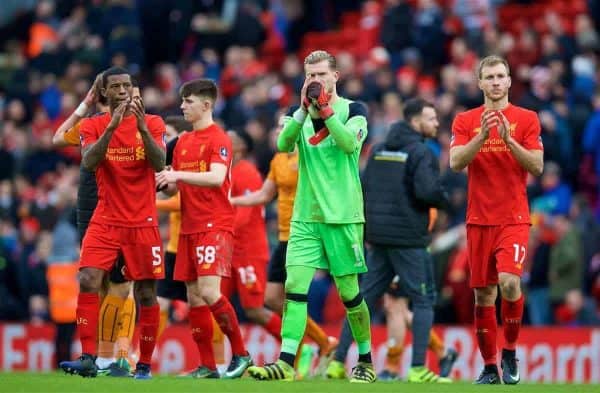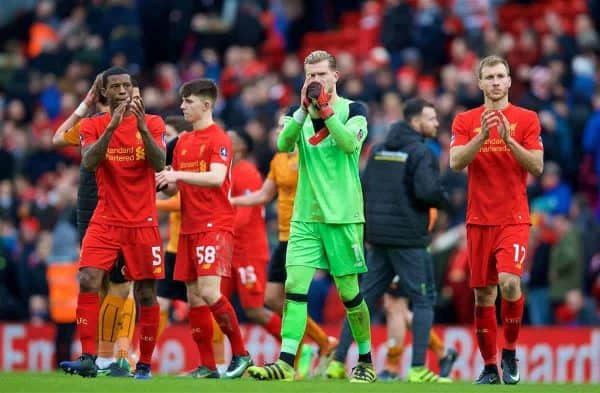 The general approach to a game depends on the mindset of the manager and the club. Tottenham, Liverpool, and Arsenal have been the only sides to beat Chelsea mainly because they are proactive rather than reactive.
Mauricio Pochettino had been using the back three with success prior to his side's meeting with the Stamford Bridge club, so they were able to concentrate on their own game rather than focusing solely on stopping the opposition.
If Liverpool were to switch to a back three it may be considered a reactive move designed to stop the other team, but the way the side are performing at the moment it would be a reactive move based on their own poor performances, rather than anything to do with how their opponents play the game.
So regardless of who Klopp's side were up against in the next game, it would be worth considering the change as a pro-active move.
If they were going to use the back three then now could be an ideal time, and they could always return to the 4-3-3 once the players have had time to regroup and rebuild some confidence.