Jurgen Klopp admits it is not possible to get any lower after a second cup exit in the space of three days.
A 2-1 home FA Cup loss to 18th-placed Sky Bet Championship side Wolves after a defeat to Southampton in an EFL Cup semi-final came on the back of a first home Premier League reverse in a year against Swansea, which saw the Reds also fall out of the title race.
Klopp accepted full responsibility for the latest upset and refused to sugar-coat the situation he now finds himself in having lost three successive matches for the first time since taking over in October 2015.
However, he believes it has to form the basis to spark a rejuvenation of a side which has won just once—against League Two Plymouth—in 2017.
"If someone asks if this is the lowest point of my Liverpool time until now, I don't know," he said.
"But if it is it is a perfect moment to turn because it is not possible to go lower.
"I don't think it is the right time to talk about being positive or optimistic. In this moment we feel really bad.
"It is absolutely right that it feels bad and we have to use it in this moment."
---
Klopp made nine changes from the midweek defeat to Southampton and they conceded a Richard Stearman header after just 52 seconds with an unmarked Andreas Weimann doubling their lead just before half-time.
Divock Origi sparked a frantic last five minutes with a close-range strike but it was too little, too late, as Wolves became the seventh lower-division team this millennium to knock the Reds out of the FA Cup.
"We made a lot of changes, most of them because we couldn't do differently, a few because we wanted," added Klopp.
"In our situation, after losing two games [we are] not full of confidence, not flying and the start of the game doesn't make it easier: a free-kick after a minute and a goal makes them fly.
"It makes everything easier for them and everything more difficult for us so we should have avoided a start like this but there were still 93, 94, 95 minutes to go.
"In the first half we were too static, not fluent enough and that side didn't play too often together but it should have been better.
"Second half it was better, We could have scored two times.
"I am responsible and I feel really responsible for this performance because I thought we could do better.
"I cannot explain every single thing of today but I don't look for excuses."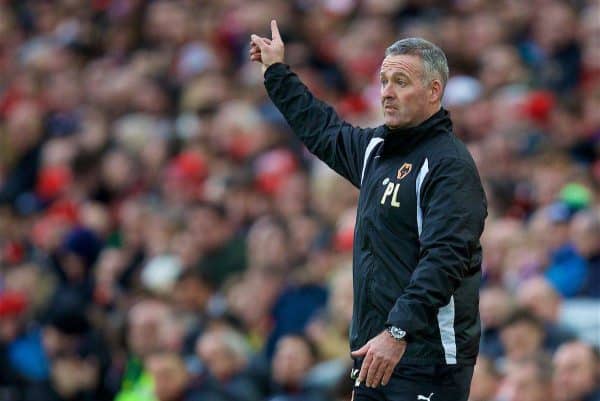 Remarkably Wolves boss Paul Lambert has never lost at Anfield but he felt this result surpassed all his previous visits.
"I have never been beaten here as a player or manager: that is with Celtic, Villa and Norwich," said the Scot, who made seven changes himself.
"But that surpasses everything because of the gulf in the league and the players.
"I thought we deserved it, I really did. The first goal gave us something to hold on to, on the counter attack I thought we were incredible and what we have got is incredible team spirit.
"I just thought if the young players could hold their nerve with the crowd and thrive on the atmosphere rather than fear it we would have a chance as a team.
"If you have a good team spirit and have the fans and the team bouncing off each other you have a chance."