After being named Liverpool's Player of the Month for January, Georginio Wijnaldum has outlined his ambition to continue to improve.
Wijnaldum came out on top in the club's poll for their best player of the last month, although given the Reds' form throughout 2017, there were few standouts the choose from.
The Dutchman received 22 percent of the vote, with Simon Mignolet second with 18 percent and Trent Alexander-Arnold third with 13 percent.
This marks a January that saw Wijnaldum score his third goal for the club in the 1-1 draw with Chelsea at Anfield, as well as producing some of the more impressive displays against Man United.
But as can be expected, the 26-year-old is still looking to improve after receiving his accolade, hoping to use it as a platform to "do even better than his best."
"It means a lot to me, of course. It's always good for a player if you can win this kind of thing," he told LiverpoolFC.com.
"Because you feel the fans like you and gives you a good feeling when they vote for you.
"This will give me a boost to do even better than my best, to win more of these awards.
"But the most important thing is the team start winning games again and try to play football how we did before."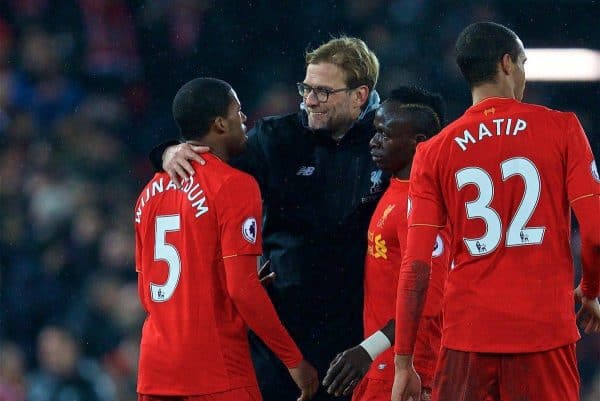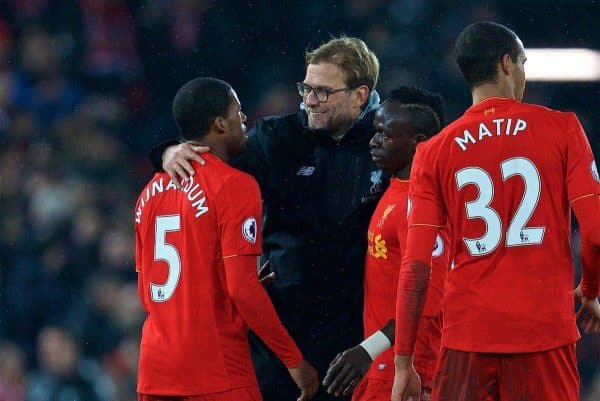 Wijnaldum's header against the Blues on January 31 highlighted his ability as a ghosting, goalscoring midfielder, but he is still significantly shy of his 10-goal target for the season.
With just 14 games left to score another seven, Wijnaldum is unlikely to achieve this, but as he continued, he explained how he was simply happy to contribute.
"It's always beautiful and a good, happy moment if you can score goals against big opponents," he added.
"It was an important goal because we were 1-0 behind, so my header was the equaliser and helped the team get a draw.
"So it always gives you a good feeling if you can score goals against big opponents, especially when it's an important goal—and this was one."
Wijnaldum has found himself in and out of Jurgen Klopp's starting lineup of late, with the manager preferring Emre Can alongside Adam Lallana and Jordan Henderson.
But with Can out of form, and Wijnaldum recognised for his influence throughout January, perhaps it is time for a change.