Jurgen Klopp played down any suggestion Liverpool could revive their title challenge after returning to form with a 2-0 defeat of rivals Tottenham.
And Mauricio Pochettino also felt Spurs lacked title-winning quality after producing a dismal first-half display in a one-sided Premier League encounter at Anfield.
Sadio Mane struck twice in quick succession to hand the Reds their first league win of 2017 at the expense of Pochettino's second-placed side.
The Merseysiders still remain a point behind Spurs, and 10 behind leaders Chelsea, who have a game in hand, and manager Klopp did not want to look too far ahead.
The German said: "What would you think if I said we could get them? Really ambitious or crazy? I am not too interested in this at the moment.
"The only possibility to win something is to win football games. We started, if you want, 2017 tonight. We should not go nuts immediately. Let's take it step by step.
"Chelsea don't look like they could struggle over the (remaining) week but we will try everything to get as many points as we can from the season."
Pochettino was downbeat about Spurs' title prospects after what was a demoralising defeat. Spurs were outplayed in the first half and were unable to claw themselves back into the game after conceding twice early on.
Pochettino said on BT Sport: If you saw today the first 45 minutes, that is not a team that are ready to fight for the Premier League."
He later added: "It will be difficult. It is true nine points is a massive gap and if they (Chelsea) win tomorrow it will be 12 and even more difficult than before.
"We are second in the table, one point above Liverpool. My feeling now is not so good but we need to recover from the defeat and try to fight.
"We need to be focused now on Thursday in Europa League and then the FA Cup, then the Europa League and then Stoke at home.
"We cannot waste time thinking too much. We need to be clever now and try to improve our game from the beginning and not wait until 2-0 to start to play."
Pochettino had no complaints about the result after Spurs were run ragged and were perhaps lucky not to concede more with Mane twice going close to completing a hat-trick.
He said: "Fully deserved Liverpool – they were better than us. If you reach this level from the beginning sometimes this happens.
"After 20 minutes, 2-0 down, and then it is late to react. The truth is they played better than us.
"It was difficult for us, (we had) plenty of problems. It is difficult to explain. Over 94 minutes I think we were poor and we never coped with the tempo of the game."
Klopp could find few faults with Liverpool's display. He said: "You can win a game and not be happy with the performance but tonight I am really happy with the performance.
"Our offensive part of the game was really strong, really direct, really clear. We showed fight and we played.
"We really concentrated and improved defensively in this game. It was really good and well deserved." Mane's performance underlined what Liverpool missed during their dismal January run when the Senegal forward was away at the African Nations Cup.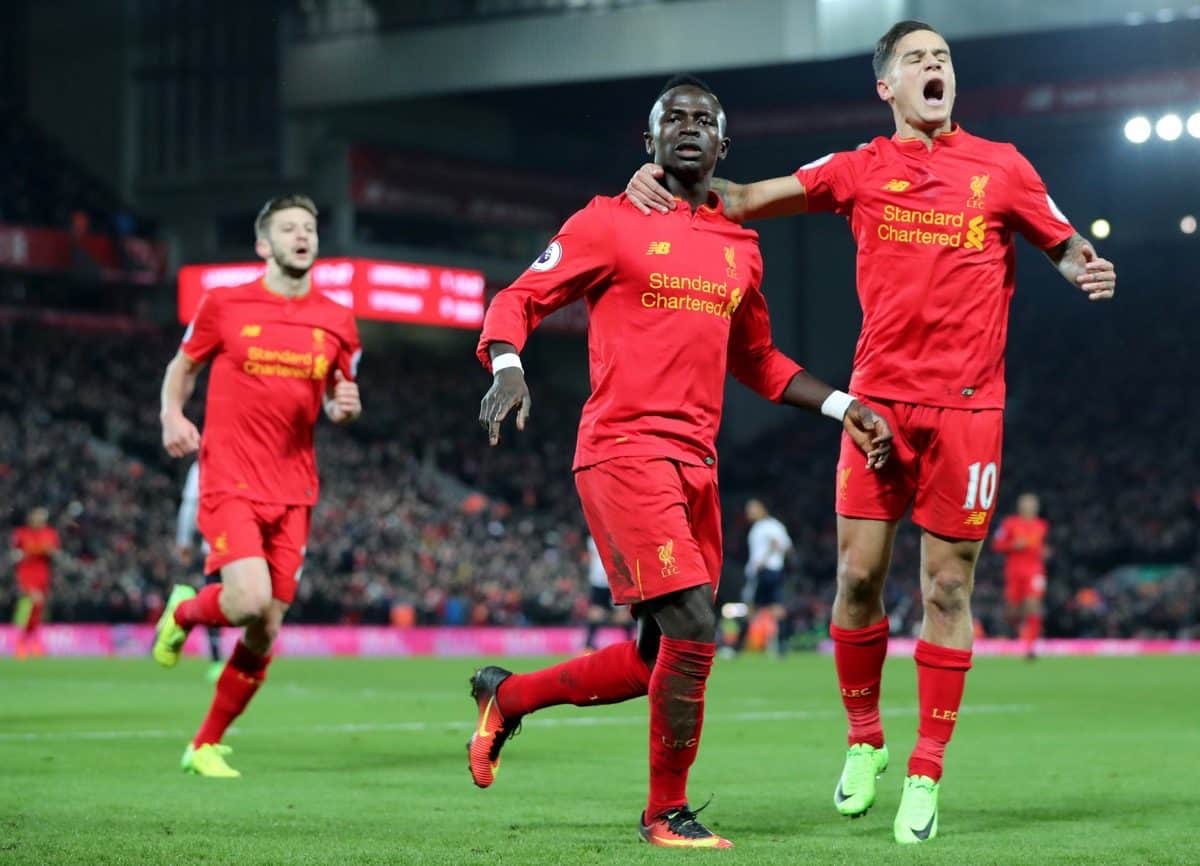 Klopp said: "He was fantastic and could have scored a third. It is no problem for me to talk about such a wonderful performance from Sadio but actually, Roberto Firmino, I don't think I saw a lot of better games from a striker without scoring.
"I saw a lot of good individual performances tonight and that is important, otherwise you can't win against a team like Tottenham.
"Of course we missed Sadio but each team in the world would have missed him. It is not that we played 20 games really bad, we had a few.
"Now we are back in this race and we have to use this situation. We now have 14-15 days, so two or three days rest for the boys and then a pre-season. We have to use the time."