Next up in our 'My LFC Matchday' series is John Pearmen, editor and founder of the Red All Over The Land Liverpool FC fanzine.
RAOTL is now the only surviving paper fanzine, available to buy from different sellers around Anfield on a matchday, and at most away games.
It's been a regular part of the matchday for many fans for more than two decades now, so how does running the fanzine affect John's matchday routine?
We speak to John about his LFC matchday and other questions about Anfield.
What's your matchday routine? What time do you get to Anfield?
I like to arrive as early as I can but being as I travel by supporter's coach there are many factors that can dictate the time of arrival – usually the M6.
Kick off times also make a difference but I like to be selling Red All Over The Land at least two and a half hours before the start of a game.
When we had a hardy team of sellers I could go to a cafe and get myself a coffee or toastie but that's very rare these days due to the fact we only have four people selling – if anybody wants to help sell, get in touch!
How different is selling the fanzine when it's raining? And do sales vary with how well LFC are doing?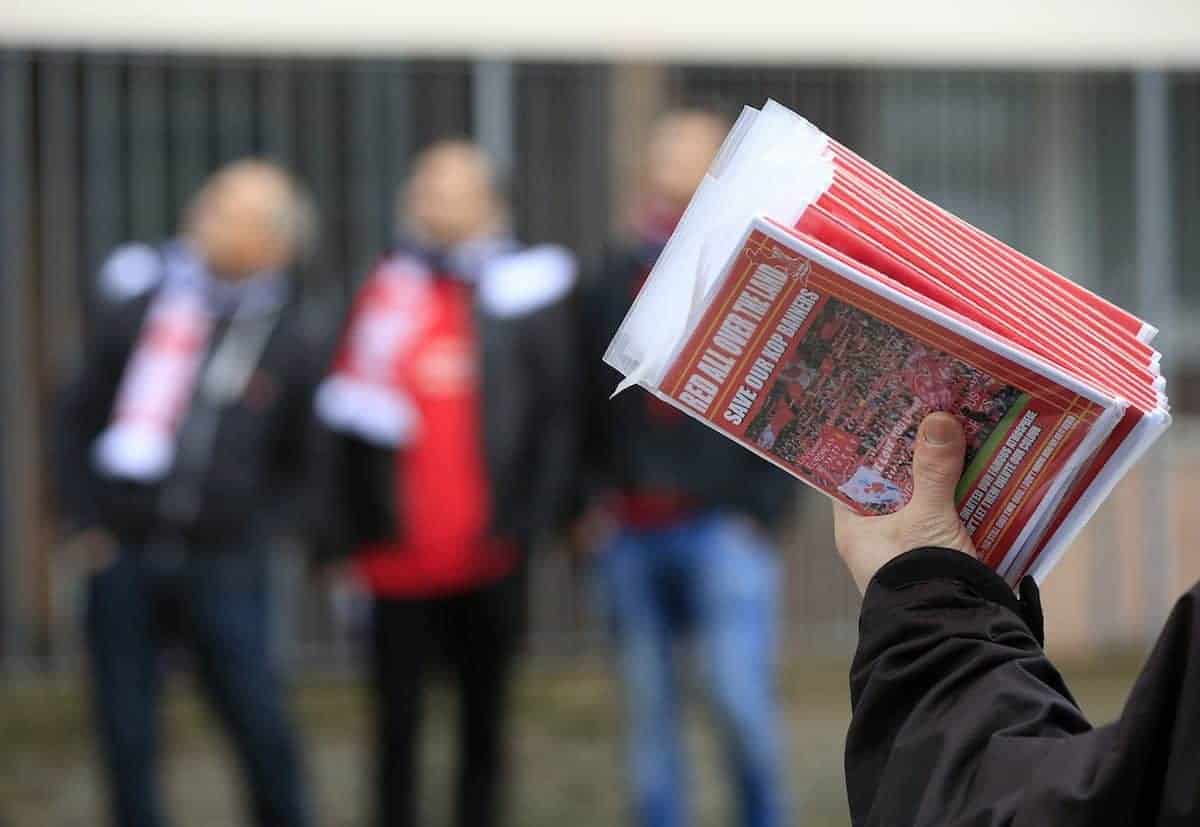 When the weather is against us it obviously makes selling more difficult because around Anfield there is virtually no shelter from the elements – something they should have surely considered when the rebuild was on and not just for fanzine selling either!
We just try and cope but like the day we played Tottenham it wasn't the rain, it was the bitter cold and in some way that's worse than rain.
Strangely enough, it's sometimes easier to sell when things aren't going overly well. We don't mind being critical of the team when it's necessary and justified, unlike the official publications and outlets that will always paint a brighter picture.
We also like to stand up for the real supporters issues, like ticket prices and the local supporters who've been sidelined by the club. In fairness these days it doesn't matter too much although a last minute winner can help after match sales just as a bad defeat can deflate them.
What would be your bit of advice for anyone visiting Anfield for the first time?
I think those visiting Anfield for the first time these days make up a large proportion of the numbers attending a game. Unfortunately, they've more often than not been brainwashed by the TV companies and think there's a format they should adhere to which is far removed from the real thing.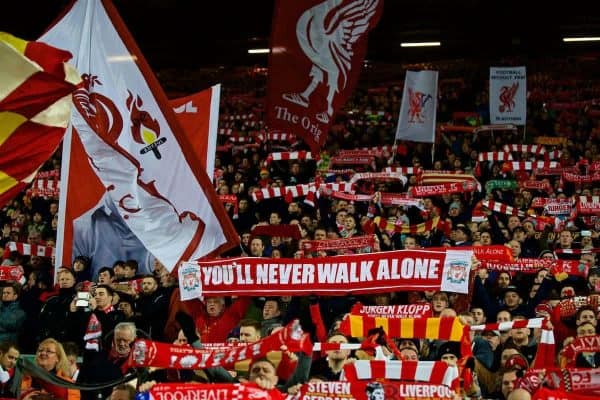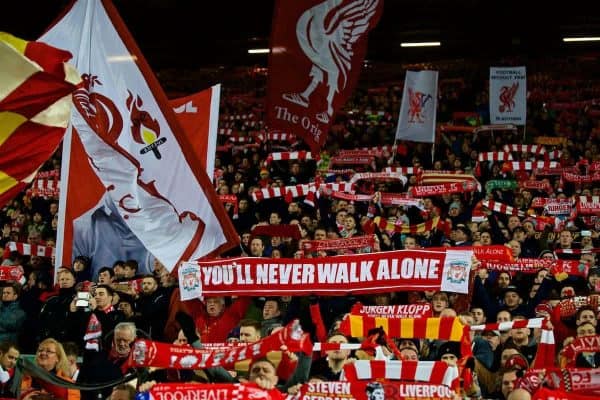 I'd tell anybody making their Anfield 'debut' to know what made Anfield famous and that's not just the team. My Liverpool roots came from my mother's side of the family and although we didn't live on Merseyside the doctrine she instilled in me made sure I knew what Liverpool, the city, was all about long before I was old enough to travel on my own.
If I travel abroad, even for a few days holiday, I like to find out about local culture, those coming to Anfield should try and do the same but sadly some don't.
There's been much debate about the Anfield atmosphere of late. What would be your main solution to improving it?
There's no simple solution because the modern day football fan [as opposed to die-hard supporters] have a totally different take on how to conduct themselves inside a ground than us arl arses.
For so many now it's all about taking photos or sending text messages, going for drinks or food or whatever almost as soon as a game starts.
Sadly so many go for the matchday experience now instead of the game itself – even after a bad defeat you can see them standing around the Shankly statue taking a selfie or whatever with great grins on their faces.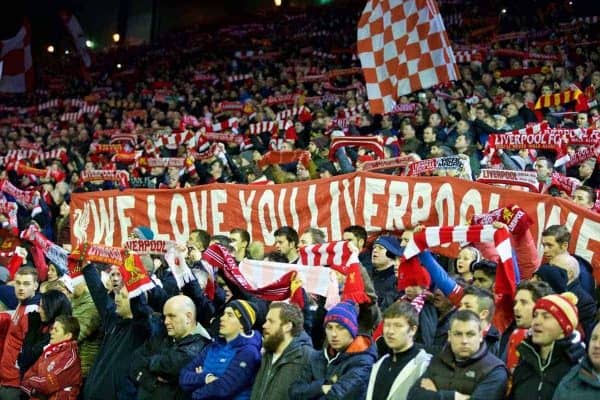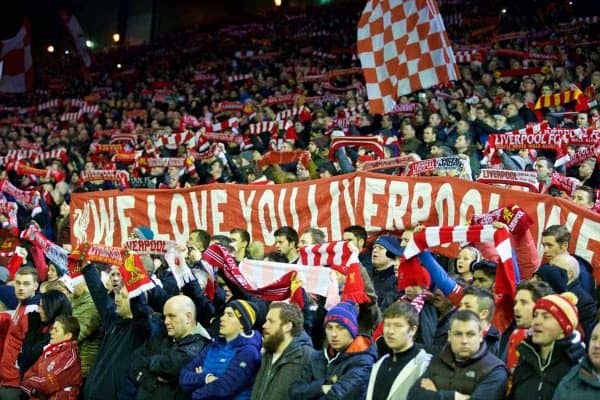 There was a time when the atmosphere inside Anfield was as famous as they said but that's no longer the case. It wasn't just Anfield, Goodison was pretty good as well but I would say now when it comes to atmosphere we're not in the top half of the table although when we're playing certain teams it can be stoked up only not for the likes of say Swansea or West Brom, plus a few others.
I don't like to point fingers but the club itself, or those who market the club, have to shoulder a lot of the blame.
I don't reside on Merseyside but I've been coming to Anfield since 1963 and back then the crowd was predominantly local, although there was often some Irish support as I recall, certainly in the 70s.
However, the club has allowed the support to be diluted; they now see hospitality or those who travel via Thomas Cook [or Crook] or through other ticket agencies as more beneficial than local support. They're the ones who go into the club shops and spend mega money, we [and locals] don't.
How to improve it? We don't need a pitchside announcer screaming into a microphone, we should be having genuine Liverpool anthems being played over the speakers and I don't mean some sort of disco versions either. Once inside the stadium Anfield should be a hostile place – and that's not a violent place – and when the visitors tread on our turf they should be made feel a tad uncomfortable.
What we currently have is a flag waving session whilst 'YNWA' is played but then that's it, the visiting fans take over while ours just sit there or go for a burger. And that happens when we play the likes of Manchester United, Chelsea, Spurs and company not just when we play a so-called lesser game.
We used to say "You got yer education from the Kop" but that's no longer the case, they get their education now from Soccer AM and Sky etc.
Quick solution – get more locals in.
* John Pearman is the founder and editor of the longest running and only surviving Liverpool fanzine, Red All Over The Land. You can preview an issue of RAOTL online, here.
My LFC Matchday Series