Liverpool's record against the Premier League's top seven sides this season is impressive – but they've failed to follow up these results in the next match.
When Liverpool finally return to action at Leicester the Reds will arrive in the best shape of 2017.
Following the blitz of Tottenham and with a reenergising "mini pre-season" in La Manga, Jurgen Klopp's men will be champing at the bit to reconvene the top-four fight after a 16-day break.
That positive form and fitness will have been rediscovered for the meeting with Claudio Ranieri's relegation-threatened title-holders should provide huge belief for the game.
Instead, a feeling of nervousness will mostly grip the Reds' fan base, due to Liverpool's increasing tendency to undo big-game positivity with an immediate collapse against strugglers.
Jekyll and Hyde FC

Liverpool's inconsistency against lesser teams has been the most frustrating feature of the season.
The way Klopp's side have followed positive results against rivals with dire displays against lesser teams has contributed to the season unravelling from title hopes to a top-four battle.
The problem first arose in August, when the Reds' opening 4-3 win at Arsenal preceded a humbling 2-0 loss at Burnley.
But it didn't properly take hold until turn of the year when a poor 2-2 draw at Sunderland trailed the win over Man City – though admittedly this was arguably a consequence of the 46-hour gap between games.
From then the slump set in though, and each time Liverpool looked set to reverse the decline after a positive big game performance, only another miserable outing materialised.
After the depleted Reds battled to a 1-1 draw at Old Trafford they went down 3-2 to bottom-of-the-table Swansea, before repeating the act with the worst example of all.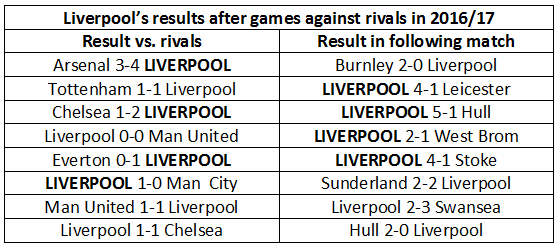 A 1-1 draw certainly wasn't quite the result wanted, but Liverpool's performance against Chelsea was hugely positive and left all believing that the upturn needed would finally transpire.
But all the pride restored against Antonio Conte's men was instantly lost as not even Sadio Mane's comeback could prevent a woeful 2-0 loss at Hull.
The Reds' general inconsistency has frustrated, but these recent dire follow-up results have proven even more costly, contributing heavily to the 18 points dropped with lesser teams – a staggering 10 more than with top-six rivals.
With the rejuvenated Reds to face strugglers again after another demolition of top-six rivals, a fresh opportunity presents.
Improving Post Big Game Fortunes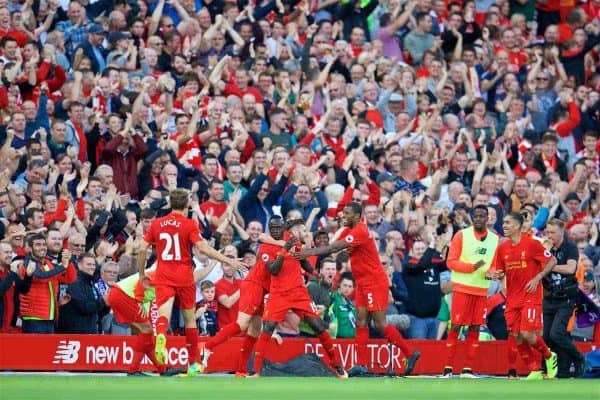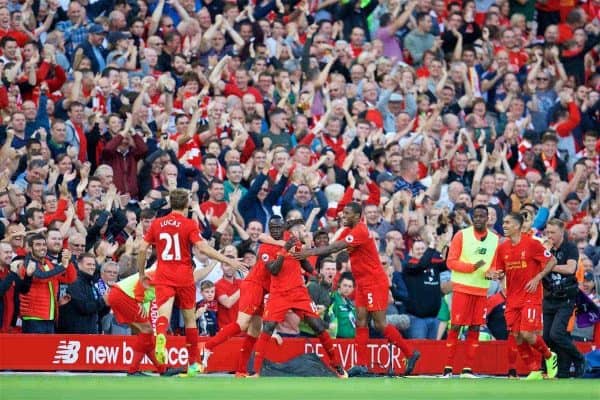 With the top-four battle hotting up and increasingly little margin for error, addressing post big-game struggles is a major priority for Liverpool.
The Reds have an immediate chance to spark an improvement when they face Leicester, who have lost their last five league games and are yet to score in the top-flight in 2017.
Klopp's men know how to, as evidenced by the success enjoyed earlier this season. Indeed, while victory at Arsenal preceded the shock Burnley loss, it was very much the exception.
A respectable draw next time out at Tottenham was perfectly built on as the Reds thrashed the Foxes 4-1 at Anfield in September.
Liverpool later followed the brilliant win at Chelsea with a 5-1 hammering of Hull, and also a respectable if frustrating goalless draw with Man United by beating West Brom.
Even a week before the Sunderland downturn, the Reds followed Merseyside derby success with a 4-1 win over Stoke – meaning Klopp's men won four of five matches directly after rival clashes in 2016 compared to none of three since the turn of the year.
The timing of such results suggest the fixture list, which became more congested than the deep-sitting defences Liverpool encountered, proved costly – evidenced further by the impressive scores gained before the unrelenting schedule kicked in.
But now with a manageable run again, Klopp's refreshed team must use this to our advantage over the coming months.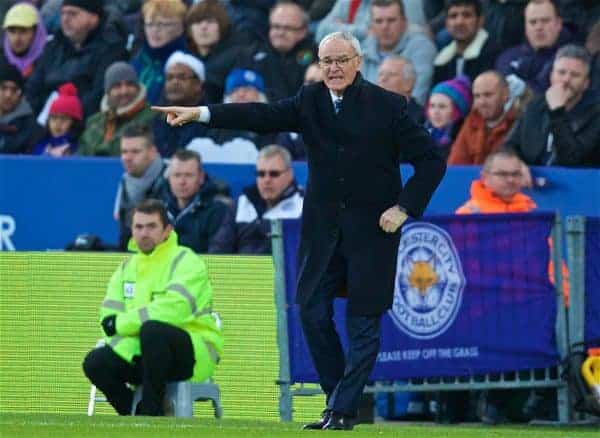 Leicester present the first test, and Liverpool must use their freshened state to replicate the intensity displayed against rivals, hounding the confidence-stricken Foxes who will have played twice in a week by the time Klopp's team arrive.
Games against Arsenal, Man City and Everton are all to come for Liverpool, with the former and latter matches followed by Anfield clashes with Burnley (FA Cup involvement permitting) and Bournemouth.
These fixtures will be equally as vital in shaping whether a top four finish is achieved, and crucial for Liverpool to be successful will be finding a better way of dealing with playing as favourites.
The Reds have excelled as underdogs but struggled at times when required to take the initiative, and this must change to ensure no more costly points are dropped.
No Room For Repeats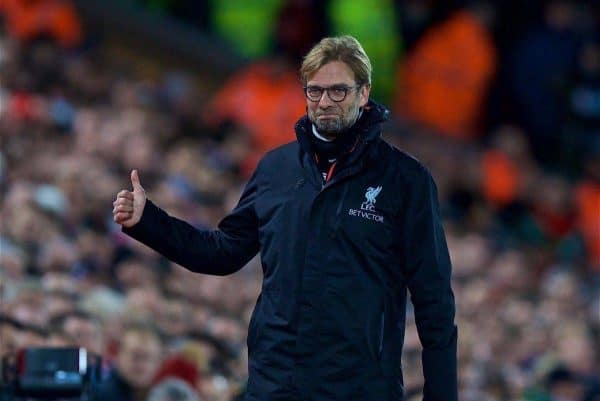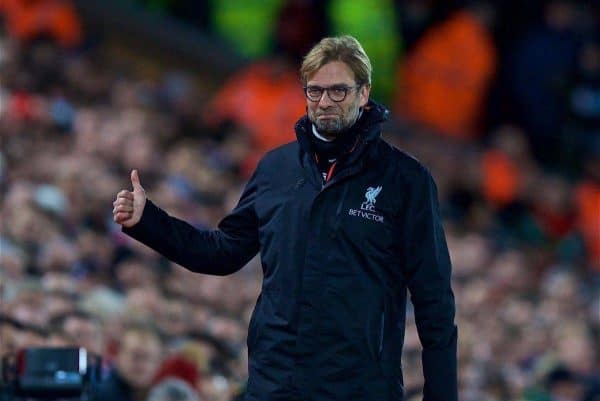 As Liverpool challenge for Champions League football, struggles after positive big game results must be confined to the past – along with the 2017 slump once and for all.
Given the impressive record Klopp's side boast in taking points off rivals, results against the rest could hold the key to securing a top-four place.
Liverpool struggled to achieve such results as the season has unravelled but it's vital they restore this ability as they chase a much-coveted top-four spot.
An upturn must start at Leicester, where the Reds must produce the fearlessness and work-rate of big game performances in routine fixtures once again.
Bringing this approach to such occasions will go some way to ensuring no further points are unnecessarily dropped after big-match successes and a top four place is secured.