Completing our matchday Q&A series, we speak to Fox Soccer TV presenter, commentator and pitchside reporter Keith Costigan.
Keith was born in Dublin but now resides in California after heading to America to play university soccer, where he went on to play for the Portland Timbers and LA Galaxy.
He now works for Fox Soccer as a commentator for Bundesliga and MLS games and travels back across the Atlantic to present their coverage of FA Cup and Europa League games.
A lifelong Red, Keith wrote a column for the Kop magazine, and also contributes to This Is Anfield.
We spoke to him about his matchdays at Anfield and what it's like sitting up close alongside Jurgen Klopp on the sideline.
Tell us about your typical pre-match routine…
If it's a European game I try to get to the press conference beforehand. On the day of game I will look to arrive at Anfield about 5.15pm and touch base with Matt McCann (Liverpool's press officer) and get as much information as early as possible about team news.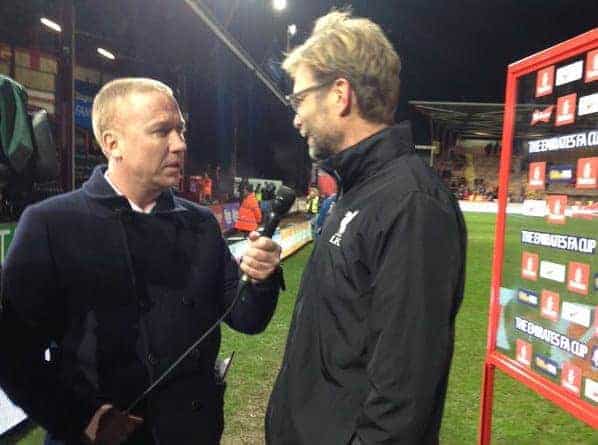 I'm doing a pre-game hit probably about an hour before for Fox television but it might not air until 15/20 minutes before so I want to get something that is unique and relevant.
So the schedule is get to Anfield as early as you can and get to talk to as many people at Anfield as early as you can and be ready to get the hits that will add to our broadcast and give our viewers something they might not know, and information they might not get from simply going on a website or finding out from someone else on twitter.
A lot of times that can be trying to get a player and stuff like that. So it's about getting to Anfield as early as you can, chatting with those people and getting a difference that will add to our show.
Which games did you attend last season?
Last year Villarreal was the main one we did, I also did Exeter (away) in the FA Cup, and the Europa League final in Basel.
When you are at Anfield you try and get across to the viewers how the crowd is, how the atmosphere is – you can tell early on what kind of match it will be. Where you go "this will be a good night because the fans are up for this one." I try to get that sense of atmosphere across to the viewers.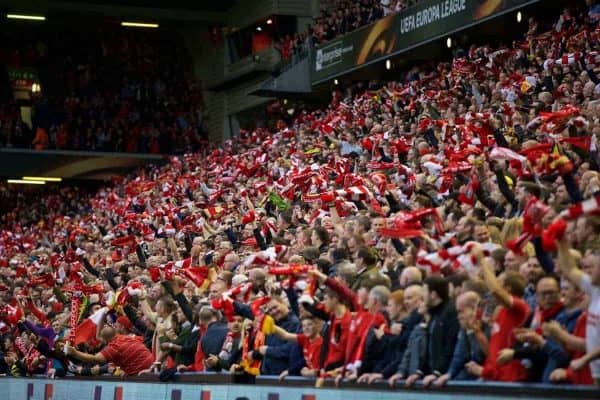 With Villarreal you are one step away from the final so it was another one of those nights where you got the sense that it was going to be a great atmosphere and had to get that across to the viewer in America that it was going to be one of those famous nights at Anfield.
Tell us about the access you get. What's it like sitting almost next to Klopp on the sidelines as you were against Plymouth recently?
Liverpool is one of the better clubs as we can sometimes get access before the game. A lot of times a couple of days before I will interview the manager and a couple of players, which we did ahead of the Plymouth game – we interviewed Gini Wijnaldum, James Milner and the boss.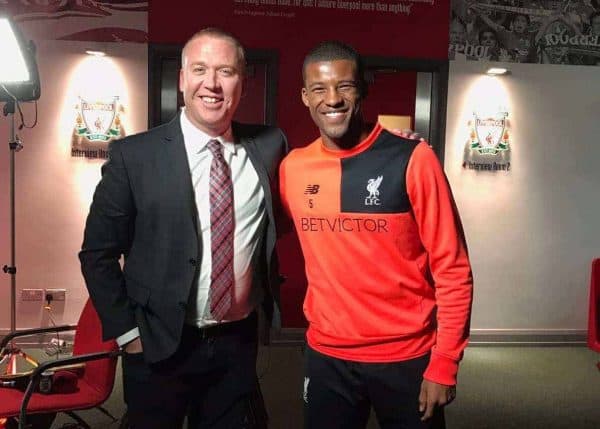 Game day – it's funny because we do our hit (introduction for the live broadcast) on the sideline and then we practically sit on the bench.
That day it was funny because people at home were saying that they could see Simon Mignolet and then next to him is me. So people are asking me if I am on the bench for Liverpool..!
It's great from a job standpoint because you get to watch Klopp up close, you get to hear exactly what the information is that is given. But also as a fan because I am a Liverpool fan, it's amazing to be there because there's no other places I would rather be to watch a game.
We were right on the bench, actually right by the fourth official so I was sat next to Andre Marriner and got a sense of what it's like to be a fourth official. The interaction between him and the referee, you couldn't have asked for closer seats to the action.
What sort of messsages was Klopp getting across to the players? He was quite animated that day…
I think Klopp is always animated but a couple of things stood out for me that day, things you would see at any level; Liverpool had a free-kick and Moreno was going across to take them and I got the sense that Klopp felt someone else should possibly take them and he wasn't shy on letting the players know.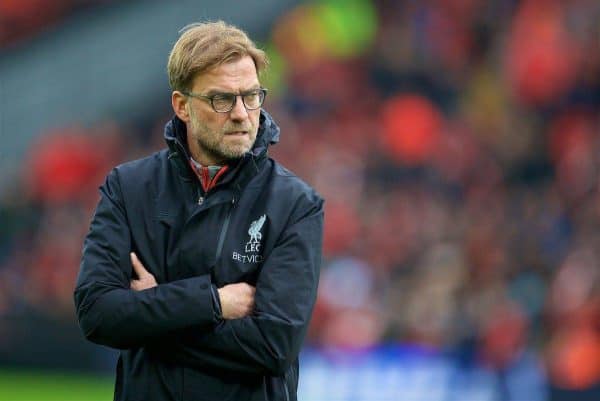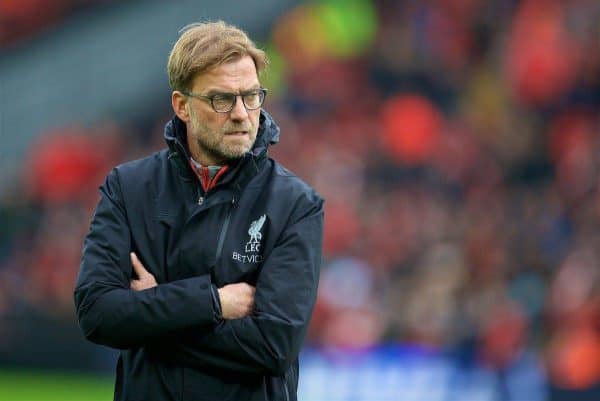 His interactions with the players are exactly what they tell you in the interview – James Milner said to us that he is not shy about letting you know what he thinks but he is also very fair.
You saw that that day. I think Klopp's frustrations were the same as everyone else. It wasn't clicking going forward and he wanted the team to be more patient. That was the message countless times in that game, to be patient.
It is always fun to see him up close and maybe hear some of the more colourful words he would use to the players when it's the wrong decision.
As a commentator on the Bundesliga you get to watch plenty of action in Germany. If you could sign one player for Liverpool this summer, who would it be and why?
One player this year has stood out for me in Bundesliga is Sead Kolasinac. He is a left-back who is very good at going forward.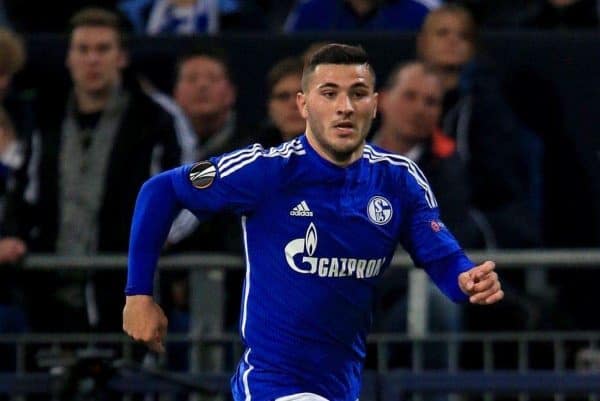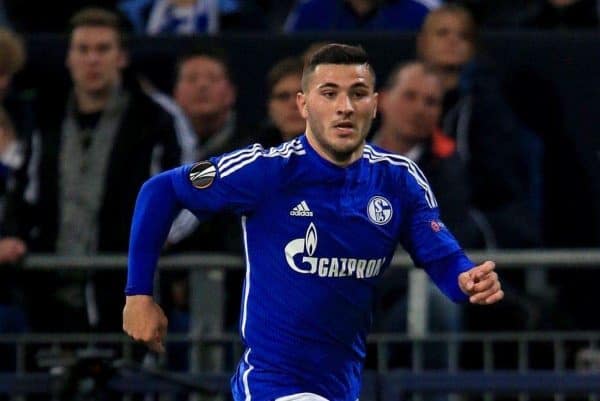 I have done two of his games. One where he has played against Christian Pulisic and he marked him out of the game and was so physical. He didn't give him a minute's peace. And against Bayern Munich, Arjen Robben came off and was really frustrated by how good defensively he was.
He is available on a free this summer, he is 23 and he has everything you would want in a modern full-back.
We got Joel Matip last summer on a free from Schalke and I am sure Klopp has enquired about it.
I do know Chelsea and Juventus are being heavily linked. There are bigger names like Julian Brandt expected to be at Anfield next year—he's another young player, but for me Kolasinac is ready now and he would come in to the Premier League and be one of the best left-backs in the country, that's how highly I rate him.
* You can follow Keith on Twitter @KeithCostigan.
My LFC Matchday Series