Georginio Wijnaldum has emerged as a big-game player for Liverpool, but it's time he starts producing similar performances against smaller sides.
The Dutchman is perhaps the most underrated player in the Liverpool squad because he goes about his business with little fuss and great success.
Since signing for £25 million from the relegated Newcastle in the summer he has been a regular starter for Jurgen Klopp's first team and, especially more recently, an integral player.
Alongside Jordan Henderson, Adam Lallana and on occasions Emre Can, Wijnaldum has developed into a reliable knitting midfielder and when he is on top form, Liverpool enjoy more success in possession.
Wijnaldum has a real calmness on the ball and his composure allows time for himself to pick out the best pass; he can successfully shield the ball from opponents and at times this season, he has shown he's capable of marauding from box to box, contributing in attack.
But while the 26-year-old has certainly proved his mettle in the big games for the Reds, he has still been lacking when the going gets tough.
Rivals' Nemesis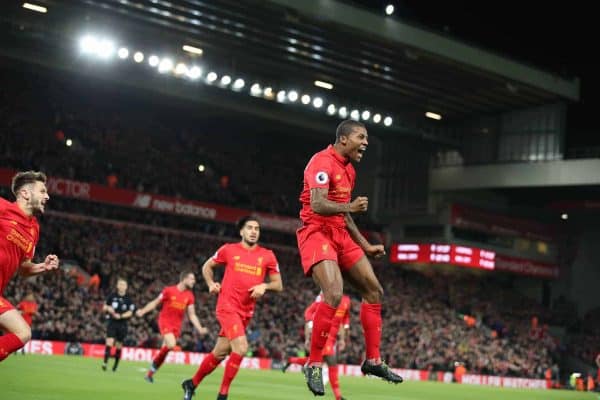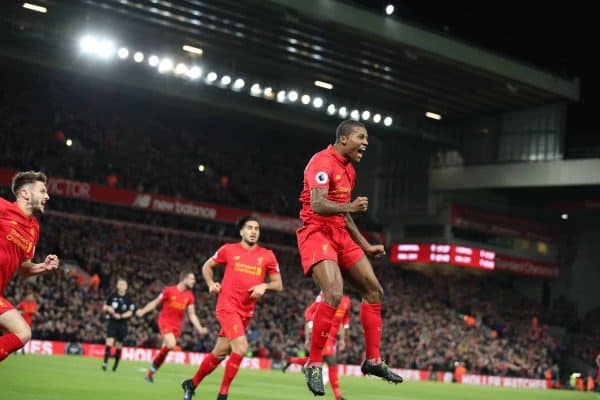 Knitting midfielders don't usually take the limelight, but on the big occasions this season, Wijnaldum has certainly done that.
In the opening Premier League game of the season he put his marker down as a Liverpool player by producing an assist in the emphatic 4-3 victory against Arsenal, and he dealt the Gunners another blow on Saturday evening when he netted the third in a comfortable victory for the Reds.
This was perhaps one of his best moments in a Liverpool shirt so far: in the 90th minute, it was Wijnaldum who sprinted through the middle, showing determination and aggression to get on the end of Divock Origi's cross and ensure Liverpool secured all three points in a vital top-four clash.
A goal, an assist and two composed performances under his belt against Arsenal is impressive in itself but he has done much more against the top-six sides this season.
Following his assist at the Emirates in August, his next came four games later against the reigning champions, Leicester City. Then came another assist against Tottenham before he grabbed his first goal of his Liverpool career in the 6-1 thrashing of Watford in November.
Even that goal was an important one, as he had been left out of the starting lineup and had a point to prove when he came on as a late substitute.
He's gone on to grab three more assists against Leeds, Swansea and Tottenham but it's his goals against Manchester City, Chelsea and Arsenal at Anfield more recently that have made the biggest impact so far.
Talking a Good Game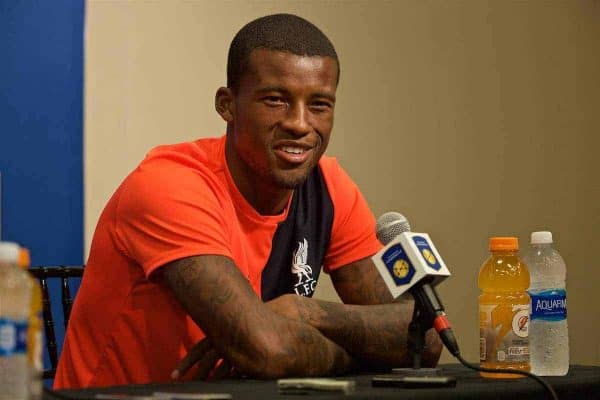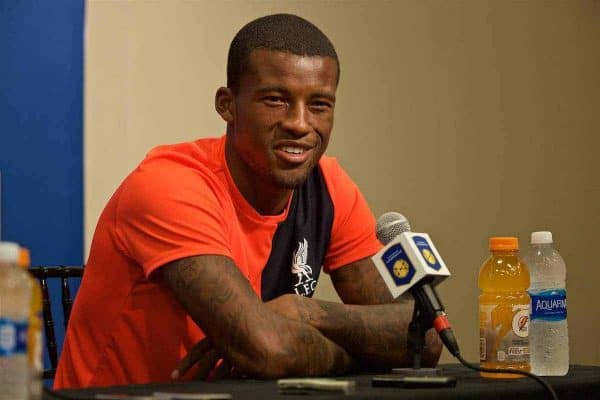 There have been questions raised over Liverpool's mentality against the smaller teams and poor results certainly suggest the Reds struggle to find the necessary motivation.
However, against their closest rivals Klopp's side have looked ruthless and aggressive, and Wijnaldum has certainly stood out as one of the best players on those occasions.
Just 11 matches remain in the season but Liverpool only have Man City left to play out of the top six, so the fixtures schedule appears to be fairly favourable.
But as their record against the smaller sides has been far from impressive, most fans will look ahead with anticipation due to Liverpool's lack of consistency. Wijnaldum's performances follow a similar pattern, but he has acknowledged this and hopefully he can start to gain more regularity.
After scoring the late winner against Arsenal, Wijnaldum said: "Is it pressure? You have more pressure in the bigger games than the smaller ones and we deliver in the bigger games."
"We have to make sure at the end of the season we are there [in the top four]," he continued.
"We have to have a good run and be confident we can finish in one of the spots but if we are going to do it like we did before—playing well and then playing bad again—then it is going to be tough for us to come in the top four.
"You must play with the same intention: to win the game and give everything you have."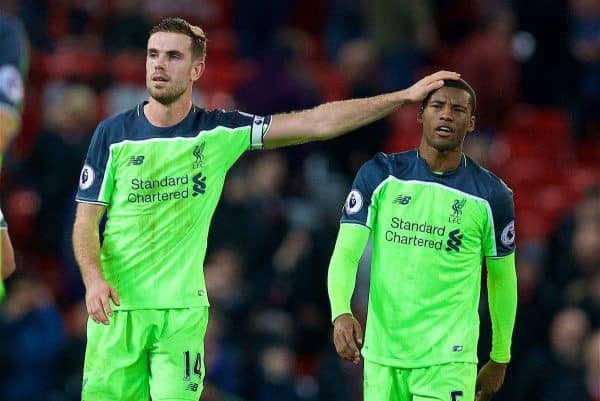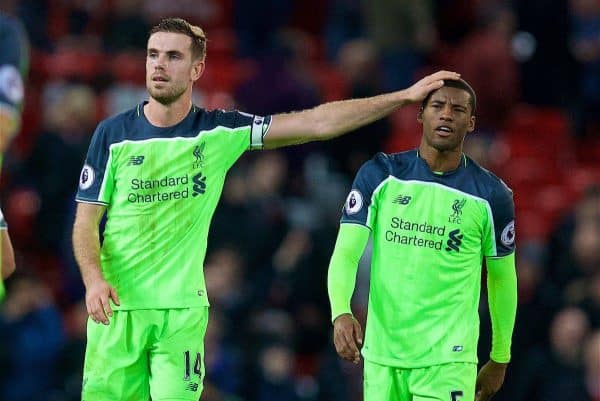 The midfielder certainly talks a good game but he is yet to make his mark in fixtures against smaller sides.
His performances have been excellent when the pressure is on, but Wijnaldum needs to find it within himself to pull it out the bag when Liverpool are struggling to break down opponents.
The final stretch of the season will prove to be vital in securing a Champions League spot, and Wijnaldum's influence on the team has been growing throughout the campaign.
If he continues to grow in confidence, Liverpool will stand a far better chance of finishing in the top four because they will have solidity in midfield.
Where Can He Improve?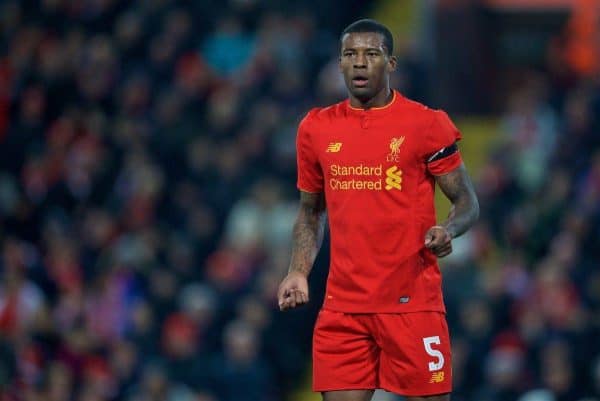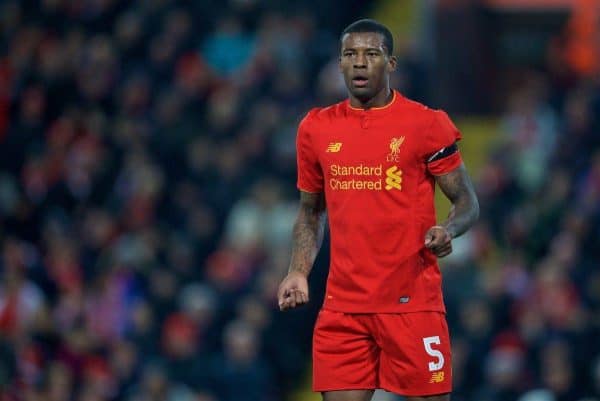 His influence on the team cannot be underestimated but there are still areas in which Wijnaldum must improve if he is to become the talisman in midfield.
Aside from consistency in performance, Wijnaldum still looks hesitant when going forward at times.
Though it can arguably be attributed to his shift in role from his days as an attacking midfielder with the Magpies, this is somewhat bemusing given his 10-goal target in pre-season.
The No. 5 lacks Steven Gerrard's natural willingness to get into the box, and if he can get himself into more attacking positions, Wijnaldum has shown the ability to score goals and he can be a threat.
Statistically, he's created three big chances in the Premier League this season on top of his four assists, but there is still room for improvement.
Wijnaldum has contributed to fewer goals than Lallana, and he sometimes lacks the ability to take risks when in possession, while Henderson produces more through balls and successful passes on average, with the Dutchman more cautious on the ball.
While that is a positive trait for the majority of the time, there are occasions when Liverpool have needed to create something in midfield and he has looked reluctant—something Klopp addressed back in February, saying "he needs to be in and around the interesting situations."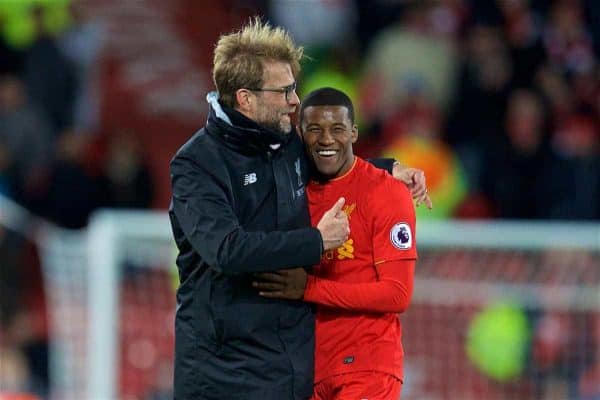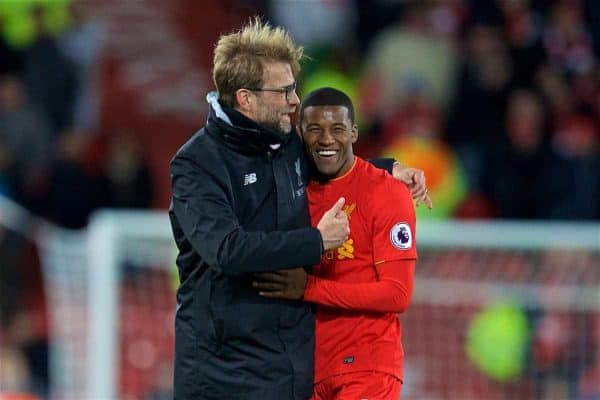 They are small margins, but if Wijnaldum raises his game slightly, it could make all the difference going forward and add to his strengths in a balanced role.
Wijnaldum has the potential to grow into a leader, and he could become the pivotal man in Liverpool's midfield, but he needs to stand out from the crowd.
So far, he has produced some impressive performances but, like the team itself, now needs to do it against the league's struggling sides.