Joel Matip says Liverpool's players have been just as frustrated as the supporters this year, but is confident of a strong end to the season.
Both Jurgen Klopp and his Reds squad have come in for plenty of criticism in 2017, having won just three times, in all competitions.
Saturday's 3-1 win over Arsenal was a crucial victory, as Liverpool attempt to finish in the top-four and salvage their stuttering campaign.
Fans have been left furious at some of the performances of late, with the attitude and mentality of the players put into question.
Matip claims the Reds' slump has hit him and his teammates just as hard, but believes things will pick up between now and May.
"You learn a lot in negative moments and I believe that this can make us stronger as a team and as individuals." Matip told Liverpool FC magazine.
"We have to try to get back to what we did before. What gave us the strength, we have to find it again. We have to run more than the opponent, work harder than the opponent and do more than the opponent.
"We are all optimistic that if we can do that we can stay back on the winning track.
"We understand the fans' frustrations but it was not just the supporters who were frustrated. We felt that way just as much because we also want to win every game and don't want to lose any of them.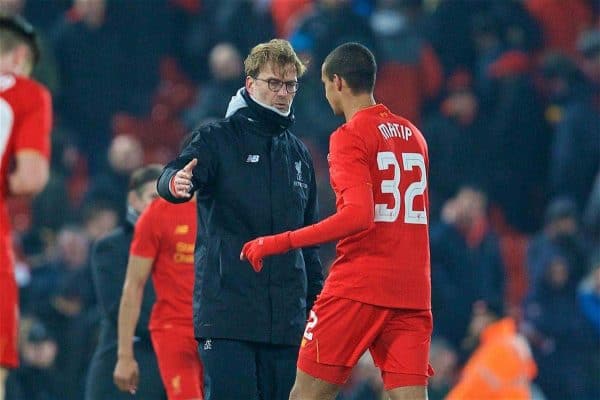 "We have enough confidence and belief in ourselves and our qualities but you also need some positive moments to reinforce those things.
"The difficult spell was not easy but we all tried to handle it and do our best in the situation. Pressure is always high here, but at a club like Liverpool I think that's normal.
"Of course it's nice that we haven't lost too many points when we have played against the leading sides, but the fact is that you only get three points for a win whether that is against the top team in the division or the bottom," he said.
"We are not alone on the field. We are always up against an opponent who also wants to do well and do their best to win games. Teams did that very well against us during January and we had our problems.
"Exactly why we had those problems, I'm not too sure. I don't know if it was a lack of consistency or what it was, but I do know that every one of us wants to win every game no matter who it is against, and we know that we have the quality to do well.
"You cannot change the past but you can influence the future – so that is the way we must look at it."
Matip was back to his best against Arsenal, having struggled to hit the heights of earlier in the season, after returning from injury.
When he is on top of his game, his aerial presence and quality on the ball make such a difference to Liverpool's defence, and he will be a key figure in the coming weeks and months.