Following Dejan Lovren's new long-term contract extension, Jurgen Klopp has vowed to "build this squad around" players of the Croatian's ilk.
Lovren is a divisive character among supporters, with his dismal performance against Crystal Palace last time out an example of why he is unfavoured by many.
But having signed a new four-year, £100,000-a-week contract with the Reds on Friday, Lovren has clearly impressed the biggest influence on Merseyside.
Speaking after Lovren put pen to paper, Klopp showered praise on the centre-back, insisting he was one of the players he was looking to "build this squad around."
"Dejan is a big presence for us on the pitch and in the dressing room—this is wonderful news that he has committed to LFC for such a long time," he said.
"It is our intention to build this squad around the great talent we already have. We want to keep our core together.
"I am really pleased Dejan has become the latest to recognise that Liverpool is a place where players can achieve their dreams and goals.
"He is an outstanding defender and someone who, I believe, still has his best times to come as a player.
"He has all the assets a top centre-half needs in the modern game.
"He has already enjoyed some great moments at this club, but he, like all of us, is hungry to win trophies for LFC.
"I love this hunger and desire and look forward to seeing it translate to great performances for the team in the coming years."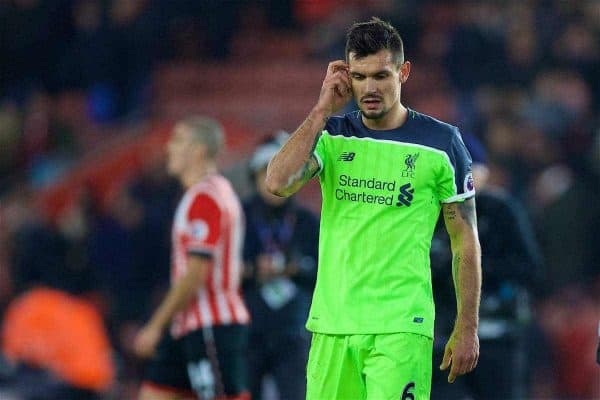 Lovren has produced some impressive performances since his £20 million move from Southampton in 2014, but they remain few and far between for a first-choice centre-back and his error-prone erratic nature hasn't helped Liverpool's leaky defence.
It was widely believed that Lovren would be replaced this summer, with Klopp reportedly pursuing a £50 million deal to sign Saints captain Virgil van Dijk.
But whether Liverpool are willing to pay a backup centre-back £100,000 per-week remains to be seen.
Both Lovren and Joel Matip have been plagued by niggling injuries this season and something must be improved at the heart of defence next season. But for Klopp to build his side around a centre-back as flawed as Lovren is truly worrying.
Liverpool have the option to extend Lovren's deal by a further year, which could keep him at Anfield until 2022, and would take him to his 32nd birthday.
Centre-back is one of Liverpool's biggest problem positions ahead of the summer, with question marks over the futures of Lucas Leiva and Ragnar Klavan, and the fitness of Lovren and Matip.
But Klopp is clearly convinced Lovren can one of the staples of his side for many years to come.