Last week's news that Sadio Mane will miss the rest of the season left many fearing that Liverpool's top four hopes would fade without their top scorer. Andrew Beasley crunches the numbers on what exactly the Senegal winger has provided this season.
The Reds hadn't won any of the league matches that he had missed entirely this season, after drawing with Man United and Bournemouth, and losing to Burnley and Swansea, though they finally put this right with a victory at Stoke on Saturday.
He also only made a late cameo appearance against Chelsea at Anfield (having only recently returned from AFCON), so I will include this in the 'matches without Mane' in this article.
But how much influence has the former Southampton man had? Have Liverpool's stats been comparable with or without him playing, and how might they go about replacing his influence for the run in?
Mins per goal – up there with the best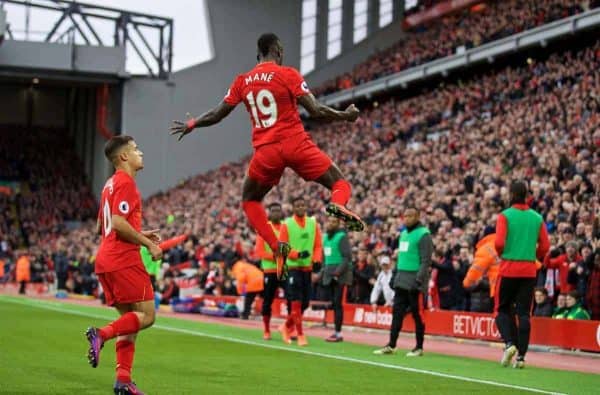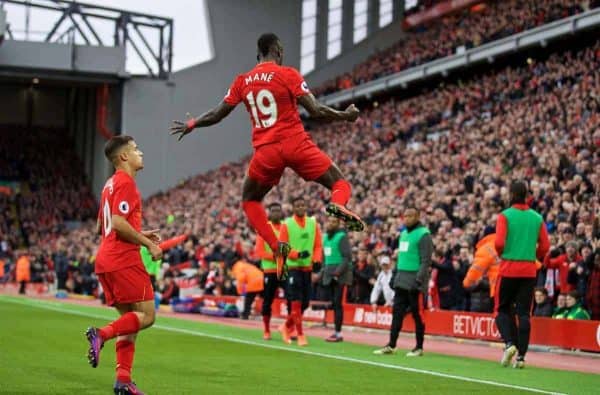 On a personal level, Mane has been an obvious smash hit. His minutes per 'non-penalty goal or assist' figure of 125 in the league can only be bettered by five players who've played at least as many minutes as he has this season.
Minutes per non-penalty goal or assist:
1. Romelu Lukaku (94 mins)
2. Alexis Sanchez (98)
3. Diego Costa (117)
4=. Dele Alli (122)
4=. Zlatan Ibrahimovic (122)
6. Sadio Mane (125)
---
In all competitions this season though, Coutinho (115), Sturridge (124) and Origi (128) have all scored or created goals at a similar rate to the former Southampton man, so perhaps on that front the Reds can get by.
But there are certain things that Mane does that other members of the Reds squad can not so easily replicate.
Dribbling – the Reds' leading man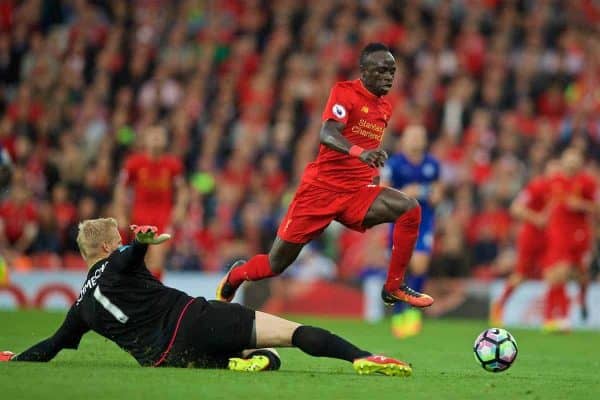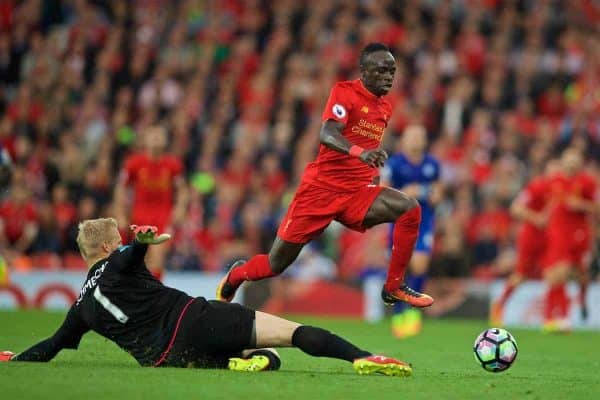 With so many formations and tactical changes used by coaches these days, positional titles are often only arbitrary, though for the purposes of this article I will be comparing Mane to players who've played at least 20 league matches this season as an attacking midfielder (in the eyes of Opta), as well as his team mates who will be asked to step up in his absence.
Liverpool are not a team who generally dribble past their opponents too often. The Reds currently average the second highest possession in the league (57.6%) yet are only ranked tenth for dribbles, completing 10.5 per game.
Dribbles per-90 minutes – Premier League
1. Wilfied Zaha (4.0)
2. Eden Hazard (4.4)
3. Sadio Mane (2.7)
4. Philippe Coutinho (2.6)
---
Mane accounts for a quarter of this tally himself, completing 2.7 every 90 minutes on average which is only bettered by Eden Hazard (4.4) and Wilfried Zaha (4.0) in the top flight this season, and three of the four matches where Liverpool have gone past an opponent five times or fewer have been when Mane has been missing.
Coutinho offers a similar level of threat on this front, averaging 2.6 completed dribbles per 90 minutes, but the likes of Divock Origi and Adam Lallana (who might play in the front three if he returns to fitness before the end of the campaign) average just 1.2 and are far less adept at taking opposition defenders out of the game.
The outball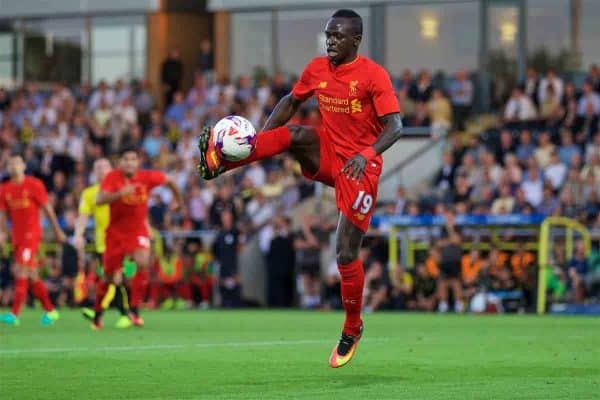 Mane is also a (perhaps surprisingly) good outball for the goalkeeper and the defence, particularly considering his height and position on the pitch. The 25-year-old wins 1.7 aerial duels per 90 minutes on average, which is the most for an attacking midfielder in the Premier League this season, and that's despite being five or six inches shorter than positional rivals like Ross Barkley, Dele Alli and Marko Arnautovic.
For Liverpool, Origi (2.3 aerial duel wins per 90 minutes) and Firmino (2.0) might win the ball in the air more times a game than Mane does, but they contest more headers too so have a win rate of 28% and 32% respectively, compared to Sadio's 36%. We can certainly ignore the likes of Lallana, Coutinho and Sturridge here, as collectively they win fewer headers per game than Mane does alone.
Overall
As fans though we're most interested in how our team does in an attacking sense overall. 'With and without' stats are always to be taken with a pinch of salt, as football is never about just one player, and that's before you get to different sample sizes and quality of opposition faced, but for the record here are Liverpool's key attacking statistics with and without Mane in the Premier League this season. All statistics are per match.


The volume of shots in total doesn't change too much whether Mane plays or not, but it's apparent that the quality of goalscoring opportunities that Liverpool generate certainly does.
An improvement in clear-cut chances by 0.6 per game may not sound like a big deal, but when the very best attacking sides average 2.9 each match then you can see it's actually a massive leap.
It's the same for expected goals; when a stat's scale only realistically goes to 2.0 per game, then an improvement of 0.31 is enormous.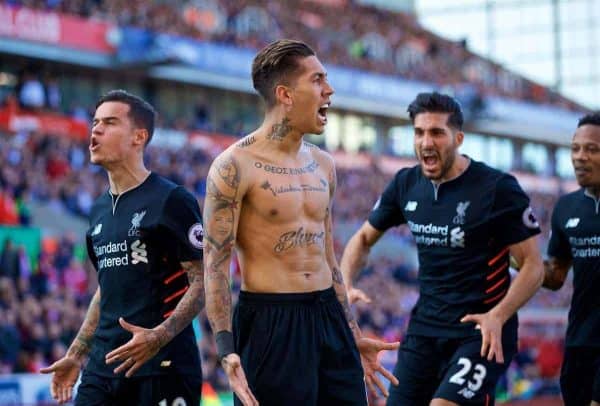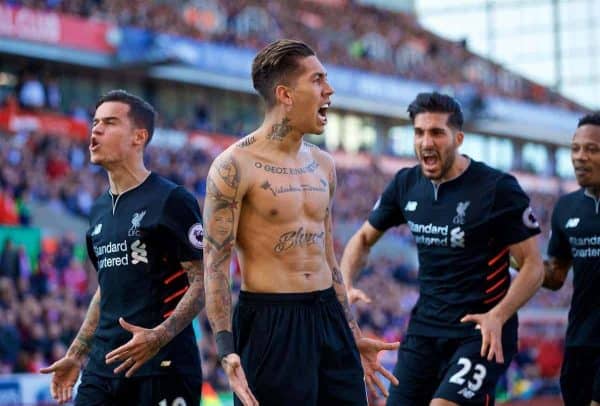 The Reds may have broken their Mane-less duck with a win at Stoke, but that owed at least as much to two fabulous saves by Simon Mignolet as it did to the goals by Coutinho and Firmino.
The numbers suggest that the Reds won't be at their attacking best with their Senegalese star missing, so it might take more of the same if Liverpool are to bag a top four berth this season.