The media praised Liverpool for delivering under pressure against Middlesbrough, and feel Champions League qualification is much deserved.
Champions League football will return to Anfield next season after the Reds put the "icing on the cake" to complete a successful campaign.
Just as a frustrating first half seemed set to end goalless on Sunday against Boro, Gini Wijnaldum lashed home a rocket to open the scoring, sparking wild celebrations and an outpour of relief at Anfield.
Philippe Coutinho's clever free-kick doubled the lead to put the Reds on the verge of a top-four spot, which Adam Lallana sealed once and for all with a composed finish inside the box.
The Reds deserve full credit for holding their nerve and seeing the job through on a day of immense pressure, capping off what has undoubtedly been a rewarding first full season in charge for Jurgen Klopp.
Here's all the key angles from the post-match reports on the final day win.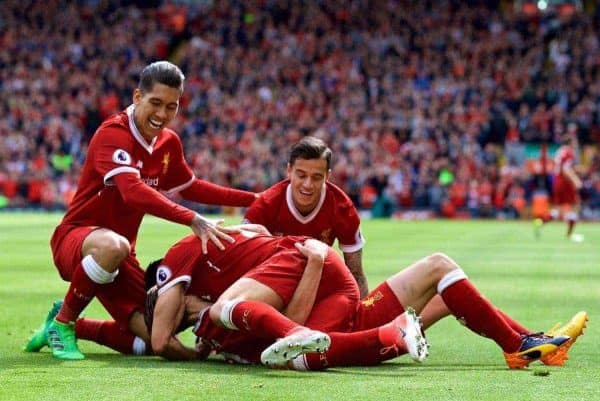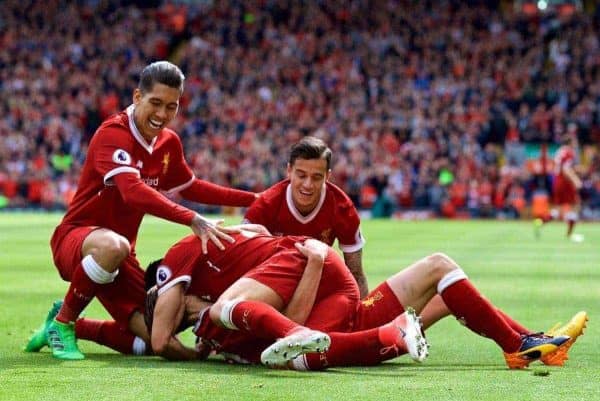 Reporters praised Klopp's men for holding their nerve under immense pressure, and for finally delivering a big performance on the big occasion.
For ESPN, David Usher wrote:
"In recent times Liverpool have often fluffed their lines on the big occasion, so getting the job done under pressure this time this was a big step in the right direction."
The Liverpool Echo's James Pearce attributed the Reds' team spirit to getting over the line:
"But the spirit, unity and togetherness that Klopp has fostered dragged them through in the face of adversity."
On a tactical point, Usher felt Klopp made correct calls in starting Roberto Firmino and sticking with the 4-4-2 diamond:
"It would have been easy to keep the same team that demolished West Ham last weekend but Jurgen Klopp elected to bring back fit again Roberto Firmino in place of Divock Origi. Crucially, he retained the 4-4-2 diamond formation."
The BBC's Mike Henson felt Liverpool's attacking play was almost at its very best:
"The interplay between Roberto Firmino, Coutinho and Lallana in the second half was close to the scintillating best that they have produced in this campaign."
The Independent's Mark Critchley assessed how the Reds finally showed they can break down deep defences:
"It has been a common criticism of this team, one made more in the second half of the season than the first, but the solution has always been the same: quick, intelligent passing in the final third.

[…]

"That is how you break down a deep defence and yes, Liverpool can do it."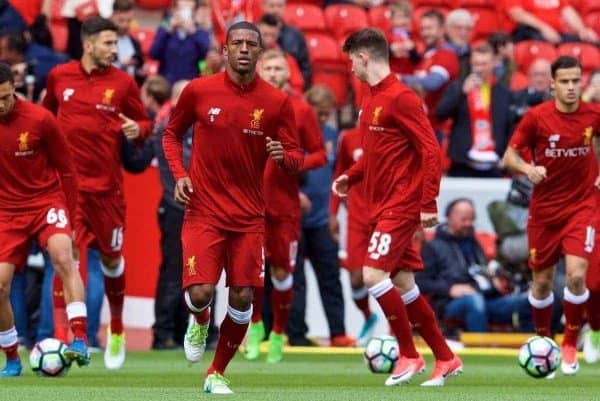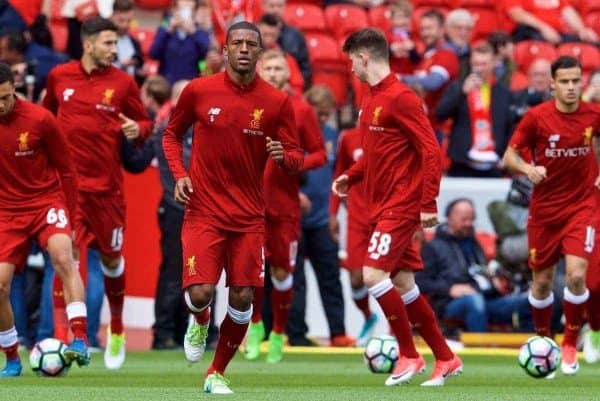 The watching journalists praised certain Reds for stepping up and delivering when it was needed most, with plenty of plaudits for new big-game player Wijnaldum.
The Mirror's Andy Dunn credited the Dutchman for stepping up with another crucial goal:
"He has developed into an essential cog in the machine, a scoring cog at that. Hardly prolific, never away from home, but a scorer of crucial goals all the same."
Writing for the National, Richard Jolly believes Wijnaldum has proved a "fine buy":
"He has justified Klopp's faith—a player with goals against Manchester City, Chelsea and Arsenal had shown an aptitude for the big occasion. This, despite the lowly opposition, was the biggest of all."
Usher thought Coutinho shone again in central midfield:
"Playing once again in a deeper role, the Brazilian was terrific to watch on the ball and the Boro players struggled to get anywhere near him.

"Seemed a little too keen to shoot from distance in the first half and most of his attempted through balls had a little too much on them, but he delivered in a big way with a trademark free kick just after the break and was involved in most of Liverpool's best moments."
Meanwhile, This is Anfield's Jack Lusby praised Simon Mignolet for continuing his "marked improvement":
"With Boro camping 10 men behind the ball for the majority of the afternoon, Mignolet was forced to keep on his toes for rare openings for the visitors, and coped extremely well.

"The Belgian has undergone a marked improvement since the turn of the year, and Jurgen Klopp faces an interesting decision over whether to keep the faith in his current first choice as the Reds embark on a Champions League campaign."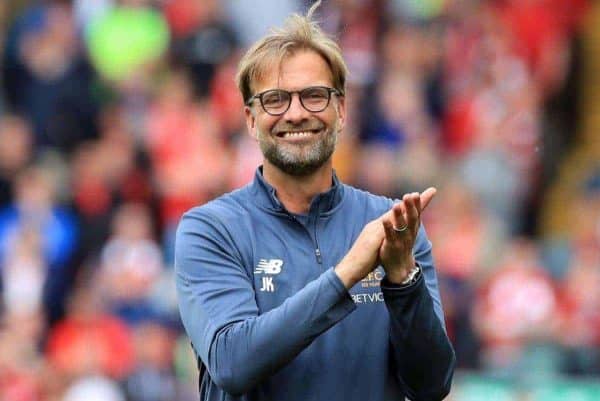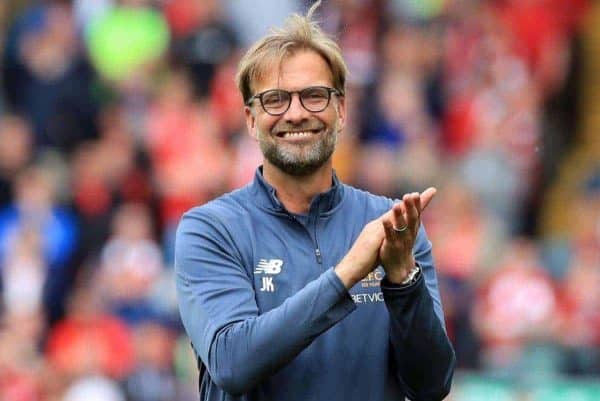 With the season having drawn to a close, reporters reflected on a challenging but ultimately rewarding campaign for the Reds.
The Guardian's Andy Hunter feels Champions League qualification is a "deserved reward":
"Having exhilarated at times this season, dug in when required and rediscovered their clinical touch on home soil on the final day, a ticket to the Champions League represents deserved reward for Liverpool's varying qualities and a campaign of genuine progress under the former Borussia Dortmund coach."
Writing for Goal, Melissa Reddy believes a top-four finish is a big achievement, despite the disappointing title-charge collapse:
"Liverpool have battled rather than blitzed their way into the Champions League places, which may seem anti-climatic given their stellar start, but it remains a success given the context of recent history, the competitiveness of the campaign as well as the never-ending setbacks they've endured."
Pearce feels it is impressive Klopp has achieved a top-four finish in his first full season:
"Getting Liverpool back into the Champions League was the first target for Klopp when he walked into Anfield in October 2015. The fact he's achieved it in his first full season is highly impressive."
Dunn believes the result could prove the first step towards a glory-filled era under Klopp:
"Marking fourth place with delirium has never been a great look, especially for a club of Liverpool's history and stature, but this felt like a significant step in an Anfield career that could well stretch into an era."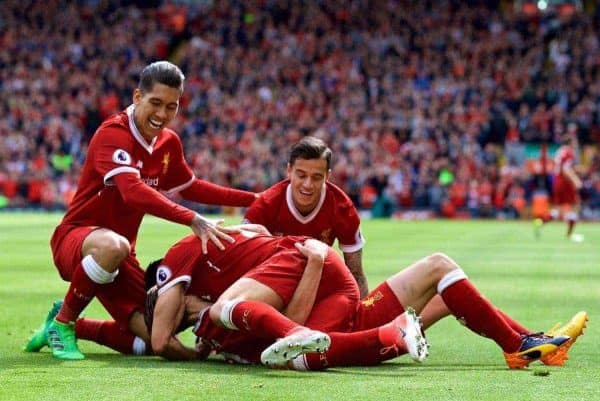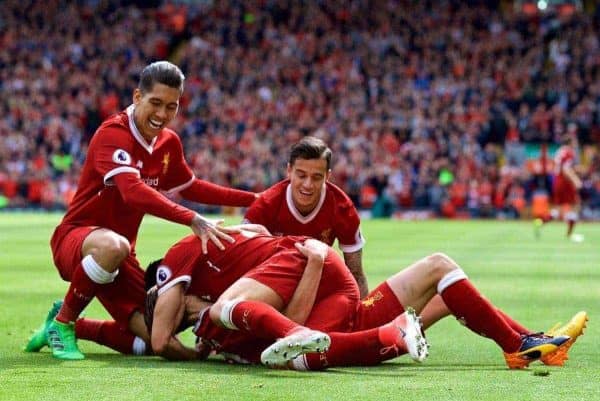 The Liverpool Echo's Andy Kelly thinks Champions League qualification must be the first step towards winning silverware again:
"But the Champions League must be a means to an end, it cannot be an end in itself. Not unless you're Arsenal anyway.

[…]

"And attracting the top players not only offers the prospect of even greater entertainment but more significantly of putting trophies on the Anfield sideboard."
Looking to next season, the Telegraph's Chris Bascombe believes the Reds could make a strong impact in the elite competition:
"Unlike their last embarrassing appearance three years ago, Klopp and Anfield could prove such an intoxicating combination they may take some shifting."
Kelly also feels Klopp's experience primes Liverpool for a successful elite-stage return:
"In Klopp Liverpool have a manager far more experienced and prepared for European competition than they were under Brendan Rodgers, even on the day he became an "Invincible" in Scotland with Celtic.

"That lack of experience was not the Ulsterman's fault but it is to Liverpool's considerable advantage to be able to rely on Klopp's."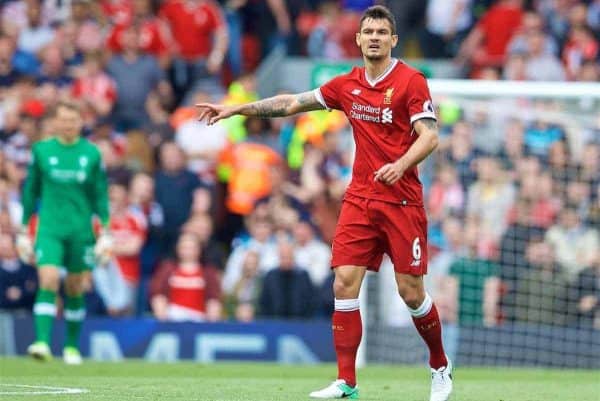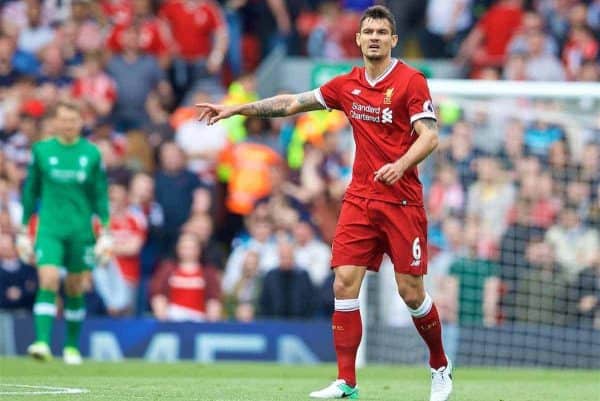 Certain reporters offered thoughts on where Klopp's team need to improve on the pitch to ensure of a successful 2017/18.
Most crucially, Bascombe feels Klopp can now begin transforming Anfield's mindset after years of underachievement:
"That is what made this final day confirmation so essential but also so perilous

"From the moment Klopp walked into Anfield he has witnessed a club and a fanbase in trauma, lamenting so many recent missed opportunities, worrying about further dark clouds at the end of the storm rather than the golden skies of their anthem."
Reddy assessed how a better balance needs to be struck between attacking and defensive play:
"Another major lesson from 2016/17 is the necessity for balance.

"Liverpool were attacking juggernauts in the autumn but left themselves too exposed, while a safety-first approach was adopted for much of the run-in, blunting their free-flowing football – it doesn't have to be one or the other; Klopp needs to meld both elements to make his side more complete."
Meanwhile, Bascombe believes Liverpool return to the Champions League an "evolving side":
"They will take their place as an emerging, evolving side rather than one in recovery as they were during their last excursion under Brendan Rodgers in 2014, his team ill-equipped after losing the title and Luis Suarez."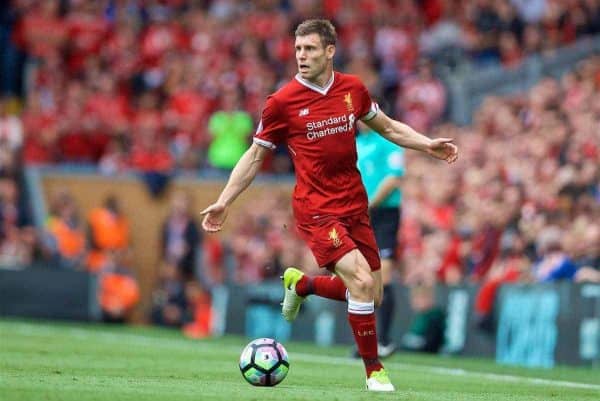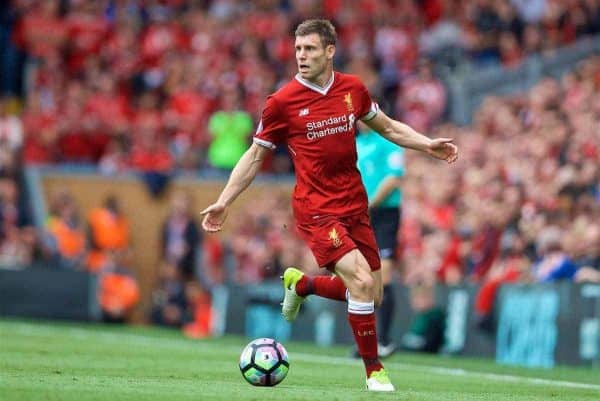 Reporters couldn't wait to discuss the potential transfer activity at Anfield this summer, and offered thoughts on the amount of business Klopp needs to conduct—and what the German's priorities should be.
Dunn says the squad will need "serious strengthening":
"He will be all too aware, though, that this is a squad that will need serious strengthening if it is to take a lead role on Europe's grandest stage."
Reddy thinks Liverpool will now be a more tempting proposition for elite targets:
"Last season's electric run in the Europa League, which included seeing off Manchester United, Borussia Dortmund and Villarreal before suffering defeat in the final to Sevilla, was enough to get Liverpool in conversation with some premier footballers, but not enough to convince them to opt for L4.

"With the Reds bettering Arsenal and Jose Mourinho's men in an extremely competitive league season, there has been a noticeable change."
The Mail's Dominic King feels it's crucial the Reds show lessons have been learned from a "careless" summer last time Champions League football was secured:
"The last time Liverpool qualified for the Champions League, they made a hash of the opportunity, they never bought the right players and ended up taking steps backwards on and off the pitch.

"They can't be so careless this time."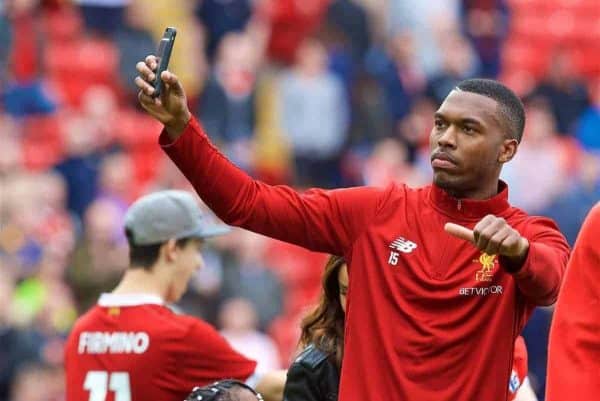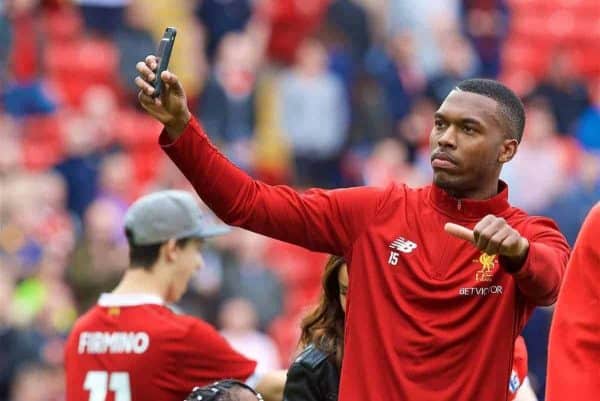 ESPN's Mark Ogden thinks eight new signings are needed, but more players must arrive than leave:
"Klopp could conceivably need as many as eight new players this summer, particularly if the likes of Lucas Leiva, Alberto Moreno and Daniel Sturridge leave Anfield.

[…]

"So Klopp must be astute in his transfer dealings and ensure that outgoings are limited in order to ensure that the arrivals become additions rather than mere replacements."
Pearce gave his verdict on which positions need addressing:
"Liverpool's lack of depth cost them dear at times this season and that has to be addressed with a more gruelling schedule next term. The Reds need a left-back, a dominant centre-back, a dynamic midfielder, another winger and a prolific striker."
And to get things started, King feels the Reds should offer Alexis Sanchez a route out of Europa League qualifiers Arsenal:
"The recruitment must be right this summer—they are looking for a striker, so why not test Arsenal's resolve for Alexis Sanchez?"