Liverpool edged one step closer to securing Champions League football with a crucial 1-0 victory over Watford at Vicarage Road on Monday evening.
Watford 0-1 Liverpool
Premier League, Vicarage Road
May 01, 2017
Goals: Can 47′,
The Reds were bolstered by the return of Adam Lallana and Daniel Sturridge, who both made the bench following injury absences.
Lallana's introduction came much earlier than expected as Philippe Coutinho was forced to leave the field after 12 minutes following a knock.
The midfielder almost opened the scoring with a left-footed volley which ricocheted off the crossbar but it was Emre Can's sensational overhead kick which stunned the crowd just moments before half-time to give Liverpool the lead.
It was a slow first half but Can's strike seemed to give Liverpool the edge as they went into the second period and Divock Origi, Dejan Lovren and Lallana all had further efforts on goal.
Liverpool controlled possession but neither team were able to add to the scoreline as the visitors saw out a crucial victory, with Reds fans suffering a heart in the mouth moment as Watford hit the bar in the last minute of stoppage time.
Here are all the best reactions from Liverpool supporters on social media throughout the game;
Fans were delighted to see Lallana and Sturridge return to the squad…
Would love nothing more than for Sturridge to come on and bag himself a goal. Desperately want him to go out on a high.

— Leanne Prescott (@_lfcleanne) May 1, 2017
"100% behind Klopp on that line up. Great to have Lallana and Sturridge on the bench."
– Maximilian Zehnpfund on Facebook.
You have hope we'll see Lallana and Sturridge come on for Origi and Lucas, early if thing's aren't going to plan.

— Rory Greenfield (@RoryGreenfield) May 1, 2017
But there was panic as Coutinho was forced to leave the pitch after just 12 minutes…
FFS absolutely jinxed with injuries this season.

— kop in full voice (@LFC_Bantz) May 1, 2017
A major sub-plot of #LFC's season: key players return from injury, only for others to suffer a setback.

Adam Lallana on for Phil Coutinho. pic.twitter.com/lV1Nniacn0

— Melissa Reddy (@MelissaReddy_) May 1, 2017
Replacing our injured best player with someone else who's just come back from injury. Yesss – perfect start.

— Raj Chohan (@rajsinghchohan) May 1, 2017
It was a slow first-half but Can's goal sent fans into a frenzy…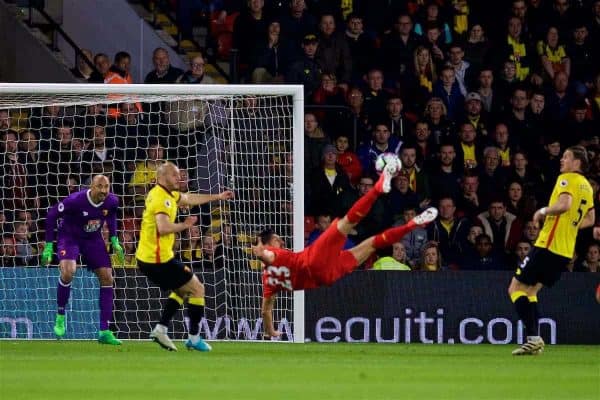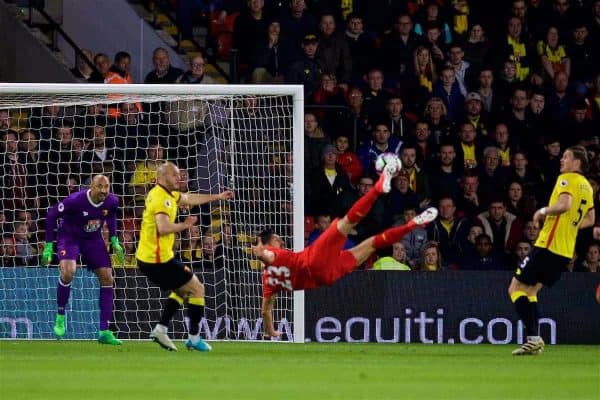 What a screamer !! Fantastic finish from Emre Can… Watford 0 Vs @LFC 1 #Top4

— Luis Garcia (@luchogarcia14) May 1, 2017
"Holy cow! What a goal! Come on you Reds!! Now finish it off."
– Rav Deol on the forums.
Cancel the 2nd half and just replay that goal for 45 minutes

— Lewis Bryant ?? (@Lewis31m) May 1, 2017
https://twitter.com/liamwhitey/status/859132778914435072
Goal of the season?? And what an important one! Great win, boys!?? #ynwa #top4 https://t.co/CK916xdsSt"

— Sander Westerveld Official (@sawe74) May 1, 2017
And despite an uneventful second-half, fans were just relieved to celebrate a win…
https://twitter.com/beccaparry10/status/859148818075574272
Very important 3 points!! We done well to recover from losing Coutinho so early and Lallana was excellent. Nervy End but we got there ??#LFC

— Peter Phillip6 (@PeterPhillips_) May 1, 2017
"You see guys we had nothing to worry about…*Saying this as I recover from a near cardiac arrest*"
– Chris on the forums.
Another easy watching, stress free game for us Liverpool fans! ?

— LFC_Tonks (@LFC_Tonks) May 1, 2017
Blood pressure just gone through the roof there.

— Tom Keegan (@redmedic56) May 1, 2017
"My blood pressure can't cope, lol!"
– Yvonne Mayne on Facebook.
Relief. Job Done

— SMO (@FirmiSmo) May 1, 2017
Mignolet excellent. A commanding performance against an incredibly physical team. This type of opponent used to be his kryptonite.

— Dan Kennett (@DanKennett) May 1, 2017
Made up with the win, irrationally furious about the ref not giving a free kick when Deeney flattened one of our lads in the corner though

— The Liverpool Way ??? (@theliverpoolway) May 1, 2017
3 points, clean sheet and the greatest goal ever scored (maybe). Up the Reds

— Green Scouser (@Green_Scouser) May 1, 2017
"Job well done. A win is a win"
– Naeem Sage on Facebook.
I'm 38 but following #LFC over the years has aged me, feel 58! Always do things the hard way. But would I have it any other way? No! #Boom

— Spion Kop (@TheKopHQ) May 1, 2017
Could and should have been more. We clearly struggle to create without Mane and Coutinho, but Emre has become a huge player for this team.

— Rory Greenfield (@RoryGreenfield) May 1, 2017
Grinding out 1-0 wins? Sound. Three more of them please.

— Ian Salmon (@IanRSalmon) May 1, 2017
"HAHAHAHA, we can never do it the easy way."
– EMCGaming on the forums.
https://twitter.com/lfcU23rekindled/status/859133076009615362
So happy!!! 1-0 away against team beat us 3-0 last season, shows learning to dig deep, they didn't bully us & what a goal!! Can do this #LFC

— Paul Austin (@PaulBigpaulie) May 1, 2017
Special goal from Can to cap an excellent personal performance. Mignolet was strong again. Lallana was decent considering the circumstances.

— James Phillips (@JJP_LFC) May 1, 2017
Let us know your thoughts on the game in the comments section.