Two sets of possible results on the closing day of the Premier League season on Sunday would see Liverpool face Arsenal or Man City in a play-off match post-season.
After the Gunners' 2-0 win at home to Sunderland and Man City's 3-1 victory over West Brom on Tuesday night, the top-four battle is finely poised heading into the weekend.
Liverpool are currently fourth in the table, two points behind City and one ahead of Arsenal, and with the former all but secure, fourth place will be hotly contested.
On Sunday, the Reds host Middlesbrough to Anfield, while Arsene Wenger's side take on Everton at the Emirates.
And though three points would guarantee Liverpool a Champions League place for next season, if results go the other way they could face a rare situation.
Losing 2-0 to relegated Boro, with Arsenal drawing 1-1 with Everton, would see the two sides finish joint fourth and therefore require a Champions League play-off.
This would be due to both sides finishing with the same points (73), goals scored (75) and goal difference (+33), with head-to-head results not considered in the Premier League.
There is also the possibility of Liverpool meeting City in a similar play-off for third, if the Reds beat Boro 3-0 and Watford hold Pep Guardiola's side to a 3-3 draw at Vicarage Road.
These would be held at a neutral venue—and would be a Premier League first, given its unlikely nature.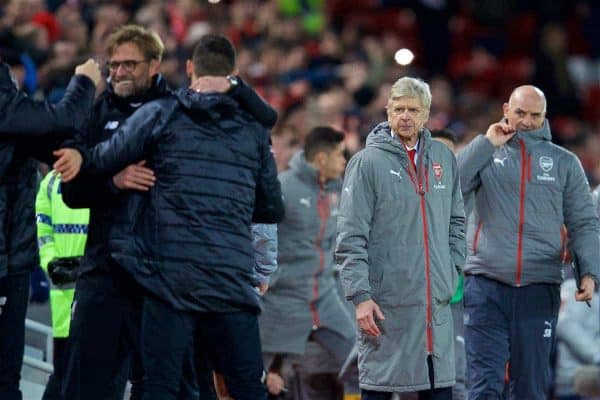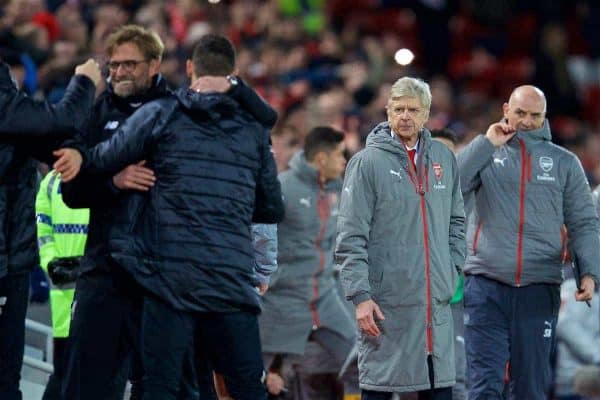 What's required for a play-off match:
---
For the Reds, this should not serve to increase the pressure, as Jurgen Klopp's side only need to match Arsenal's result in order to guarantee a top-four finish.
But the looming threat of a play-off is certainly intriguing—and stranger things have happened.
Fortunately, Liverpool have already beaten Arsenal twice in 2016/17: the 4-3 win at the Emirates on the opening day of the season, and the 3-1 victory at Anfield in March.