Liverpool have placed Naby Keita near the top of their transfer wish-list for summer, and it's time to find out exactly what the Reds would be getting.
Naby Keita is the name on the tip of every Liverpool fans tongue—but who is he? Where has he come from and what exactly does he offer?
Do Emre Can, Gini Wijnaldum and Jordan Henderson need to worry, or are RB Leipzig as determined as ever to keep the prolific midfielder?
We delve deeper into Keita's origins, highlighting his rise from young African hopeful to key Liverpool transfer target.
From Humble Beginnings
Naby Deco Keïta is from the small West African country Guinea. Initially starting his football career with Horoya AC, in his home town, he soon caught the eye of French scouts and earned himself a move to the French Ligue 2 with FC Istres.
The French side predominately used him as a central midfielder in the 2013/14 season, although he did feature in both the defensive midfield area, as well as a more advanced role—but only on occasion. During his 23 matches with Istres he played 14 times centrally, scoring four times and assisting once.
Utilised as the defensive pivot five times, and the attacking option three times, he did find time to contribute to the Istres attack, assisting once from each detached midfield position.
Unsurprisingly he soon caught the eye of the Red Bull football conglomerate: with a mantra of buying young, exceptional talent, Keita fitted their bill perfectly.
It was the Austrian arm, Red Bull Salzburg that snapped him up for the paltry sum of £1.2m in July of 2014.
Red Bull Giant
Keita sent two seasons with the Austrian champions, winning the Austrian Bundesliga and ÖFB-Cup double in both campaigns.
His time in Austria was, as in France, mostly spent as a central midfield option. Playing 81 times in total for RB Salzburg, he hit the net on 20 occasions, assisting a further 11.
In his preferred role of the central midfielder he contributed to 25 goals, scoring 16 and assisting 9.
What Keita had proved over two season in Austria is that, as well as breaking down the opposition play, he had the instinct to push on.
Creating and scoring chances started to become second nature.
With Red Bull having gone through all the hoops required to create a German Bundesliga side it didn't come as a shock to anyone to find that sister side, RasenBallsport (RB) Leipzig, now wanted to bring the Guinean to Germany—and with it help establish them as Bundesliga regulars.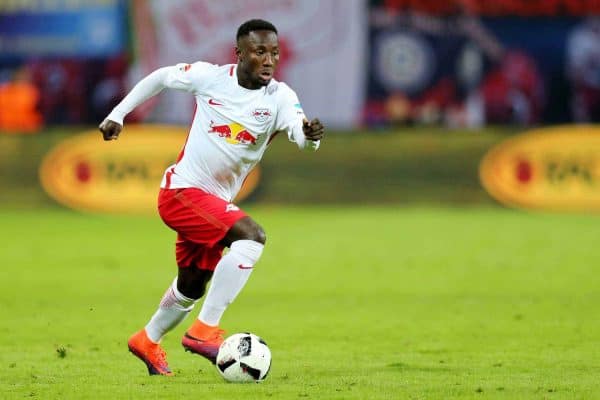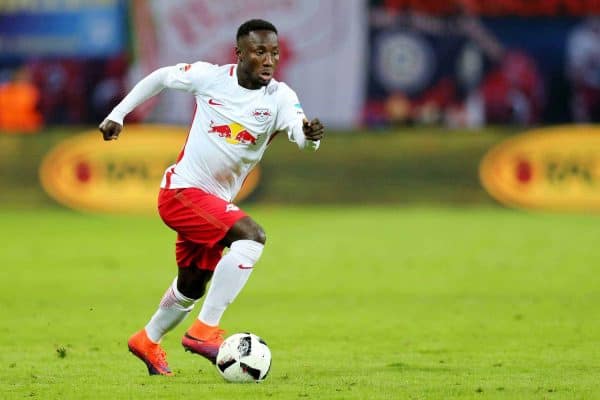 RB Leipzig achieved promotion Bundesliga at the end of 15/16 and Keita was top of their list for their debut assault on the top tier.
He didn't disappoint; making his debut as a substitute in the 84th minute on matchday 2, Keita came off the bench to fire in a 90th-minute winner against Borussia Dortmund.
Keita had arrived, and with it he had helped newly promoted Leipzig embarrass one of the league's powerhouses.
It was to set the tone for both Leipzig and Keita: a phenomenal debut season saw RB Leipzig push Bayern Munich for the title all the way up until March.
Eventually, Ralph Hasenhüttl's young Leipzig side ran out of steam—but they did topple Borussia Dortmund as Bayern's closest challengers, beating the Yellow and Blacks to second place and with it ensure automatic qualification for next season's Champions League.
With eight goals and eight assists in his debut season, Keita's display over 31 league games had attracted the attention from many suitors.
Leipzig, of course, are determined to keep their very best players. Their target remains Champions League knock-out football and the Bundesliga title for 17/18.
Rules of Attraction
That form has seen the box-to-box midfielder earmarked across the UK press as one of Liverpool's main transfer targets; the view in Germany, however, couldn't be any different.
Leipzig remain defiant in the face of approaches for any of their players.
Emil Forsberg was told under no circumstances would he be leaving when conjecture surrounded his future in January of 2017. RB Leipzig CEO Oliver Mintzlaff has gone on the record at various times throughout the year, saying players are not for sale.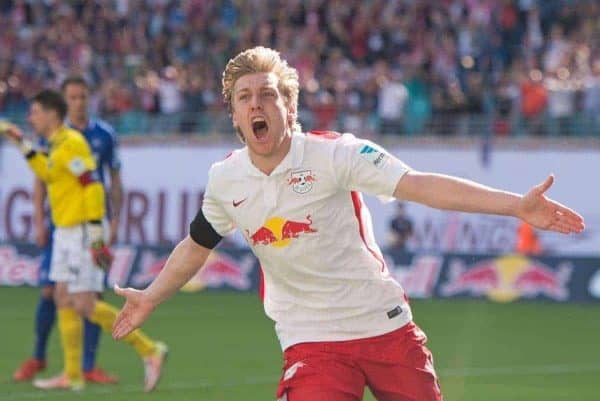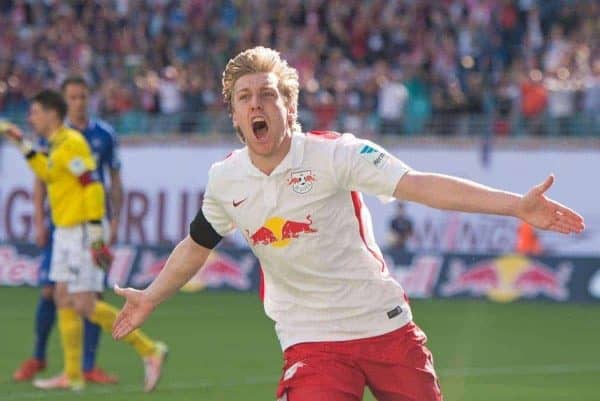 His most recent hands-off warning came on May 11 in German newspaper Bild. Speaking directly to them, Mintzlaff said of Leipzig they "have decided to not sell any key players this summer."
Should Liverpool be determined nonetheless to tempt Keita to leave Leipzig, they may have to rely on the player making waves—it is evident he is not for sale, or at least the club are not going to make it easy.
The east German side are reportedly ready to make Keita an improved offer to stay at the club until 2020; his current deal has an exit clause of €52m (£45m) which only comes into effect in the July of 2018.
Key Attributes and Role
The Guinean's strength lies within his ability to break up opposition attacks.
Critical to Leipzig's high counter-press, he is often the key element in the transition of play. His ability to thread a ball back to the Leipzig attack has paid dividends on many occasions with teammate Timo Werner.
Not only is he able to thread the ball through, he has the talent to take the attack on himself. Only Borussia Dortmund's Ousmane Dembélé attempted more dribbles in last season's Bundesliga.
Keita would be the box-to-box midfielder Liverpool have missed since Steven Gerrard departed in 2015.
Perhaps Keita's only weakness is in the air; at 172cms he can be out-jumped and out-muscled when challenging aerially.
However, with Jurgen Klopp preferring the ball to be played on the floor, it isn't a weakness that would adversely affect his standing within any possible Liverpool line-up.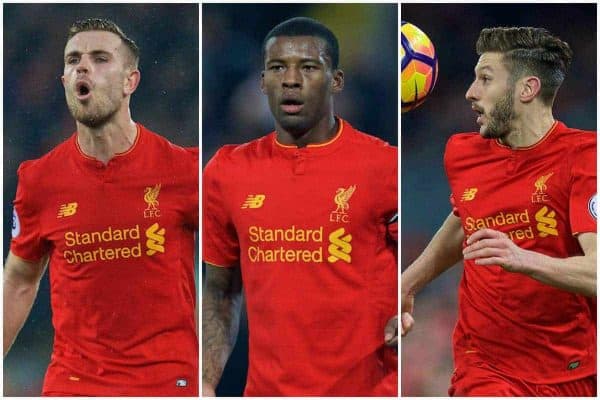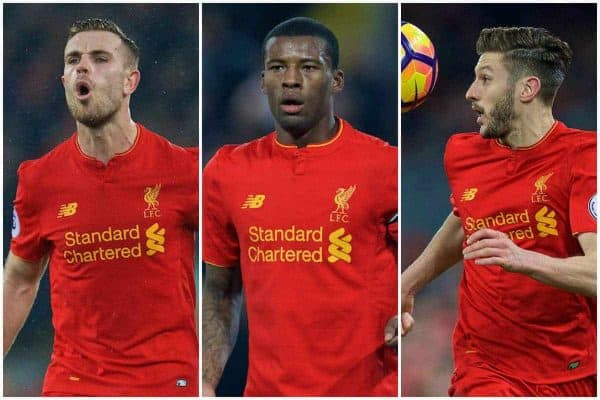 Another difficulty Liverpool face is: Just where would Naby Keita fit in?
Klopp's preferred formation throughout last season would have seen Gini Wijnaldum give way had Keita been an option—something which would have been exceptionally harsh on the Dutchman after thriving in the role of the box-to-box midfielder.
In the past Keita has been deployed further forward as an attacking midfielder, and on occasion he has found himself out on the flanks at Leipzig.
Once again this brings questions over where the Guinean would fit in.
Adam Lallana has just had his best season to-date and seems to be Klopp's No. 1 name on the team sheet, while Roberto Firmino and Sadio Mane have had equally impressive seasons. It would be unlikely any of the starting Liverpool side could be immediately ousted by Keita.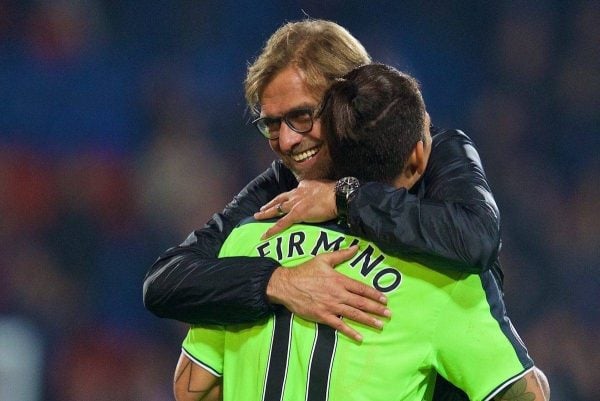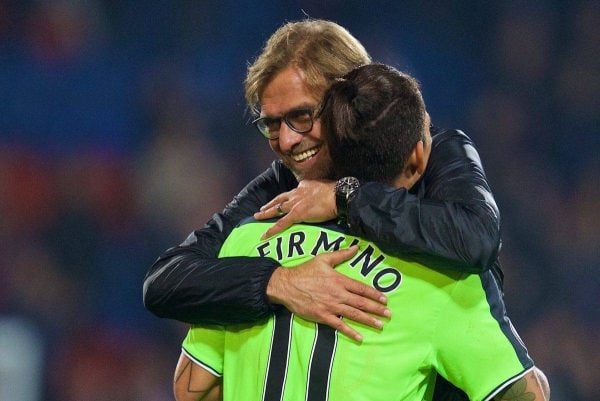 With RB Leipzig looking to reinforce for their upcoming Champions League and Bundesliga campaigns it comes as no surprise that they have strengthened furthermore in their midfield area.
Recent news suggests the impending arrival at Leipzig of 20-year-old Austrian Konrad Laimer. Arriving from Red Bull Salzburg, Laimer is treading the exact path that Keita took only last season.
This will undoubtedly add fuel to the fire of a Keita departure, however, fighting on three fronts next season Leipzig will need strength in depth. Regardless, with the arrival of Laimer, it could be that Leipzig are bringing in a security blanket should Keita decide not to extend his contract.
If that's the case, he'll become available next summer for a release clause fee of £45m—if Liverpool, or another side, haven't already tested RB Leipzig's resolve by then.