As Jurgen Klopp's Reds prepare to host Southampton on Sunday, Henry Jackson looks back at one of the signings from the south coast club long before Liverpool went raiding the Saints every summer.
Few players have made worse starts to their Liverpool career than Peter Crouch, but he responded magnificently to become both a key player and cult hero at Anfield.
When the dust had settled after the Reds' stunning 2005 Champions League triumph, attention turned to summer acquisitions and Rafa Benitez building a formidable squad.
Pepe Reina came in as a top class 'keeper, Momo Sissoko added legs to the midfield, and Bolo Zenden was a shrewd buy to bolster the squad.
Daniel Agger and Robbie Fowler would both arrive the following January, with one an excellent long-term prospect and the other a sentimental buy that thrilled the fanbase.
The signing that almost nobody saw coming, however, was Crouch – a Southampton to Liverpool switch that has almost been forgotten about since the Reds started raiding Saints year upon year more recently.
Jamie Carragher said Crouch was "as good as any striker in the Premiership in the second half of the season", so his form was clearly catching the eye, and he had scored against Liverpool that year.
The luke-warm response to the Reds signing the £7 million striker was only about to get worse, though, as he experienced the kind of start that nightmares are made of.
Woeful start
https://www.youtube.com/watch?v=9gRPlAMJiBY
To say Crouch started badly would be the understatement of the century, with the former England international suffering a painful, almost embarrassing, goal drought.
The lanky forward went a staggering 1,229 minutes before his first Reds goal arrived – a memorably comical, deflected effort against Wigan Athletic, in December 2005.
It was his 19th appearance, and prior to that match, he had even suffered the ignominy of missing a penalty in front of the Kop, against Portsmouth.
The striker's failings had become a national talking point – breaking his duck was a wonderful moment and one that really endeared him to the fanbase.
Once that nonsense was out of the way, Crouch really started to shine – his second goal for the club came just 23 minutes after his first.
Key man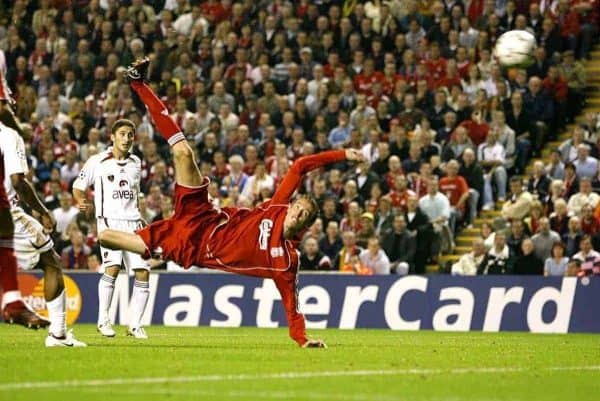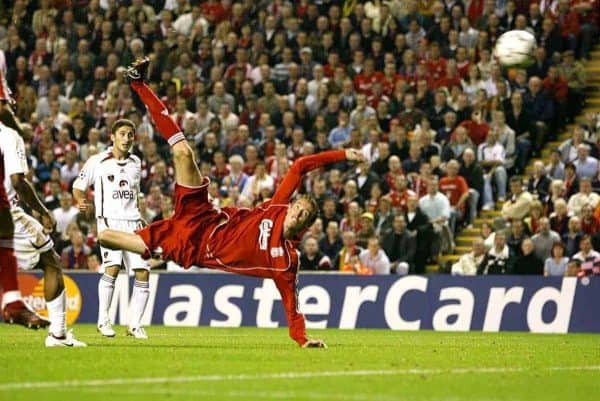 "He's got great feet for a big man".
It became one of the most tiresome assessments of Crouch throughout his time at Liverpool, when he simply deserved praise for being a very talented footballer.
His enormous physical frame worked against him, but he was someone with lovely balance, a good reading of the game and a clinical finisher.
After bedding in at Liverpool, Crouch started to shine, with five goals that December. A well-taken effort against Everton in the derby only added to his growing popularity, as did his FA Cup winner against Man United early in 2006.
He offered something completely different, dovetailing effectively with the likes of Djibril Cisse and Fernando Morientes, and 13 goals in his first season was very respectable. He also lifted the FA Cup.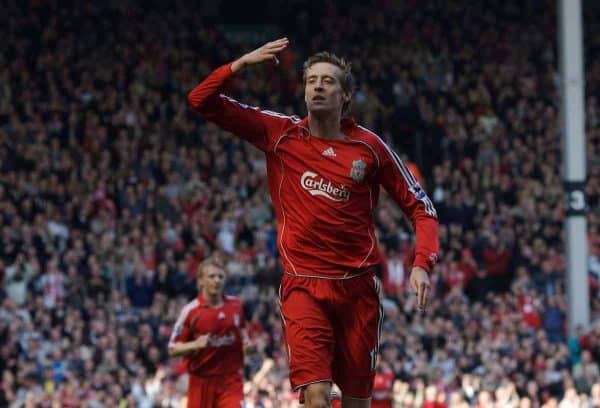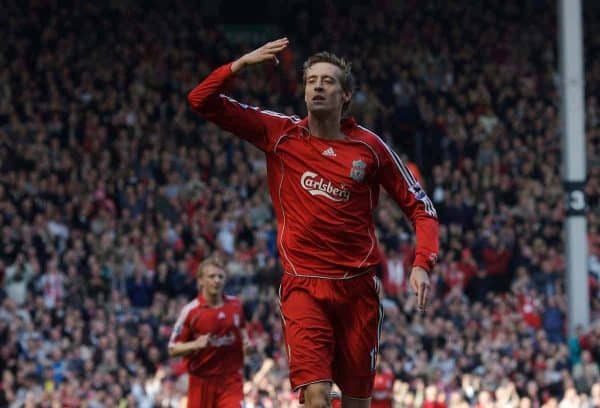 Crouch started 30 games the following year, with his performances helping Liverpool reach a second Champions League final in three years.
His sensational acrobatic finish against Galatasaray remains one of the Reds' truly great European goals, and he repeated the feat in a routine win over Bolton on New Years Day.
The former Saint also scored the perfect hat-trick at home to Arsenal in March 2007, finding the net with his right foot, left foot and head, in his best performance for the club.
Crouch was a long way from the circus act that was unfairly ridiculed upon his arrival at Anfield by this point, with 18 goals representing another a successful campaign.
Exit & legacy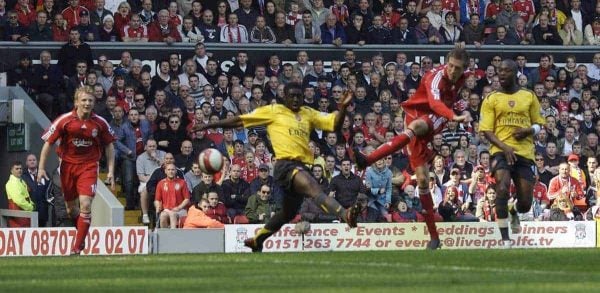 The signing of Fernando Torres effectively put paid to Crouch's time as a Liverpool regular, and he was used more sparingly in 2007/2008.
He still had his moments, scoring 11 times, but with Benitez eyeing up a devilish Steven Gerrard and Torres strike partnership, Crouch's days were numbered.
That's not to say the Spaniard wanted to let go someone he thought highly of, however, but at 27, it was understandable that Crouch wouldn't be content with being a bit-part player. It was a sign of how strong that Liverpool squad was.
The likeable Englishman was snapped up by Portsmouth in the summer of 2008, bringing an end to what has to be considered three successful years on Merseyside.
Crouch will never go down as one of Liverpool's top strikers of the Premier League era, but his legacy is one that deserves to be respected.
He showed great mental strength to recover from such a poor start, and he never once complained about not featuring week in, week out.

Few players over the past 20 years have been as down-to-earth and universally liked as Crouch – when asked what he would be if he wasn't a footballer, he famously said, " a virgin" – and he was an important cog in the wheel during an excellent period under Benitez.
He was a natural cult hero, but unlike some who adopt that tag, he delivered real quality. 22 goals in just 42 England caps is a testament to that, and 42 in 134 Liverpool appearances is not too bad, either.
The Reds may have spent the last three summers nabbing the star men at St Mary's, but few have been as impressive at Anfield as Crouch.
The warm reception he always receives whenever he returns sums up the high esteem in which he is held – his impact should never be downplayed. His critics were proved very wrong.