As Liverpool's campaign draws to a close, Sadio Mane deserves the Player of the Season award ahead of his fellow forward Philippe Coutinho.
The Reds hold their end-of-season ceremony on Tuesday night, crowning the stars of 2016/17 ahead of a final top-four push for Jurgen Klopp's side.
Academy Player of the Season, Young Player of the Season, and the first team and Liverpool Ladies Players' Player of the Season are among the awards to be doled out at Anfield.
For the leading accolade, Player of the Season, Liverpool have a number of candidates to stand out this term, including Adam Lallana, Roberto Firmino and, prior to his injury, Jordan Henderson.
Coutinho is in the frame for his third consecutive Player of the Year award, and the Brazilian will be the odds-on favourite on the night.
But it should be Mane, not Coutinho, who takes to the stage as Liverpool's player of 2016/17.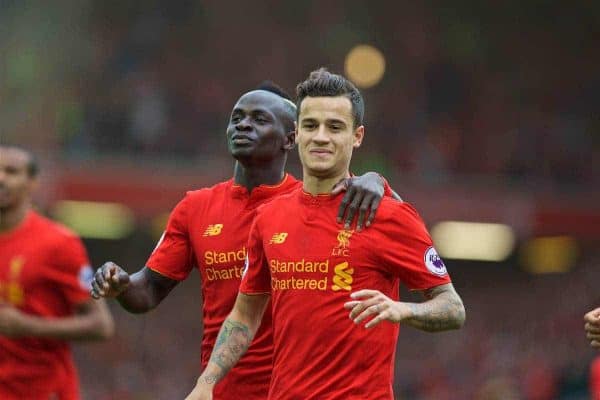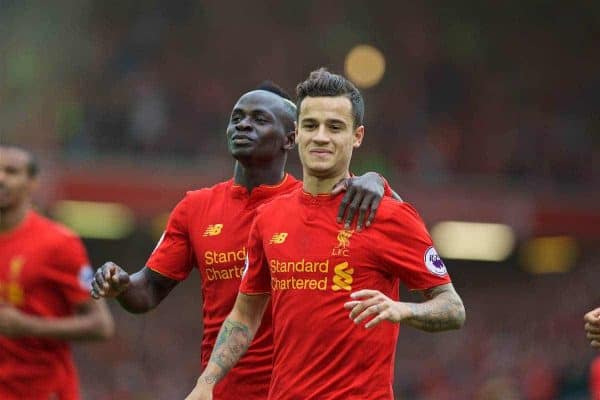 Coutinho has certainly enjoyed an outstanding season, with the 24-year-old threatening to reach elite level with his performances on the left-hand side of Klopp's three-man forward line.
He has broken the 10-goal barrier in the Premier League for the first time, and his tally in all competitions (11) is one goal off his output for 2015/16 (12) despite playing nine fewer games.
Some of his strikes have been truly majestic, from his sensational free-kicks against Arsenal and Crystal Palace, to his solo run and curler against Everton.
On a creative level, he has equalled his best-ever tally of assists (eight), behind only Firmino (10) this season.
And having finally established himself on the international stage, Coutinho has also become the highest-scoring Brazilian in Premier League history, with 31 goals, surpassing Juninho (29).
His progress was rewarded with a new five-year contract in January making him Liverpool highest earner.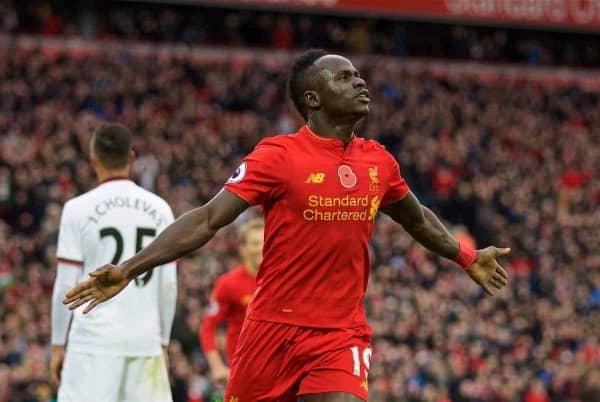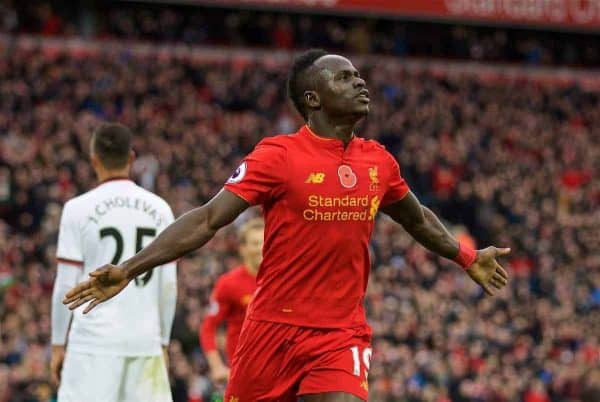 Mane's arrival last summer, in a deal worth £30 million no less, came under intense scrutiny from supporters: could the Southampton winger live up to heightened expectations on Merseyside?
He quickly allayed these fears, scoring against Barcelona in pre-season and then, on the opening day of the campaign, notched an incredible strike on the way to a 4-3 win away to Arsenal.
This was followed by 12 other strikes in all competitions, making Mane the Reds' top scorer for 2016/17 so far, with just two games left for Coutinho (11), Firmino (12) and Divock Origi (10) to beat his record.
Mane has also laid on as many goals as Coutinho (eight), striking up a strong understanding with Klopp's Brazilian attacking duo.
Crucially, no Liverpool player has scored more match-winning goals in the Premier League than the Senegal international (five).
He twice made the difference against Arsenal, as well as the winners against Leicester, Tottenham and, dramatically, away to Everton in December.
A stunning performance against Spurs arguably encapsulated Mane's importance to Liverpool, with his pace, movement and predatory instinct making a mockery of the Premier League's best defence.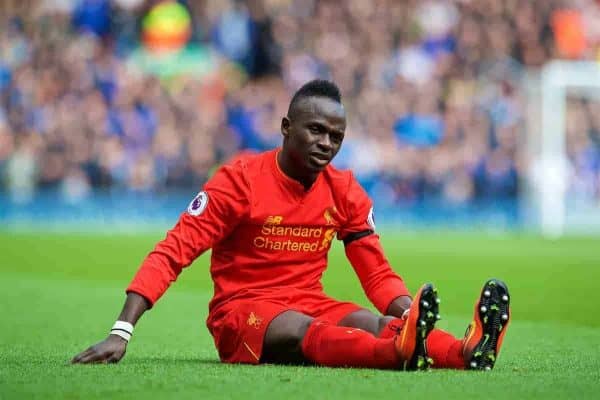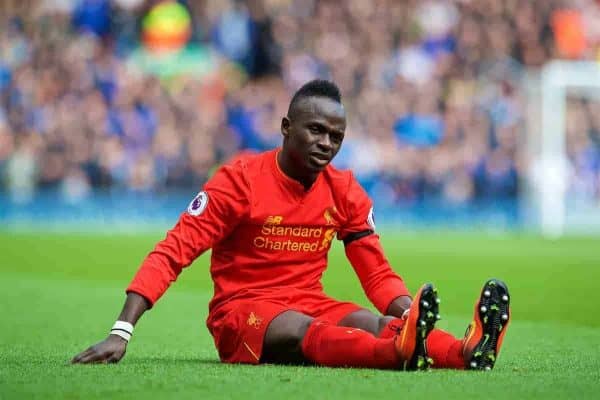 But, ironically, the most convincing factor behind Mane deserving to be Liverpool's Player of the Season is the impact his absence has had on Klopp's side.
There is no other player quite like Mane in the Reds' squad at present, with his spell at the Africa Cup of Nations on the turn of the year, and his season-ending knee injury in April, highlighting this.
Without Mane, Liverpool have lost their spark: after scoring three or more goals in 11 games with him in the side this season, they have done so once in 16 games without him.
Origi has struggled as his stand-in, and the Reds are no longer splitting defences open with their fluid attacking play; they've become staid, relying on moments of magic to prevail.
Remarkably, despite Mane being Liverpool's top goalscorer and second-highest assist-maker, of Klopp's first-choice starting lineup only Henderson has made fewer appearances (27) than the winger (29).
Coutinho's absence with an ankle injury at the end of 2016 was certainly damaging, but Liverpool are better equipped to cope without their No. 10 than they are without Mane.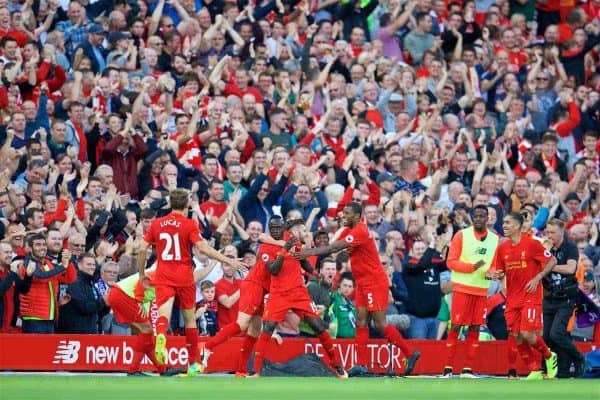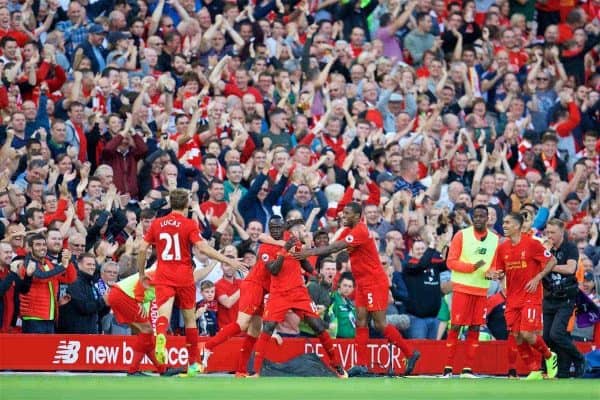 Despite his considerable price tag, Mane is arguably the best signing of Klopp's reign at Liverpool so far, swiftly established as one of his most important players.
Sidelined with a debilitating knee injury, Mane's unavailability has hampered the Reds at the business end of the campaign, with Klopp struggling to find a solution in attack.
Mane is a rare breed: a throwback of a winger who has settled in immediately at Anfield, building on his impressive performances over two seasons for Southampton.
Making the step up to life at Liverpool effortlessly, Mane should be Liverpool's Player of the Year.