Liverpool have officially revealed their new away kit for the 2017/18 season, and supporters appear mixed on the design.
The New Balance strip celebrates 125 years of Liverpool Football Club, taking inspiration from the one worn all the way back in 1892.
The green and white pattern bears a slight resemblance to the kit worn by the Reds in 1995/96 – a season that saw them defeated by Man United in the FA Cup final.
? LFC have officially unveiled the new away kit for next season, inspired by the Reds' first ever kit from 1892.

?? https://t.co/DX2TOWTgqZ pic.twitter.com/v9sIz5ckgO

— This Is Anfield (@thisisanfield) June 2, 2017
Like everything Liverpool-related, there has been endless reaction to the unveiling on Friday, but not all of you are happy.
Here's the best of the reaction.
Liverpool's new away kit being criticised – is is actually that terrible? Very few are IMO. Instant reactions to kits peculiarly extreme.

— Sachin Nakrani (@SachinNakrani) June 2, 2017
— Gene Oliver (@genepoli) June 2, 2017
it's a good away kit, Brent

— nate (@natefc) June 2, 2017
I quite like it. Personal preference for a retro shirt would be yellow/all white, but this is more than acceptable. https://t.co/sB63Z66cHi

— Dave Phillips (@lovefutebol) June 2, 2017
Imagine how good it would have been had they revealed VVD in the new kit, out of the blue.

— Tom McMahon (@tomjpmac) June 2, 2017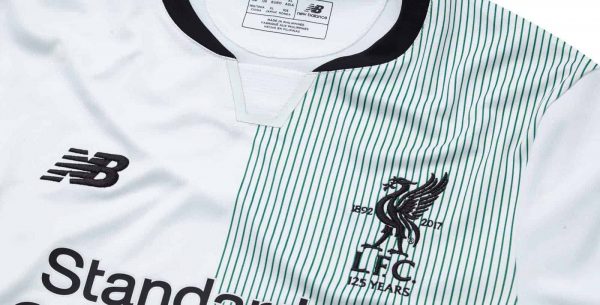 @LFC home and away kits are quality for next season! I remember the original white and green kit it was one of my favourites #LFC

— Aaron Price (@aaron_price88) June 2, 2017
Anyway, these things improve with time.

When I first saw this… pic.twitter.com/LNpu6De7Ih

— Steven Kelly (@SteKelly198586) June 2, 2017
https://twitter.com/WijnaldoLol/status/870604212828286976
Easily the best kits NB/warrior have made for us by a long way. Home kit is the best we've had in a decade, & the away kit is nostalgic #LFC

— Spence (@originalNo7) June 2, 2017
bloody hell that's an awful away kit

— Stephen Davies (@stevedaviesseo) June 2, 2017
I like the keeper kit. Karius could look suave in a bin bag though tbf. pic.twitter.com/8Xc4QBkreG

— LFC Fans Corner (@LFCFansCorner) June 2, 2017
https://twitter.com/Chris_Eds11/status/870605376798044161
New @LFC away kit is disgusting pic.twitter.com/EoryGn6bSA

— David Thaiger (????) (@fbz_11) June 2, 2017
That #LFC away kit is growing on me. It's nothing over the top or crass as with some of NBs previous away kits. Simple.

— Liverpool Australia – The L Files (@LFC_Australia) June 2, 2017
https://twitter.com/col220611lfc/status/870604862236524545
https://twitter.com/adamgrice_/status/870604577938321409
The new Liverpool away kit looks like something the old Kings of France used to wave in the air when they surrendered #LFC

— Stuart Reece (@stuartereece) June 2, 2017
The kit is available from Saturday – the 125th anniversary of Liverpool FC.
* You can purchase the new away kit, or the home kit, from the official LFC shop here.
What do you think of the new kit? Let us know in the comments section.