Six weeks after the first run of fan polls demanded Virgil van Dijk be signed, the team faces deadline day decisions and their form is on the up.
Welcome to #TIAonFM, our Football Manager series where the fans are in control. We play the game, but you, the supporters, get to vote on every major issue, from team selection to transfers.
Updates are published every week and a new run of votes will be available afterward to participate in; follow @thisisanfield and @karlmatchett to take part and lead the club to glory!
Emotions running high in pre-season
Contract signed, fans on board, transfer budget sorted.
Mid-July was a time of optimism and excitement around Anfield, with Boss Matchett taking control—sort of—and thousands of supporters pointing the way to glory.
Yes, Liverpool were clearly on the up…for a few days, at least. But football's a funny game, largely because of the people in it making decisions.
To be honest, a board meeting after hearing back from the fans left yours truly a bit perplexed; the supporters want Alberto Moreno gone, but the priority signing is a centre-back.
Anyway, what the fans say, goes: Moreno on the transfer list, and a whopping £60 million bid in for van Dijk, accepted and sorted.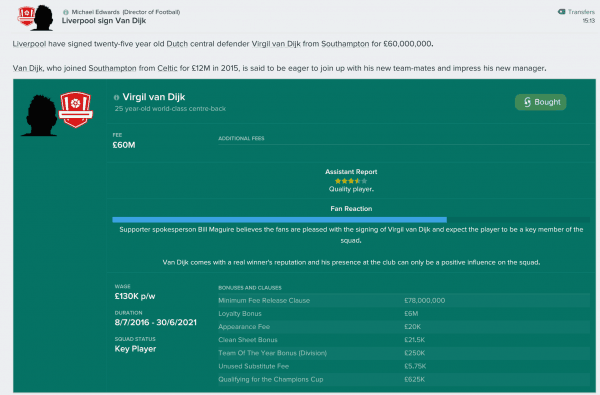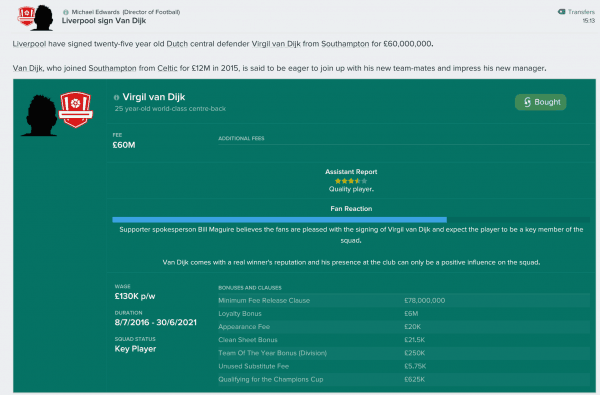 Alberto wasn't happy when he found out he was listed—but nowhere near as unhappy as when we told him Watford were the only team in for him. Still working on that one.
And, of course, it wasn't long before the dreaded, yet expected, news filtered through…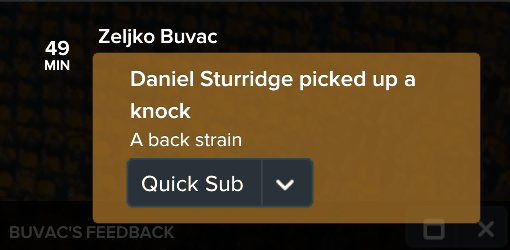 He's only a sub, though, so no big deal.
Q5: What should Daniel Sturridge's role be for the season? #TIAonFM

— Karl Matchett (@karlmatchett) June 13, 2017
All in all, those first few weeks went ok, though there were plenty of moments of all-the-feels.
Southampton was the second friendly of the summer and poor old Virgil didn't know whether to be happy about it or not. Then it was Roma, with Mohamed Salah looking at me weirdly all game long—no idea why, we've not bid for him—and Lyon, who had Adam Bogdan in goal.
£2 million, we got for him!
It was mixed: wins against Dundee United, Roma and Celta Vigo, draws with Lyon and AC Milan and a defeat to Saints. Also, a lot of telling lower leagues sides that no, they couldn't loan Gomez, Grujic or Harry Wilson.
At least, not yet, but there's another batch of votes on the way…
Where's the reset button?
Season opener, then. Home to Spurs, tricky start—made somewhat more rubbish by conceding with the first attack of the campaign.
Yes, 90 seconds on the clock and Simon Mignolet was nutmegged by Christian Eriksen, a wonderful start. It didn't get a whole lot better with Spurs going three up by the 20th minute.
Boss Matchett spent most of half time screaming about getting "closer to your men," while looking slightly in between van Dijk and Joel Matip so neither of them knew who was being shouted at.
It worked, too: both centre-backs scored after the break, but there was no magical third to seal a memorable debut point.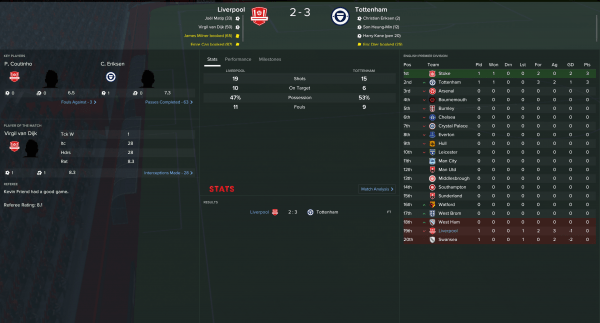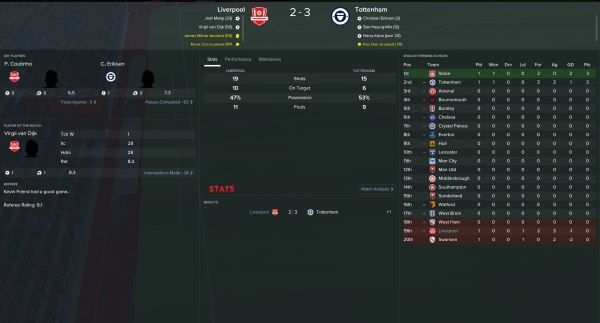 Not to worry. West Brom were next, at the Hawthorns, and an up-close-and-personal chance to hear Tony Pulis' monotone squawks at each of his 14 centre-backs in turn.
Before the game, Karius was deemed fit and Head Physio Andy Renshaw recommended picking him.
Boss Matchett stammered his way through an explanation that the fans had demanded Mignolet be No. 1, all the while unaware that big Loris was taking an Instagram selfie on the other side of the door. Oops.
Q2: Who should be the No. 1 goalkeeper when fit and available? #TIAonFM

— Karl Matchett (@karlmatchett) June 13, 2017
A few changes, then: Nathaniel Clyne was back so came in for Trent Alexander-Arnold, Adam Lallana in for Gini Wijnaldum and both Karius and Dejan Lovren were fit for the bench.
We played alright, but midway through the first half van Dijk slipped and Salomon Rondon buried one. That's what £60m gets you, these days.
Philippe Coutinho netted straight after the restart only for the offside flag to go up; I didn't initially notice the flag as I spilt tea during the short-lived celebrations. Boss Matchett is a bit like Marcelo Bielsa, in some ways, like that time when he sat on a cup of coffee.
Anyway, Phil and Bobby Firmino combined nicely for 1-1, then van Dijk gave away a penalty that Big Migs saved.
Boss Matchett said nothing, but a quiet smile down the bench in the direction of Karius spoke volumes. God, he looked boss in that pic he took; I wasn't sure whether to double tap or swipe right.
Time was running out and Sunderland 3-0 Chelsea flashed up in the corner, inspiring a double change to go all-out-attack. Sturridge and Origi on, Mane and Hendo off. Diamond, the fans' second-choice system.
Which primary formation should the team play whenever possible? #TIAonFM / @thisisanfield on @FootballManager

— Karl Matchett (@karlmatchett) June 13, 2017
Nothing really happened, to be honest. 1-1, and we're off and running with a point.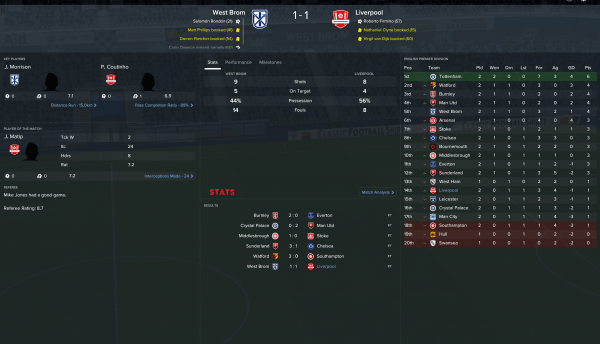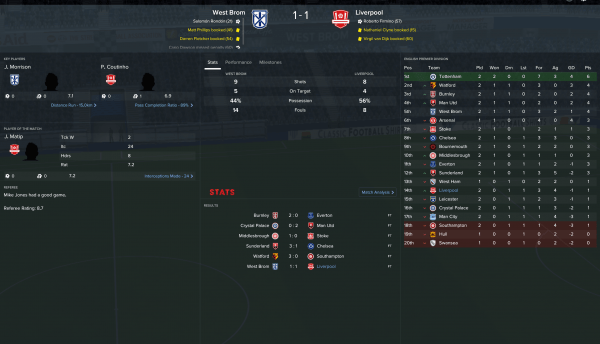 Establishing authority, sort of
The League Cup second round saw a fully changed XI to face Crawley: Karius getting his debut, Gomez in, Ragnar Klavan and even Alberto Moreno to remind teams he still existed. Grujic, Lucas and the lesser-spotted Danny Ings all got a run-out.
Sturridge netted a brace from the spot, Big Div added a header and 10-man Crawley's cup dreams were over. Ours are still alive—but it's Chelsea-killers Sunderland in the third round, away.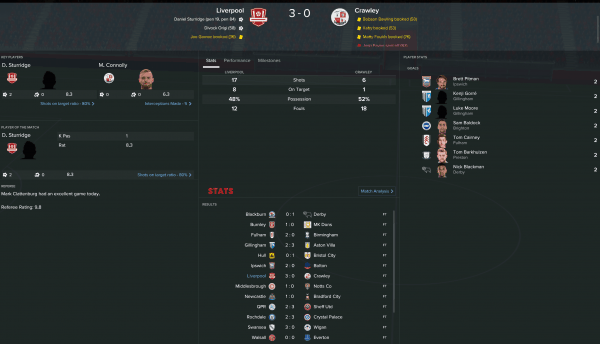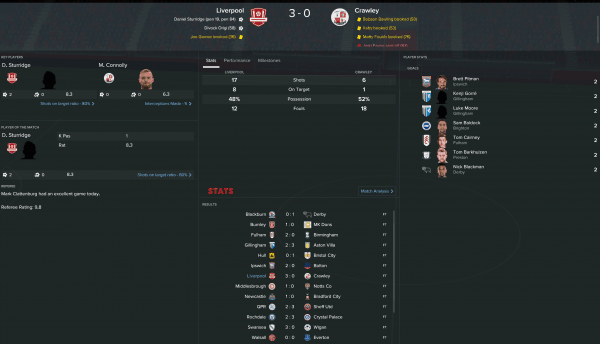 The last game of the month, and more pertinently before transfer deadline day, saw us host title-holders Leicester. For the first time, every player was fit and available.
Back to full strength, Boss Matchett gave the pre-game rallying call: get out there and show the fans the performance they're expecting! Reading between the lines, they should obviously take that as: show the fans they shouldn't vote you to be sold on deadline day!
It worked a treat. Milner buried a penalty, then Wijnaldum lashed one in. Obviously, I mean, we were at home after all.
Milner scored another penalty—the tricky Reds are back!—and Bobby Firmino wrapped it all up.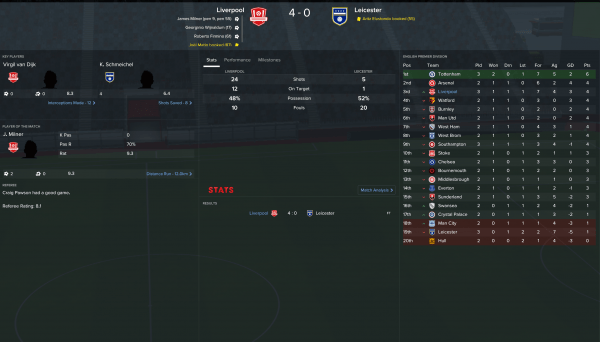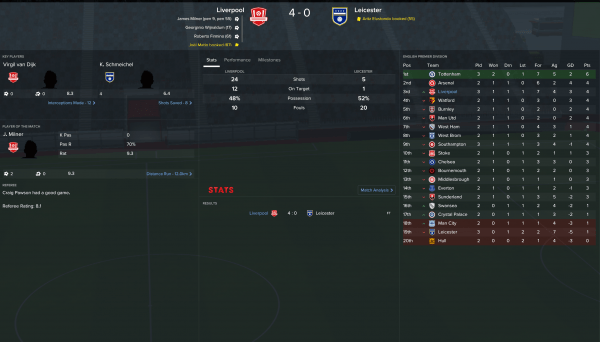 Alberto Moreno went off hopefully jogging down the touchline at one point. Boss Matchett is having none of that; I furiously hauled him back in, sending Lovren on as sub instead. I'll show him who's in charge of this team.
That reminds me, must remember to ask the fans if they still want him out…
Transfer deadline day and September polls will run from @karlmatchett on Wednesday morning, follow and vote to get involved!