Liverpool youngster Ben Woodburn has been deployed in a new midfield role throughout pre-season, showing the potential to emulate Philippe Coutinho.
With nine appearances, 360 minutes on the pitch, 14 more games on the bench and one record-breaking goal, 2016/17 was a breakthrough campaign for the Reds' No. 58.
Rising from the U16s to the first team within months, Woodburn is now established as one of Liverpool's most promising young players, symbolic of Jurgen Klopp's focus on development.
But while Trent Alexander-Arnold looks primed for a long-term role competing with Nathaniel Clyne at right-back, and Ovie Ejaria is settled with a midfield briefing, Woodburn is difficult to place.
This summer, Klopp has fielded the Wales youth international in the middle of the park, and this could well be Woodburn's natural position moving forward.
Woodburn's Versatility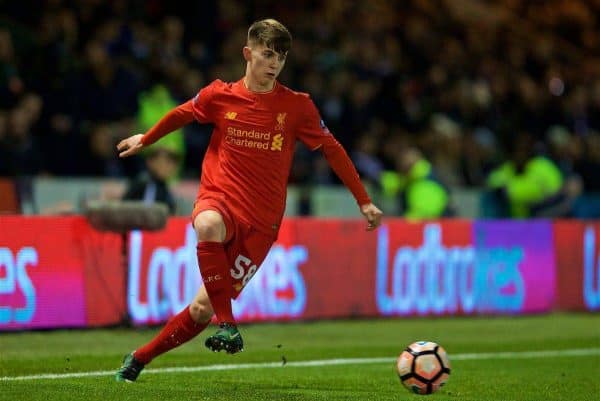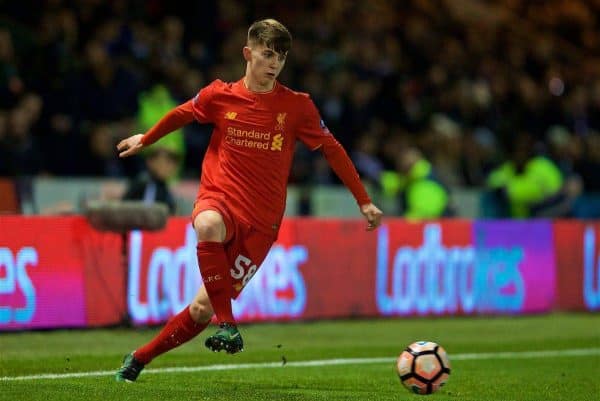 In his nine outings for the Reds' first team last season alone, Woodburn played three different roles: on the left wing, the right wing and as a secondary striker.
For the U23s, the 17-year-old operated across the forward line, primarily as a centre-forward, but drifting out wide and, at times, stationing himself in a deeper role in midfield.
Before that, in Pepijn Lijnders' U16s side, Woodburn served as the Dutchman's No. 10, at the tip of a diamond midfield, in what his manager described as "the second key position," behind the No. 6.
On a basic level, Woodburn is simply a hugely talented young footballer, and Klopp has stressed he is eager not to pigeonhole him at this stage.
"He's too young to fix him to any one position. We want to have him in and around our team," he explained.
"We will see what happens as he grows…It's exciting. I have no idea what his best position is, I'm just happy to have him around."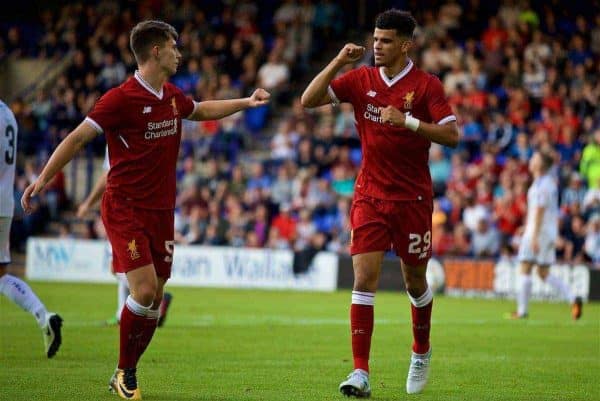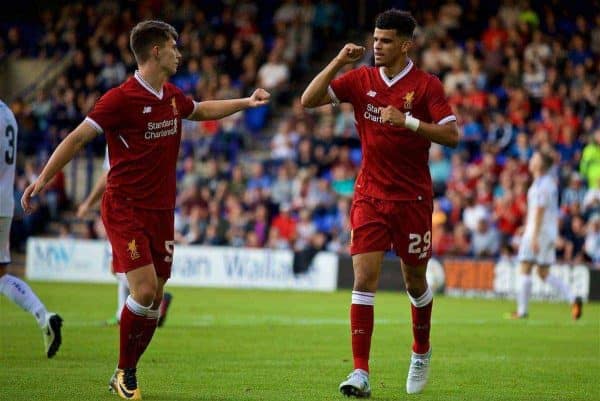 At 17, there is considerable scope for Woodburn to develop physically, but his stature does arguably rule him out of some roles in Klopp's system for the long term.
He's not exceptionally fast, like Sadio Mane or Mohamed Salah, so he is at a disadvantage on the wing.
Standing at a lithe 5'7″, he's not tall either, and bar Roberto Firmino, Klopp's current options up front are all over 6′, with Divock Origi and Dominic Solanke in particular possessing a looming presence.
Lijnders described Woodburn as an "an authentic No. 10," with the youngster a highly intelligent, technically gifted, instinctive player.
That is where the prospect of Woodburn lining up in Liverpool's midfield in the coming years comes in.
The Midfield Role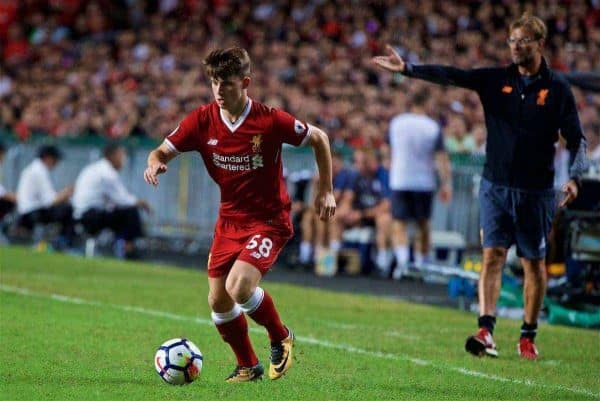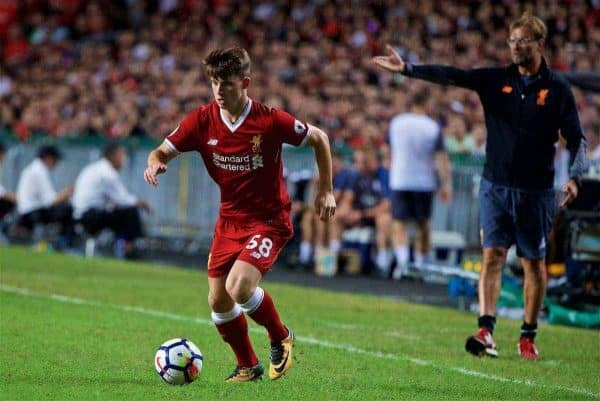 Ahead of pre-season, Klopp suggested he would be spend the summer "introducing different systems," but so far, the German has largely persevered with a semblance of last season's 4-3-3.
This allows Klopp to field two natural wingers flanking the lone centre-forward, with those roles earmarked for Salah, Mane and Firmino, while a fluid, three-man midfield provides support for the attack and cover for the defence.
The duties within this system may shift depending on the players at Klopp's disposal, with the potential arrival of Naby Keita a game-changer in that regard, but the structure remains the same.
Unlike last season, however, when Adam Lallana probed forward as the most advanced of three and Georginio Wijnaldum served as the knitting midfielder, this is set to change for 2017/18.
Coutinho's successful audition in a deeper, creative role in the middle of the park in May's 4-0 win away to West Ham United proved the Brazilian is at his most influential in midfield.
And so far this summer, the 25-year-old has interchanged with Woodburn, with Klopp rotating his lineup to build fitness and fluency throughout his squad.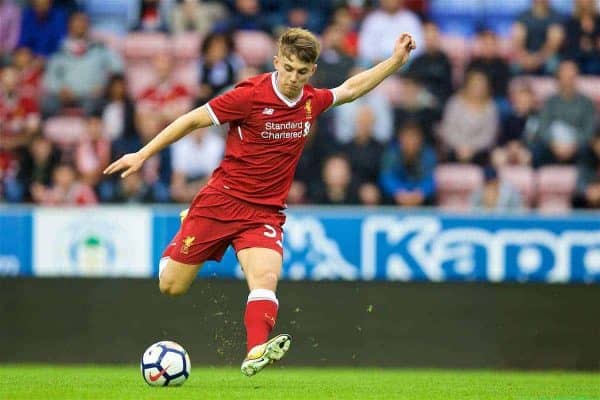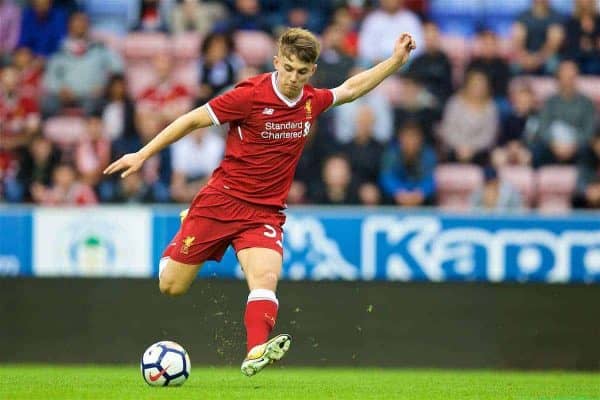 Such is the nature of Klopp's midfield, Woodburn has at times found himself as the deep-lying No. 6, or pushing forward with third-man runs into the penalty area, but largely his has been a creative role.
Against Crystal Palace in Hong Kong, Woodburn showcased his inventive eye, with one threaded pass from the halfway line into the box for the onrushing Salah on 28 minutes truly masterful.
And 11 minutes later, he found Daniel Sturridge in the penalty area with another arrowed ball from 30 yards out, cutting apart the Eagles' defence with direct, incisive play.
"It was like he has never been in any other position in his life even though he's only been there a few times," Klopp said of his display against the Eagles.
"When Gini pushed up, he dropped to become our No. 6 so game intelligence is a big skill of Ben's and he can only get better."
Lijnders has also attested to Woodburn's ability to "structure the press," suggesting he would be no weak link off the ball, either.
Woodburn is still clearly a work in progress, and Klopp has identified this pre-season to "help him to learn the highest level of football under pressure," but he clearly has the potential.
Klopp's Long-Term Plan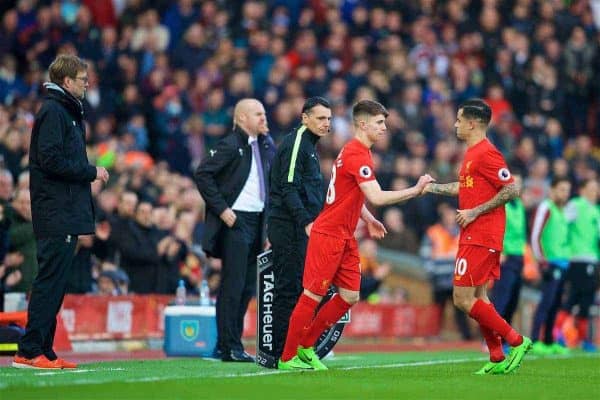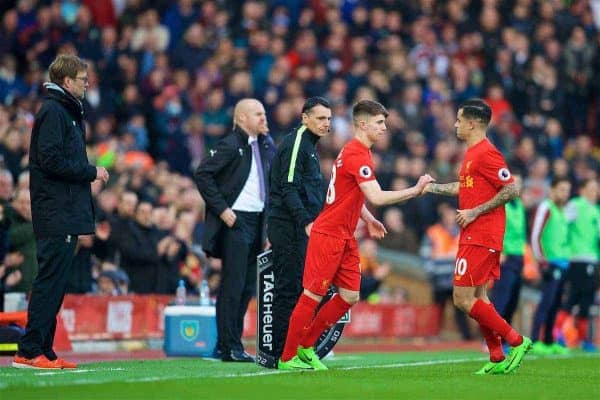 Overtures from Barcelona this summer have brought a long-held concern over Coutinho's ambitions to the surface.
Having joined the Reds in 2013 and progressed into one of the Premier League's finest, the Brazilian has caught the eye of the Spanish giants, with a £72 million bid compounding this.
Liverpool are determined to hold on to their No. 10 this summer, with Klopp explaining "I can say 20 times, he is not for sale," but there is a creeping inevitability over Coutinho's future.
Like Luis Suarez before him, Coutinho seems primed for a move to Barcelona in the long term.
Catalonia is a dream destination for many South Americans, and there is a clear role outlined for him at the Nou Camp, as heir to Andres Iniesta.
Having signed a new five-year contract with Liverpool in January, Coutinho has underlined his intention to remain on Merseyside for the time being, and the hope will be the club's success convinces him further.
But if he does opt to join Barcelona in the future, be that next summer, or the summer after that, Woodburn can be moulded into his eventual successor.
With Liverpool fighting on four fronts in 2017/18, the Welshman will have plenty of opportunities to hone his craft, even if they don't all come in the middle of the park.
Serving as Coutinho's deputy in Klopp's midfield can only benefit Woodburn, and by extension, Liverpool.