After fans voted to leave Sturridge sidelined and keep Mignolet as No. 1, some huge games started to show how Liverpool would fare this season.
Welcome to #TIAonFM, our Football Manager series where the fans are in control. We play the game, but you, the supporters, get to vote on every major issue, from team selection to transfers.
Updates are published every week and a new run of votes will be available afterward to participate in; follow @thisisanfield and @karlmatchett to take part and lead the club to glory!
October
Dear Diary: What am I doing with my life? From the outrageous highs of goal-laden September, to the Earth-shattering reality of cold, brutal October. I hate October.
Boss Matchett sauntered into Melwood at the start of the month fully intent on telling our critical playmaker Coutinho to play through the pain barrier, only to be overruled.
Q1-We face City, ManUtd, Saints, Newc (cup) & Everton. Coutinho will miss 1st 2 games injured OR can get injections—but could then miss all.

— Karl Matchett (@karlmatchett) June 28, 2017
Then, the painful news that a 100% record wasn't enough to earn a thoroughly deserved Manager of the Month award.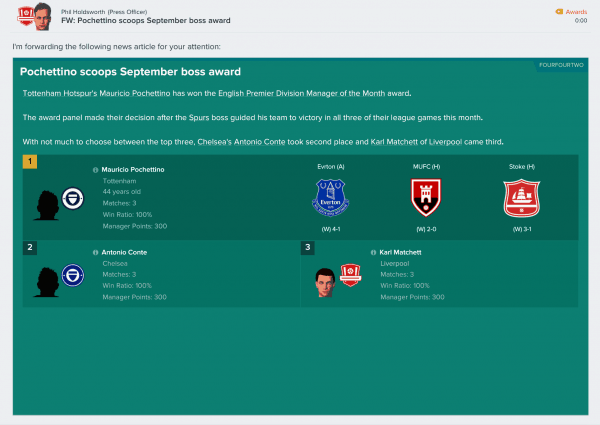 And then, the final indignity, having to go all-out-attack against one of the league's finest front lines.
Q4: We've been playing 4-3-3 as voted in by fans, but biggest games so far next: away vs City & away vs United. Stick or twist? #TIAonFM

— Karl Matchett (@karlmatchett) June 28, 2017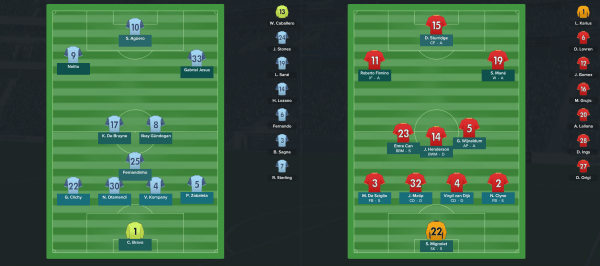 Predictably, it didn't start well at the Etihad. We were three down in less than 10—yes, 10—minutes.
A switch to a diamond brought an improvement, but despite an Emre Can strike, Bravo's astonishing penalty save from Sturridge was a real hammer-blow.
A rare Danny Ings appearance briefly had fans tweeting "it's on, you know," but it wasn't.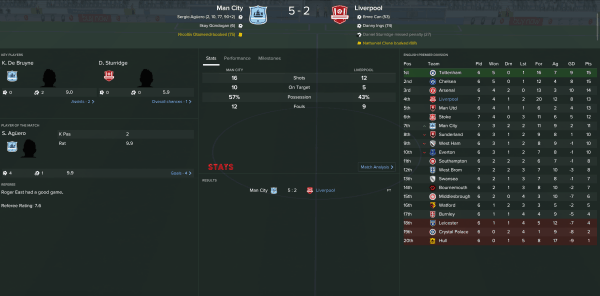 To be honest, the opening question in the post-match presser caught me halfway between laughing and crying. Managing the team based on the opinions of supporters? WHO'D BE MAD ENOUGH TO DO THAT??


Anyway, on we went, away to second-placed Manchester United next—and both Sadio Mane and Lucas had joined the list of injury absentees. Even Mamadou Sakho had caught our injury jinx, and he's not even at the club.
Coutinho recovered, so he and Lallana came in for Sturridge and Wijnaldum, but we were largely the same shape and style as at City.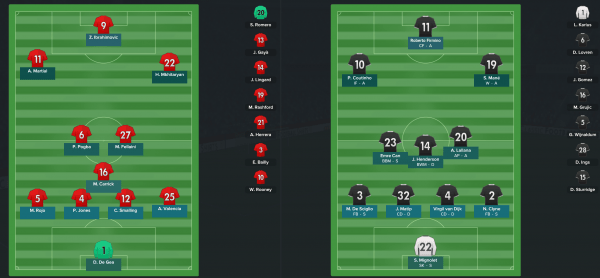 Thankfully, we emerged unscathed through the first 10 this time, but Firmino took an early knock and had to come off at the half.
The decision to bring on Ingsy instead of Sturridge raised a few eyebrows, but Boss Matchett's tactical nous paid off just five minutes later as the super sub made it two in two games off the bench in Manchester.
It was all going swimmingly until De Sciglio nearly ruined everything by giving away a penalty—but big Migs produced a Stoke-esque save from Zlatan's spot-kick.
You could almost hear the prawns falling out of the sandwiches around the stadium, it went so quiet. Ings obviously felt his work was done at that point as he went off with a bruised head on 66 minutes, and Sturridge almost wrapped up the win twice on the break.
At the other end, Matip and Van Dijk broke Opta by making so many clearances, and a big three points was mi—I mean, ours, to celebrate.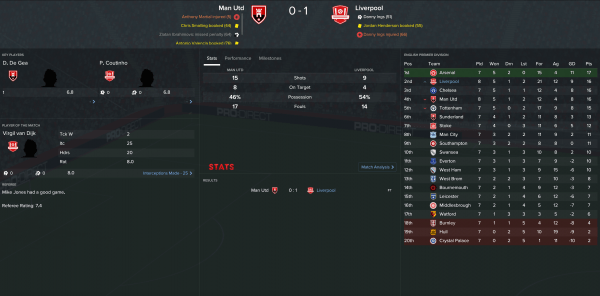 After that tricky run on the road, there were three upcoming games at Anfield in quick succession: Southampton, Newcastle in the League Cup, and the derby against Everton.
Boss Matchett did some careful calculations and determined that one or two changes would be in order to keep a full-strength XI around for the derby: Gomez in at left-back, Grujic into midfield.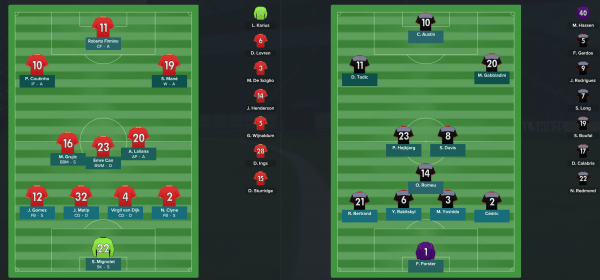 With £145 million worth of ex-Saints talent in our ranks we could hardly be expected to lose to the dregs which remained.
Even so, the sight of Lallana setting up Mane for one of the goals might have been too much for some visiting fans to bear.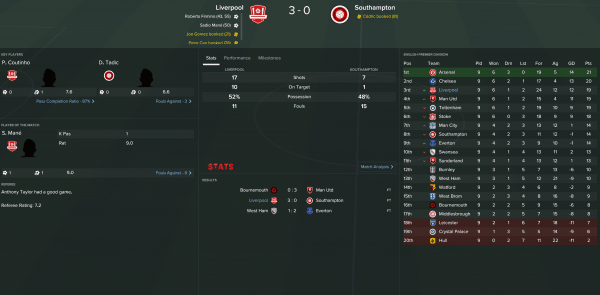 That left us just two points off top spot at the quarter-stage of the season, with the most goals scored in the league…and the joint-most conceded in the top half.
So far, so standard!
Cup time, and Rafa was back in town. Newcastle's visit provided the chance for a few changes—not too many, the fans clearly see this as a trophy chance and who am I to disagree?—so we switched to a two-pronged attack.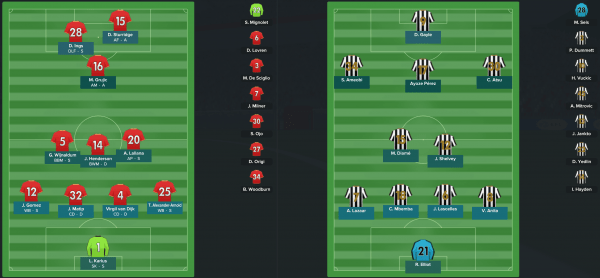 Boss Matchett was, admittedly, a little disgruntled by the applause for the former manager being louder than the applause for the current one—but then, he won the Champions League.
So far the Matchett/fans combo's big achievement is a clean sheet at Old Trafford. That will all change, I assured myself, once I lift the League Cup for them.
Midway though the first half, assistant Buvac kept telling me we were being overrun in midfield; Boss Matchett doesn't like to appear clueless so I nodded wisely and looked concerned.
In truth I didn't have a clue what he was on about; we were two goals up and had 60% possession at that point, so I sort of just made a few hand motions in the direction of Gini Wijnaldum and hoped that would suffice.
With the derby a few days away, subs were made to keep legs fresh, but it was pretty routine.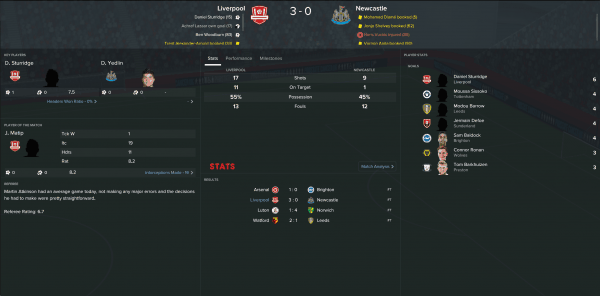 The high point was having Alexander-Arnold, Gomez and Ben Woodburn all on the pitch—and a debut League Cup goal for the teenage striker, the stuff of dreams. There aren't many managers who could time his entrance so perfectly, after all…
The final match of the month saw us host the Toffees; the blues, the bitters, the bluesh*te.
Call them what you will, Everton strolled over the park sat in ninth ahead of play, closer to the relegation zone than top spot by points.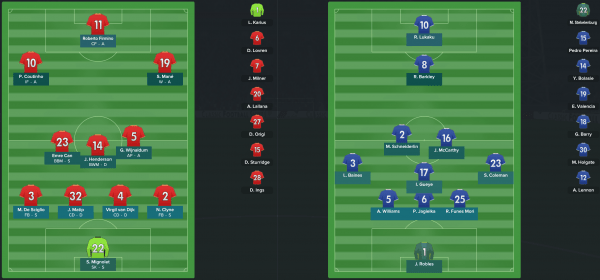 Terrible weather, terrible start.
Van Dijk took things a little too literally when we said to get stuck into them, chopping Lukaku down with two feet and seeing red after less than 10 minutes.
Firmino went off injured too, but we were still bossing it, Matip and Sturridge going close.
Despite being a man down, Boss Matchett was feeling confident at the break and gave the troops a rousing, inspiring team talk borrowed word-for-word from Al Pacino in Any Given Sunday, just switching in things like "Everton" and "the Kop" when it seemed appropriate.
The fates still tried to conspire against us—Coutinho off injured next, all three subs done by 55 minutes—but the Reds would not be denied and Emre Can finished off a breathtaking attack.
It looked as though we'd done enough. Second place in the table was within reach. We battled, we worked, we defended…and then we ridiculously sent eight men forward for a 93rd-minute free-kick.
They countered, crossed, equalised.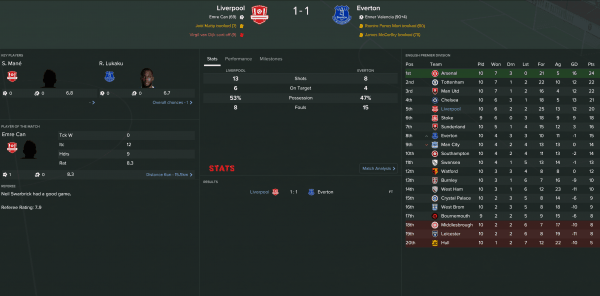 Boss Matchett walked home in the rain. I hate October. Ah well, there's always next month…


November polls will run from @karlmatchett later this week, covering Van Dijk's stand-in, League Cup selection and more—follow and vote to get involved!