Steven Gerrard's Liverpool U18s enjoyed an emphatic victory in their first pre-season friendly of the summer, thrashing Burton Albion 7-0.
The young Reds have a new manager in the shape of Liverpool's legendary former captain, who took over from Neil Critchley ahead of 2017/18.
Taking an obsessive approach to his new role, Gerrard's pre-season preparations have been long in the works, and his early plans culminated in Friday's clash at St George's Park.
Gerrard couldn't have asked for much better from his U18s, as they scored seven and kept a clean sheet against the Brewers' youngsters.
Liverpool were 5-0 up by half-time, with Adam Lewis' stoppage-time penalty wrapping up a dominant first 45 minutes, with two more goals coming by the 53rd minute.
As well as Lewis, Curtis Jones and Luis Longstaff both scored for Gerrard's side, while Liam Millar and Rafael Camacho grabbed braces in an impressive all-round showing.
While Conor Masterson, George Johnston, Liam Coyle and Yan Dhanda look to have made the step up to the U23s squad this summer, all featuring in Wednesday's 2-1 victory over Rhyl FC, Gerrard still has a strong group.
In Jones and Longstaff, the 37-year-old arguably has the next two breakout stars in the Liverpool academy, and their opening strikes will be hugely encouraging.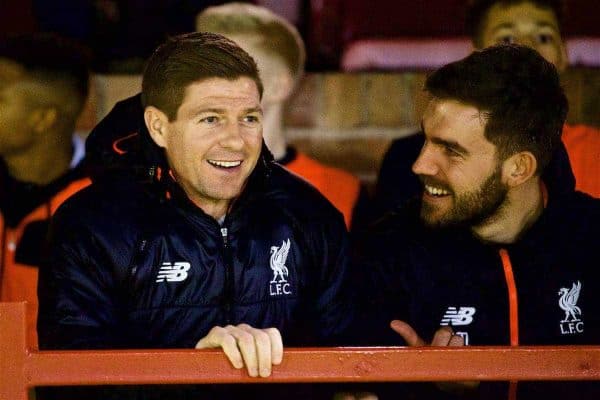 Speaking at the beginning of July, Gerrard revealed his anticipation for his first season as a full-time coach, having spent the final four months of 2016/17 operating in a fluid role.
"It's exciting. I'd been waiting for this all through the summer and had one eye on it while I've been having a bit of a break," he said.
"It's here now and I'm really excited about getting my teeth into it.
"Ninety-five percent of the planning was done at the back end of last year.
"I did a lot of planning with Alex [Inglethorpe], he's been a big help for me to get sorted for today.
"I feel ready, we're organised and I've got a fantastic staff around me. We just can't wait for the first game of the season now."
After victory in Staffordshire, Gerrard will now look to continue his side's positive pre-season in preparation for a successful 2017/18 campaign.