Liverpool signed Patrik Berger in the summer of 1996. Kevin Coleman looks back on the Czech's Anfield career.
The 1996/97 season was a particularly good one for the arrival of hairy-maned footballers onto English shores. Karel Poborsky arrived at Manchester United from Slavia Prague, hot after his famous lob against Portugal in Euro 1996. He demanded a hefty fee at the time – £3,500,000 – in return for a season and a half of action. His impact at Old Trafford was softened with the rise of the more fashionably-maned winger David Beckham.
Gianfranco Zola joined Chelsea from Parma in November of that year, the Italian having the most lasting impact on English football. He spent seven seasons at Stamford Bridge, a popular figure amongst Chelsea fans and neutrals alike for his diminutive stature and flurrying runs through unsuspecting defences, his goalscoring prowess and that flick against Norwich. Nobody would have expected the dynamic Italian to venture into managerial work – hot-seating at West Ham, Watford and most recently at Birmingham City.
And then there was Patrik Berger. A 23-year-old from the Czech Republic, he moved to Anfield after a year in a Bundesliga-winning Borrusia Dortmund side.
Like his compatriot Karel, Berger caught the eye during Euro 1996 – putting the Czechs into the lead in the final against Germany, before ultimately losing 2-1 after extra time. Also on that team was a certain Pavel Nedved who secured a move to Lazio the summer.
But unlike Karel, Berger's impact was much more long-lasting in English football – spending seven seasons on Merseyside, winning an FA Cup and UEFA Cup, but in a spell that was ultimately ravaged with knee injuries and missed playing time.
For Liverpool fans, Berger represented a foreign appeal they hadn't quite experienced before. Used to a primarily vanilla taste of British and Irish stalwarts, with a sprinkling of Scandinavian doggedness, Berger was very much a new and exotic arrival. Those who had watched Euro 1996 beyond England's demise would have been familiar with Berger; they would have seen him score in the final, his hair flapping behind him as he tornado-ed up the wings.
Now he would be swaggering around Anfield as they imagined a Czech playmaker would do, with a sort of mysterious class they'd only seen on TV. In reality, it was Berger who was more at awe of his transfer to Liverpool than anyone else.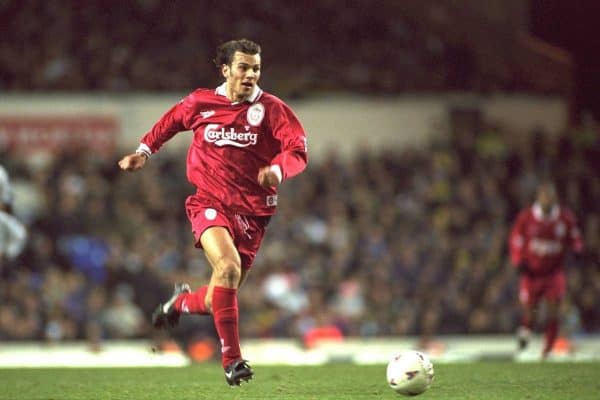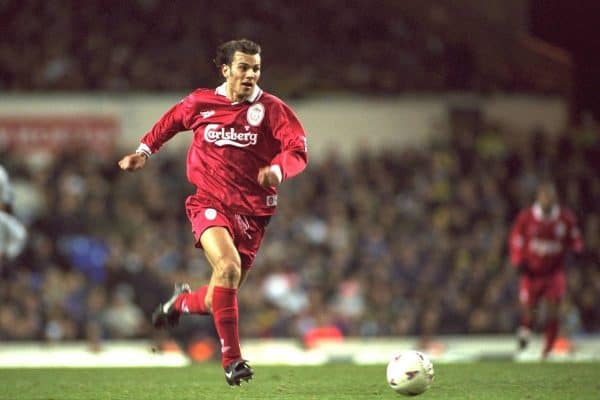 Speaking to the Sunday Times, Berger said of his signing:
"You know, the greatest day in my football life was the day I signed for Liverpool. I couldn't believe it. When I was young in Czechoslovakia, we didn't see much European football, but my father's friend went to England and he watched Liverpool. When he came back, he gave me the programme, the ticket and a scarf. I still have them all."
Berger was immersed in the club immediately, sharing morning neighbour nods to club legends such as Kenny Dalglish and Alan Hansen.
"When I moved to Southport to live, my neighbour was Kenny Dalglish. Alan Hansen lived around the corner. I met them, they were normal guys, but they were my heroes. To me, it's the best club in the world and when I am finished playing and I'm telling my children about it I will be proud to say that for seven years I was a Liverpool player."
To say Berger's arrival was highly anticipated would be an understatement. Not many players can claim to attract 10,000 fans to the Kop for a reserve game, but the Czech can. He debuted against Nottingham Forest in a game that's difficult to find much information on, bar a few eye-witnesses that talk about it to this day, 21 years later.
I remember going to see Paddy play his first game against Nottingham Forest reserves. There must have been 10,000 in the Kop to see him.

— Peter Simpson (@PeterSimmoYNWA) August 2, 2017
His full debut was just as special. A half-time substitute in a drab scoreless game against Leicester, Berger was sprung from the bench. Ten minutes later, he found himself in acres of space at the left side of the box, played in neatly by Steve McManaman.
One touch and bang – he buried it in the opposite side of the net, right in front of the Kop. The stuff dreams were made of, a hero was born. Moments later Michael Thomas doubled the Reds, before Berger struck again. Two goals and a 3-0 away win, all within 45 minutes of a truly magical debut. Amazing.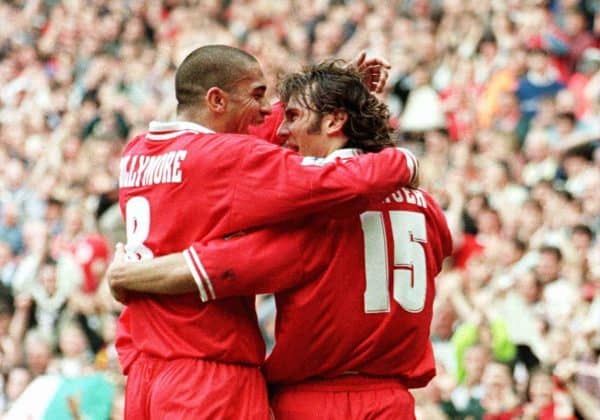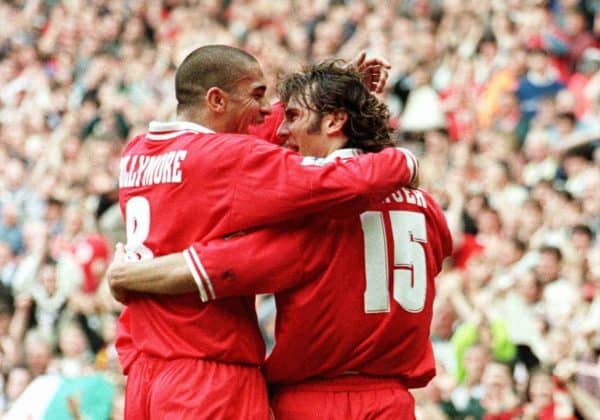 A few days later, Berger scored another brace – this time in a 5-1 drubbing of Chelsea.
He only went on to score five more goals that season, but each was as emphatic as the last. And as his career went on, his penchant for stunning goals became a trademark of Berger; none more so than at Anfield in March 2000 against Manchester United.
Berger sets himself 30 yards out. The retro green jerseys, with white and navy slash going diagonally across the front, strike a truly nostalgic blast from the past. He lines up and buries a rocket past Edwin van der Gouw, to the bottom right-hand corner of the goal.
A goal against Manchester United will always go down in Liverpool folklore – see Andrew Dossena and Fabio Aurelio to name but a few – but few should be adored as much as Berger's banger. A better result that day – it was a 1-1 draw – and the free-kick would be on LFCTV highlight reels to this day.
A breakdown with Roy Evans affected Berger's second season on Merseyside, falling in and out of the starting eleven due to Evans' dissatisfaction with Berger's workrate.
The arrival of Gerard Houllier revived Berger's career, however, and he scored nine goals in the 1999-20 campaign and played his best football to date – showcasing his powerful, surging runs down the wings and cannon efforts from outside the box. Steven Gerrard once said of Berger that he was the "best left-footed striker of a ball I have seen".
A horrific knee injury in the first half of the 2000-01 campaign saw Berger miss a lot of game time, including the successful League Cup campaign, but he did return to be part of the FA Cup success – including playing the absolutely delicious through ball from inside his own half to set Michael Owen through on goal and equalize the game at 1-1 – as well as the UEFA Cup final, coming off the bench late into the second half and helping the side over the line in extra time.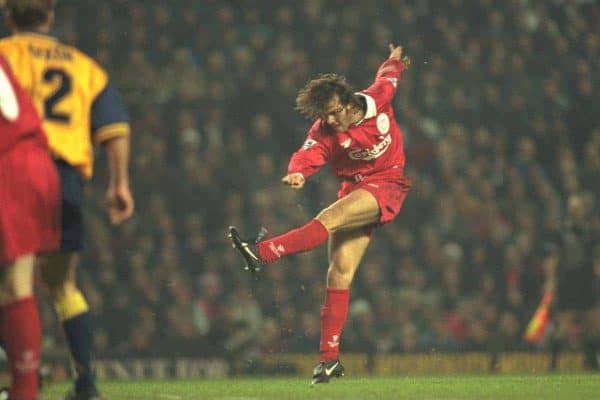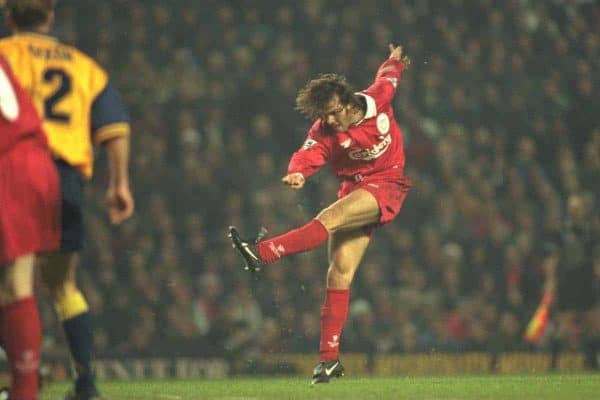 However, the knee injury he suffered would come back to haunt him, blighting the following two seasons before Liverpool finally made the decision to let his contract expire. It was a sad conclusion to a career that got off to such a blistering start, but a time I'm sure he looks back fondly. More luck with injuries and Berger would have spent many more years at Anfield, such was his quality and class.
Nowadays thanks to the phenomenon of social media, you can follow Berger's exploits as he tends to a round of golf or a get-together with old teammates. His fondness for Liverpool is still there as a retired fan – attending recent pre-season events in Australia and Germany, his seven years at the club embedding him as a true ambassador for the club.
You can still see the wide-eyed delight in his eyes, which scored on his debut, scored against Manchester United, and lifted silverware.
Ultimately, looking back, his time at Liverpool may seem unfulfilled. But he filled it with memories not to be forgotten – the hairy-maned boy from Czech Republic, we certainly signed the right one.
* Kevin Coleman is the editor of Back Page Football and new Irish Sports website, The Con.