Liverpool now have a run of four away games in 13 days, and Jurgen Klopp will have to rotate his starting eleven during this fortnight.
From a total of eight games and 720 minutes worth of action in the Premier League and Champions League, only Joel Matip has played the full amount, with only three other players — Roberto Firmino (661), Mohamed Salah (609), and Jordan Henderson (603) — playing more than 600 minutes.
At the start of this season the club have shown that their like-for-like strength in depth is stronger than in previous seasons – except, of course, in the centre back position which remains troublesome. Although it could be said that the options at left centre back are very much like for like, but not in a good way.
Jurgen Klopp made seven changes for the game against Burnley, just as he did against Crystal Palace in August, and arguably these changes improved the side.
Emre Can is a more natural fit in the deep-lying midfield position than Jordan Henderson, and this change allowed Philippe Coutinho to play in one of the more advanced midfield roles which added more creativity in the centre.
The Brazilian was impressive with his passing and link up play, but his final pass or shot was still very rusty.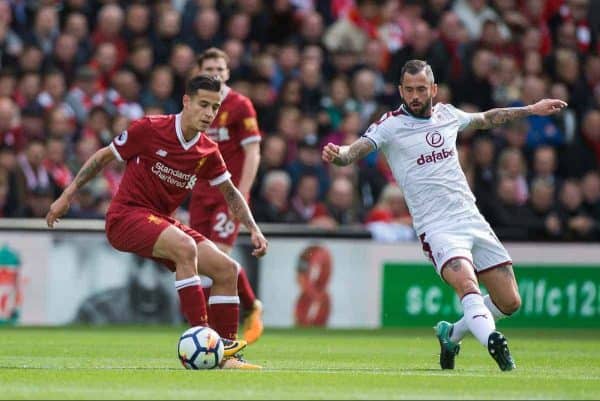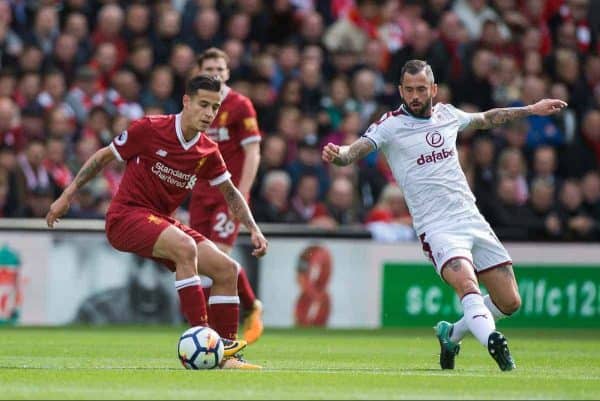 NEXT 4 GAMES:
Leicester (away) – Tuesday, League Cup
Leicester (away) – Saturday, League
Spartak Moscow (away) – Tuesday, Champions League
Newcastle (away) – Sunday, League
James Milner looks slightly better in the centre of the park than he has done in recent seasons, and even though he still isn't the answer to any problems in this area, his extra experience at full back seems to have encouraged him to cover defensively where other players might not.
The manager was reluctant to use or trust players in his squad so much last season, but this time around he has a lot of options, despite Salah being the only real improvement to the starting eleven.
The team had 35 shots against Burnley and some of their buildup play was very good, but they struggled to convert chances – something that the rotation wasn't to blame.
Who comes in?
If Dominic Solanke is to get a start, it might make sense to have him up top with a partner. Salah looks like he could be a good foil for a bigger striker, and some of his movement off the shoulder of defenders when he drifts in from his current wide area suggests he could thrive in a more central role.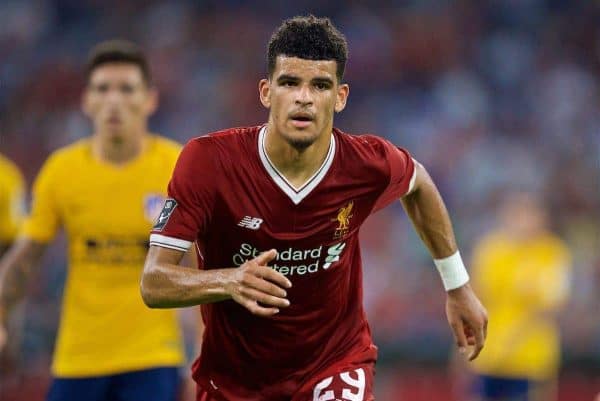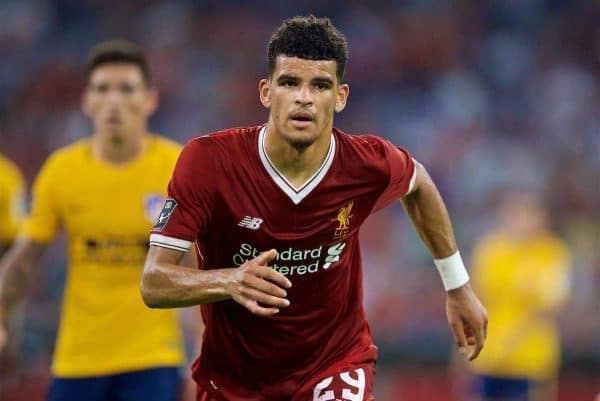 But given that the Egyptian has played more minutes than most so far this season, the best option to give Solanke his start against Leicester in the League Cup would be to pair him with Daniel Sturridge, who has only appeared sporadically so far this season.
Solanke is similar to Firmino in that he could play a number of attacking roles either leading the line or supporting from midfield, but a dual threat of him and Sturridge up top might be the best option.
With Sadio Mane suspended and Salah likely to be rested, the team will be lacking in wide areas, so the best solution to all of this would be to play a 4-4-2 diamond.
Alex Oxlade-Chamberlain will surely get his first start on Tuesday night, in the midfield if it is indeed a diamond, or in one of wide areas in the front three it Klopp keeps with 4-3-3.
An exciting move would be giving Ben Woodburn a start. The Welsh wonderkid played as a No 10 for Steven Gerrard's under-19 side in the UEFA Youth League against Sevilla, so could be ideal for the role.
The Reds' Under-23s are in action on Monday night, so Woodburn's inclusion or not there will tell us whether he's in Klopp's squad for Tuesday.
Marko Grujic should come into the side in midfield, and he's a player who will be looking to push on and challenge for a spot in the first team, especially as he will have seen some of the below par performances from Georginio Wijnaldum so far this season.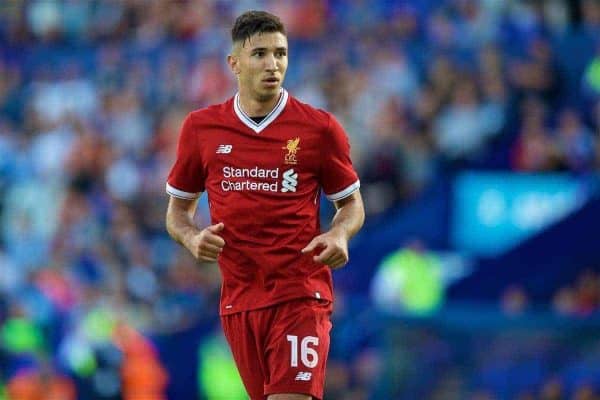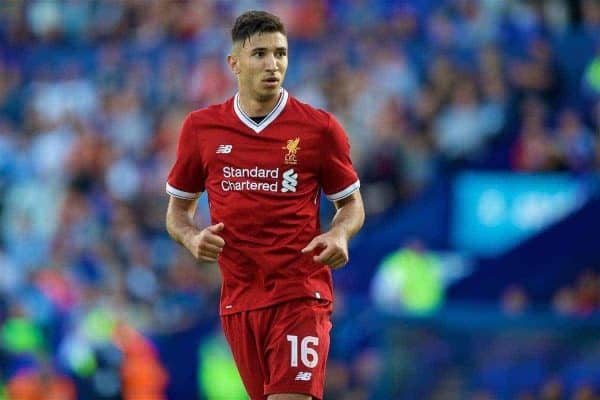 The alternative would be to stick with the 4-3-3 and introduce Harry Wilson or Lazar Markovic on the wings. It might be an exciting proposition to see two players who are yet to feature prominently under Klopp, and a good performance from one of them could help to solve problems which could arise later in the season if one or both of Mane and Salah are out of the side for any length of time.
At the back?!
With Matip having played every minute so far, he will need resting at some point and the League Cup seems the only logical place for that to happen.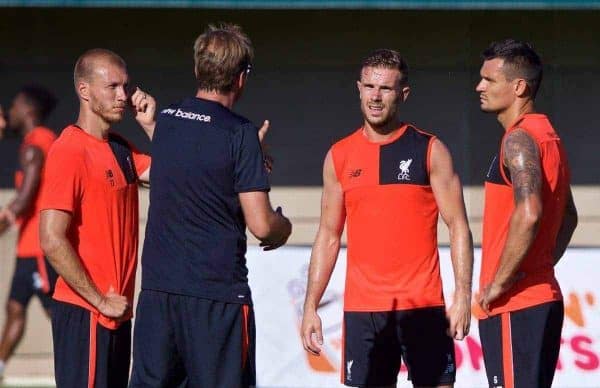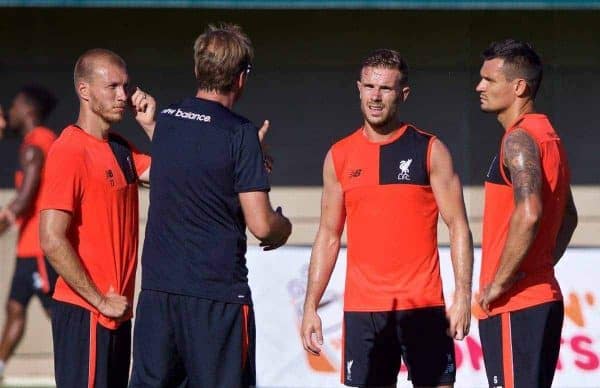 That almost certainly means a centre-back pairing of Klavan and Lovren.
Joe Gomez could start there, but he'll be needed on Saturday at right-back as Trent Alexander-Arnold will have to start in Moscow next Tuesday due to Gomez's suspension. Klopp has explained, rightly, how it isn't wise to play either of them in consecutive games in the same week.
At left-back, it would be nice to see Andrew Robertson continue for the League Cup game, with Alberto Moreno then back in for the League game at Leicester.
Balancing act
With more time between the games in Moscow and Newcastle (Tuesday – Sunday), Klopp could play strong sides in each of those, but it would be a big ask to play a similar XI in the Leicester league game and those two, so changes will be required somewhere.
Whether all the changes required can produce fully functioning units within the chosen system remains to be seen. There was evidence against Burnley that new players can come into the side and perform, but the system may require some extra tweaking to get the best from them.
After these four away days, it's an international break, with the first game back being at home to Man United. This run over the next fortnight will define how we feel going into that one.