Jurgen Klopp has explained why Alex Oxlade-Chamberlain is only being used as a winger for Liverpool, despite his preference to play in midfield.
The England international has featured in eight matches since his £35 million arrival from Arsenal but has made only one start, failing to impress in the Carabao Cup exit at Leicester.
However, he enjoyed an encouraging late cameo from the bench against Man United at the weekend and that could be enough to get him a place in the team against Maribor.
"I don't know about the lineup today. He is my mind…if it is about a start you will see tomorrow," said Klopp.
"Since Alex came in he has been twice with the national team, there have been a lot of games with no training and so his start has been interrupted.
"He is a big signing for us, obviously, but a fast player like him needs the circumstances to perform so he needed time.
"So far it has been okay but not what we know he is able to do. "But then Saturday 'Bang!'. Comes on, uses his speed, really spot on, it was a very nice sign. I loved to see it.
"I was not only happy about his offensive situation a lot [against United] I also liked the way he reacted after we lost the ball, little things.
"I cannot say how happy I was to see Chambo playing like this.
"I said he needed a little bit of time and my most positive thing was that finally he has arrived, but it always takes time. I really loved the performance when he came on."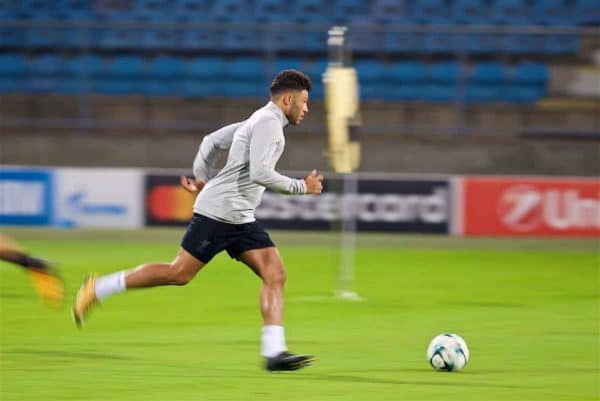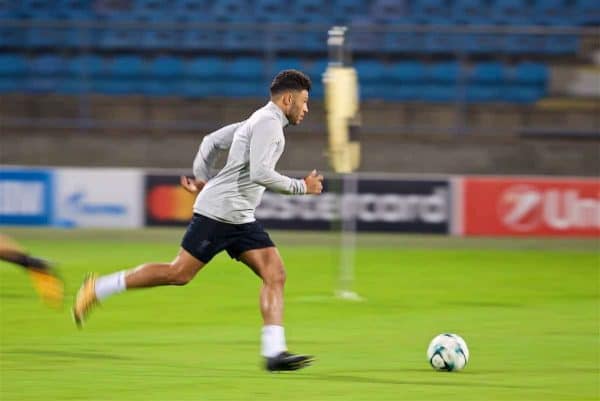 Klopp has suggested Oxlade-Chamberlain could fill one of three positions for his side but in order to help him bed in will only utilise him out wide for the time being.
That may help the player and the team, who have a void to fill with forward Sadio Mane out for six weeks with a hamstring injury.
"At the moment it is more the wing than the No. 8," added the Reds boss.
"At the moment it is clear but I know it is a long-term thing and so without training and playing in the middle of the park it doesn't make sense.
"For now it makes more sense to pick him in the more offensive positions—but it is not fixed for the next five years.
"Obviously it is a different style to Arsenal and a different role to the wing-back role he played in his last games for Arsenal.
"Then he plays for England and they all come back from their national teams not confused, but with different plans. That is not too simple.
"I would say there has been no consistency until now. We let him run so far, let him do what he is naturally good at, and it will take time but it's all good.
"He is obviously powerful and that is what we need."