Jurgen Klopp will be battling against a poor record in both early kickoffs and post-international breaks when Liverpool take on Man United on Saturday.
Klopp's side host United at Anfield on Saturday lunchtime, with their 12.30pm kickoff coming directly after a busy international break that saw 25 players head off on duty.
The German's squad reconvened at Melwood just two days before their clash with Jose Mourinho's second-placed outfit.
United are yet to lose in the Premier League this season, and are level on points with league leaders Man City, having scored one fewer goal, with both sides conceding just twice so far.
With Liverpool have won just once in their last seven games in all competitions, this sets up a fierce contest for the Reds.
And Klopp will be looking to turn around a poor record in both early kickoffs and in games directly after the international break since his arrival on Merseyside in 2015.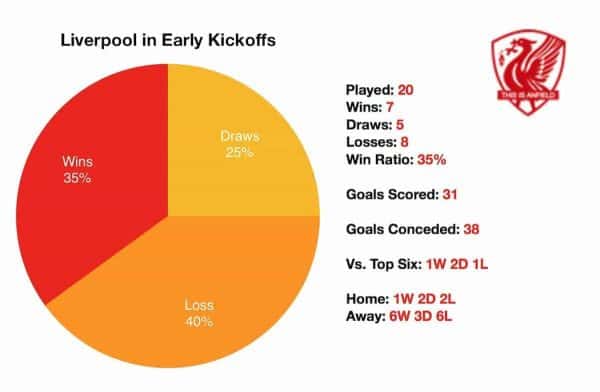 In his 20 games (all competitions) in charge that have kicked off either on or before 1.30pm, Klopp has overseen seven wins, draws and eight defeats, at a win ratio of just 35 percent.
At home, this has resulted in one win, two draws and two losses, while away Klopp's record is six wins, three draws and six losses.
Against the rest of the top-six sides in the English top flight—United, City, Chelsea, Tottenham and Arsenal—Liverpool have mustered one win, two draws and one defeat in early kickoffs.
Most recently that came away to City in September, when Sadio Mane's first-half red card preluded a 5-0 mauling at the Etihad Stadium.
The hope is that Liverpool can avoid a similar display against their bitter rivals on Saturday.
And Klopp can cling to the fact that his side have lost just once to a top-six side directly after an international break.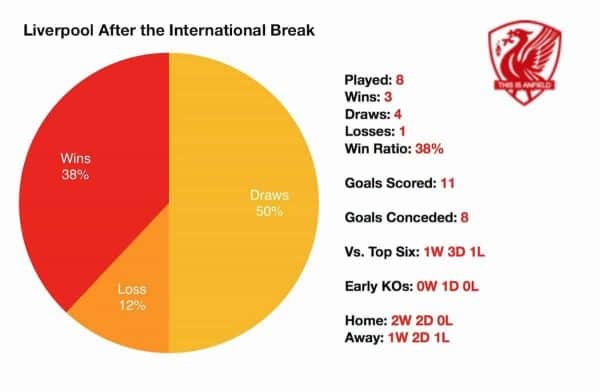 He has overseen eight games on his squad's return from duty with their national teams, of which there were three wins, four draws and one loss, that being the defeat to City this year.
Liverpool have won just 37.5 percent of their games after such a break, but this improves at home, where they have won two of their four games and not lost one, for a win ratio of 50 percent.
Saturday's clash with United comes just under a year after taking on Mourinho's side at Anfield last season, again directly after the October interval.
That saw United hold their in-form opponents to a 0-0 draw, with Klopp left frustrated as his side "lost patience" against a low block.
"We tried everything, only with the wrong tools tonight," he said. "We could have played, we have played better."
Liverpool won five and drew five of their 10 games against United, City, Chelsea, Arsenal and Spurs last season, but this season their record stands at one win and one loss.
The visit of United gives Klopp's side a chance to improve their record, address their poor form and, ultimately, their early-kickoff, post-international hoodoo.
---
Liverpool's Early Kick-Offs Under Klopp
2015/16
Spurs 0-0 draw
Chelsea 3-1 win
Watford 3-0 loss
West Ham 2-0 loss
Norwich 5-4 win
Palace 2-1 win
Southampton 3-2 loss
Bournemouth 2-1 win
Swansea 3-1 loss
2016/17
Spurs 1-1 draw
Swansea 2-1 win
Bournemouth 4-3 loss
Plymouth 0-0 draw
Swansea 3-2 loss
Wolves 2-1 loss
Everton 3-1 win
West Brom 1-0 win
Southampton 0-0 draw
2017/18
Watford 3-3 draw
City 5-0 loss