The media slated Dejan Lovren's performance and Jurgen Klopp for continually failing to improve Liverpool defensively after the 4-1 loss at Tottenham.
Klopp's side suffered a second humiliating league loss of the season as a woeful defensive display condemned the Reds to an embarrassing day at Wembley.
Two horror errors from Lovren gifted Spurs a two-goal lead through Harry Kane and Son Heung-min, which Mohamed Salah reduced when he raced clear and finished to give Liverpool hope.
Faith was short lived though as Dele Alli punished Joel Matp's terrible header to restore Spurs' two-goal cushion, before Kane grabbed his second after the break to compound a miserable day.
It was a dire afternoon for Klopp's side who paid the price for some woeful individual errors at the back, and here's what the media made of it.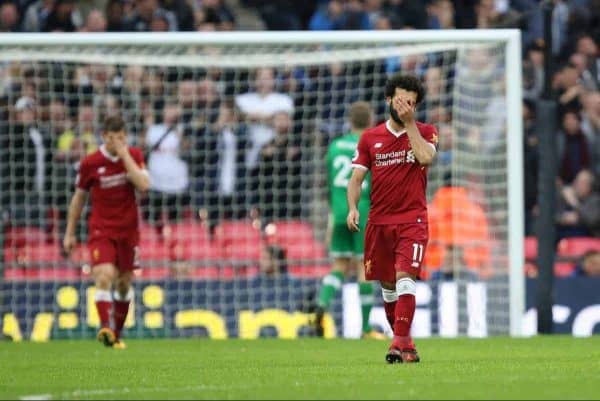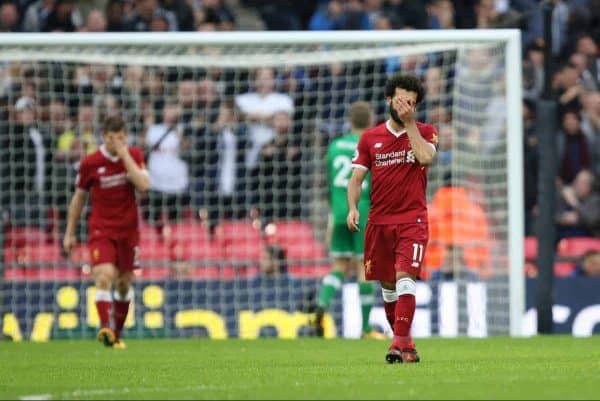 First of all, reporters reflected on a dreadful and damaging afternoon for Liverpool and discussed what it means Klopp's side.
The Liverpool Echo's James Pearce labelled the display "spineless", and unlike at Man City, felt there were no excuses for such a performance:
But this embarrassment at the hands of Mauricio Pochettino's Tottenham cuts much deeper. There were no excuses for such a spineless and insipid team performance.
The Independent's Miguel Delaney assessed Spurs' showing as the type Klopp is meant to be producing:
The most galling aspect for Liverpool was that this was what Klopp was supposed to be doing for them, what he was supposed to be producing, and on double the budget.
Independent colleague Samuel Lovett thought the game showed why Liverpool will not compete for trophies any time soon:
This was just another reminder that, until Klopp fixes his backline, Liverpool stand no chance of effectively challenging for silverware both on the domestic and European level.
Certain journalists offered thoughts on the key differences behind the contrasting fortunes of both teams at Wembley and in the Premier League campaign so far.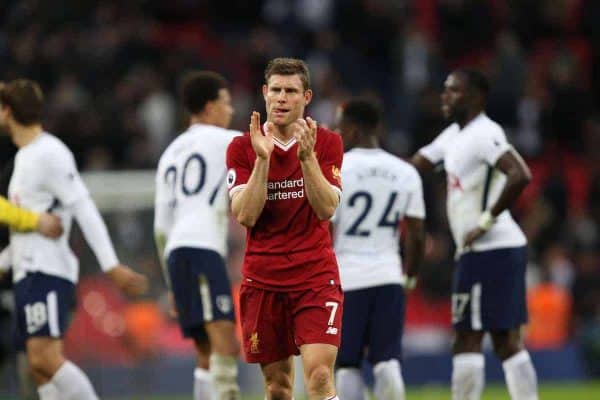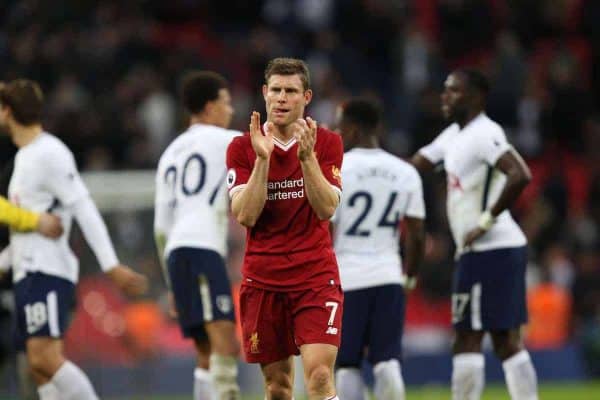 The Guardian's Amy Lawrence assessed a big difference in the basic "structure and organisation" of the sides:
Tottenham's solid structure and sense of team organisation is something Liverpool sorely lacked.
The Echo's Kristian Walsh criticised the Reds' lack of game management in contrast to Spurs' to stay in the contest:
The lack of it from Jurgen Klopp's side has been a criticism, but never was it so blatant as it was at Wembley.

[…]

That applies when holding on to a lead, but it is sage advice when clinging on to a losing situation, too.
ESPN's Mark Ogden thinks the main difference between the clubs comes down to success in building a quality squad:
Spurs have realised that they can only beat the rich and powerful by being smart in terms of player development and recruitment, at the same time as allowing Pochettino to mould a bright, young team on the pitch.

[…]

There is a way to be successful and vibrant, and it doesn't have to cost millions and millions. It just requires smart heads in the boardroom, long-term thinking and a coach bold enough to give the kids a chance. Right now, Liverpool do not tick enough of those boxes.
Meanwhile, Richard Jolly, for Yahoo Sport, believes Liverpool have lost big-game know-how:
They completed last season unbeaten against the elite, taking 26 points from a possible 36 against the rest of the top seven.

[…]

Liverpool can no longer excuse their slip-ups against the rest by arguing they raise their game against the best.
Match reports almost exclusively focussed on another inept defensive showing, with reporters discussing whether the problems are down to structural issues or inadequate personnel.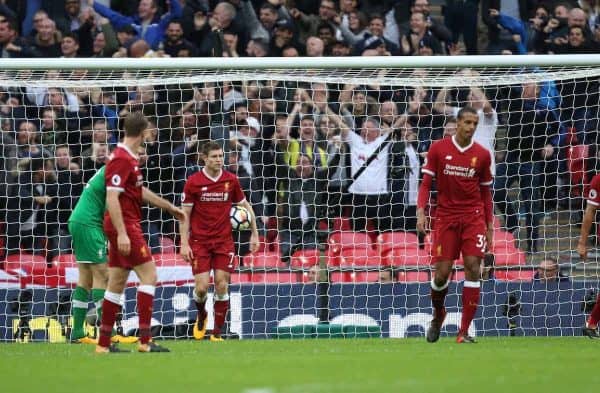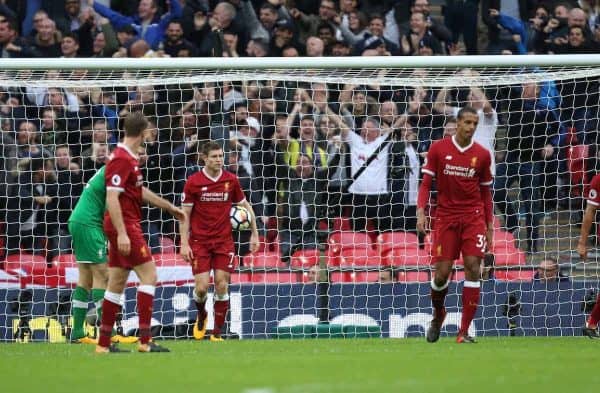 The Guardian's Barney Ronay slammed the performance as "one of the worst the Premier League will see":
And for half an hour here Liverpool provided something similar as Jürgen Klopp's team produced collectively one of the worst displays of elite-club defending the Premier League will see this season; and individually a candidate for worst half-hour on the pitch in recent memory.
Melissa Reddy, writing for Goal.com, bemoaned how Spurs barely had to work for victory:
Spurs didn't have to do too much to get so much out of this encounter, and that is damning for Liverpool.
The Telegraph's Simon Hayward feels Liverpool simply lack the desire to defend:
The back of this team is not focused on stopping threats. It lacks the fierce urge to protect its net.
The Guardian's Jonathan Wilson noted how the Reds collapsed under the first pressure put under in recent games:
Klopp had spoken then of his delight at how his side had countered the counter, but every time Tottenham won the ball back they looked like creating a chance.

What Liverpool had been countering, it seems, was the Mourinho mirage of a counter, a threat that existed more in theory than in actuality. Faced with the real thing, yet again, Liverpool crumbled.
Pearce believes the personnel in defence is the biggest problem:
It's not about systems, it's not about defenders being left exposed by the manager's bold style, it's about personnel. The reality is Liverpool's backline lacks both quality and leadership.
But Ronay feels the issues are down to structure as much as personnel:
And yet to see this as simply a Lovren story, as Klopp has in the past, complaining that the problems with his defence are not structural, but a matter of individuals making bad decisions, would be misleading.

Liverpool are well capable of conceding weak goals without Lovren, as they did here for the fourth and as they did while shipping five at Manchester City last month.
Ronay also apportioned blame to the Reds' midfield:
Lovren has looked and felt exposed at Liverpool ever since he got there, playing often in front of a midfield that leaves large, open green spaces.

Emre Can and Jordan Henderson have an unfortunate case of shared weaknesses. Neither is quick to the ball, as Premier League central midfielders must be.
Neither has the will or the discipline to sit deep. Even a world-class centre-half would be exposed behind them.
Numerous reporters pointed the finger at Klopp for failing to improve defensive issues by being too trusting in underperformers and inexcusably passing up the chance sign better defenders in the summer.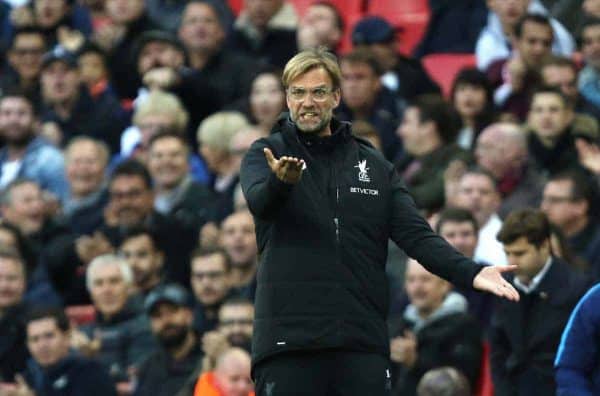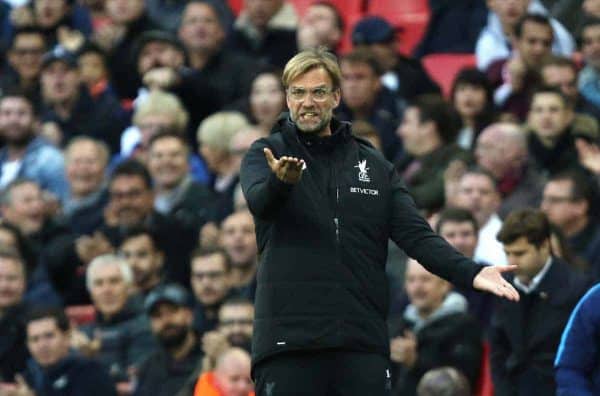 While some assessed there is little Klopp can do about individual errors, ESPN's Dave Usher put it down to the boss' that they are being made:
This loss has Klopp's fingerprints all over it. Yes, it was individual mistakes that cost Liverpool rather than any specific tactical issue but these are players who Klopp has continued to show faith in through numerous unacceptable performances.

[…]

The goals against column this season is completely embarrassing and the buck stops with the manager.
Ogden criticised the lack of progress Klopp has made in stabilising the defence in two years:
Klopp has now had two years at Anfield and the team are defending no better than they did in the final days of Brendan Rodgers. It is a recurring problem that they can't keep the ball out of the net and look no closer to sorting it out.
Reddy noted Klopp's misplaced trust in consistent underperformers and questioned how better defensive options could not be found:
That misplaced conviction will certainly have been tested against Spurs, with Liverpool embarrassingly bankrupt at the back.

[…]

Having now let in more than they've scored in the league, and based on this evidence, it will be harder to find more inferior defensive options at elite level than those Klopp felt were good enough to continue the club's regeneration.
Pearce dismissed Klopp's suggestion there was no better defenders available, and believes sporting director Michael Edwards has questions to answer if that was genuinely the case:
Pressed on the subject recently, Klopp was adamant there was no-one else available who would have been an upgrade on what he already had.

But if that's the case then you have to ask serious questions about the options put in front of him by sporting director Michael Edwards and the club's recruitment staff.
Delaney believes Liverpool are now regressing due to failing to address weaknesses:
It's instead impossible not to conclude that they have taken a fair few backward steps, largely because of the inexplicable inability to not really confront – let alone try and fix – the problems at the heart of this side.
As expected, Lovren was heavily criticised in almost every match report after his dismal display, with journalists discussing whether the Croatian's Anfield career is now be over.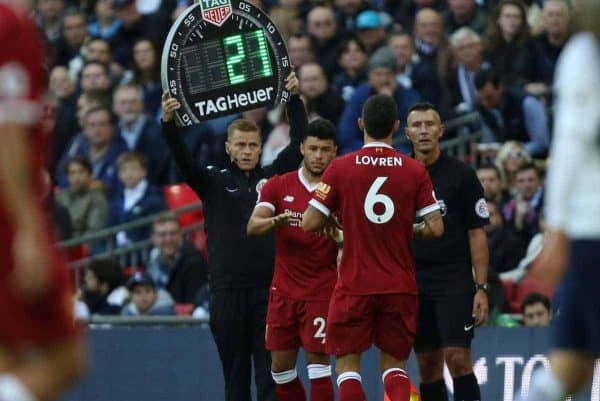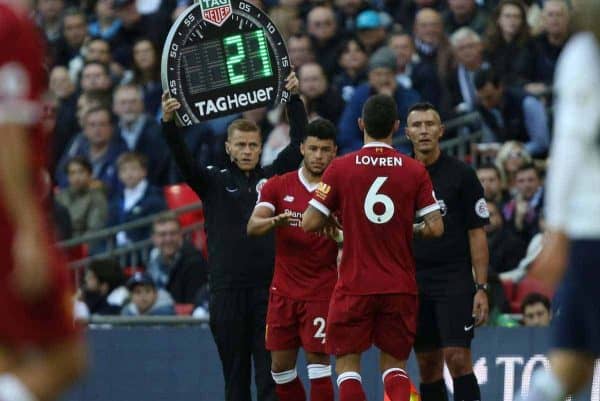 Ronay pondered whether there's ever been a worse performance in the Premier League:
And make no mistake, this was a horrendous half-hour from Lovren, who appeared at times to have completely forgotten he was actually playing in a football match, startled to find himself in the middle of all that green, so many faces in the crowd.

[…]

Has there been a worse half-hour from an international standard Premier League player?
Usher feels Lovren can have no complaints if he never plays for Liverpool again:
Dejan Lovren's performance was so far from being acceptable that the Croatia international could have no complaints if he didn't play for the club again.

Allowing Harry Kane to get in behind him once was bad, but to do it again soon after was criminal.
Daniel Storey for Football365 questioned whether there's a way back for Lovren:
You can understand why Klopp wanted to make a change, and it is not his responsibility to play nice with under-performing players, but you do have to wonder about the lasting damage to Lovren's confidence.

He cannot start Lovren in Liverpool's next game after such a calamitous performance, and yet there is only Ragnar Klavan and Gomez to replace him.
Finally, and summing up the defensive shambles, the BBC's Matt Davis thought Simon Mignolet and Joel Matip were as bad:
Lovren will be singled out for his errors, but even after his substitution and Joe Gomez moved to centre-back alongside Joel Matip, Liverpool still looked a shambles.

Mignolet is another who will have nightmares about the game, at fault for both of Kane's goals.