Beautifully annoying. How very Liverpool of us. The Reds have reached the final Champions League group game, yet still only beaten Maribor.
Two wins against Maribor and three careless draws has left us with work to do against Spartak Moscow.
If they come to Anfield and win, then we'll be joining Arsenal in the Europa League.
Not an appetising prospect.
We've attacked with verve throughout the Champions League group stages, but been all-too undone by questionable defending.
A fortnight from now will be the time to channel the frustration. Should Spartak score first, then we'll be entering 'scream if you want to go faster' territory.
We should still go through, and as group winners, yet it needn't have come to this.
The False Sense of Security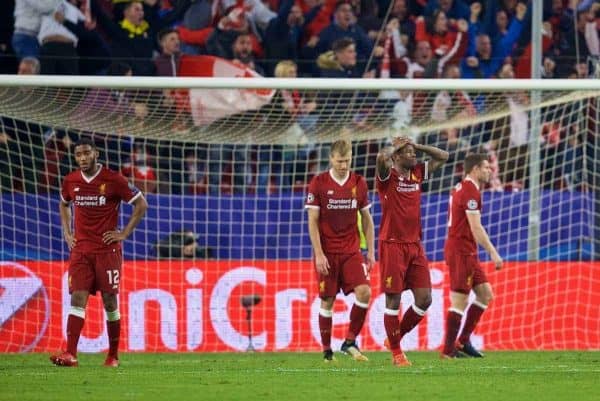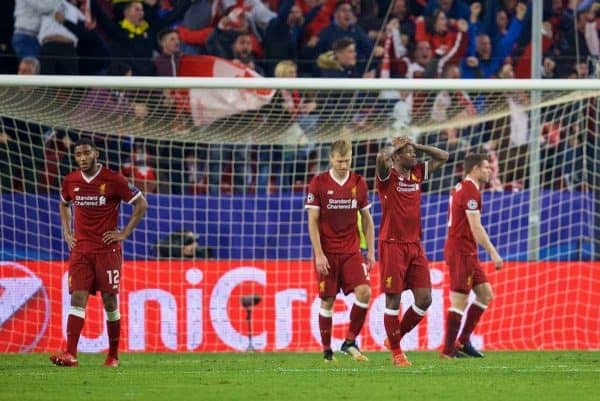 At the weekend, I proffered the opinion that Saturday's win against Southampton had the hidden dangers of propagating a false sense of security.
Many of us remain stunned that we've really only conceded one goal at home in the Premier League so far this season.
The concept sits at odds with so much of what we see.
Alberto Moreno has done much to claw his way back from the brink of an Anfield exit this season. This was a huge setback for him: badly culpable for Sevilla's first goal, and then gives away the penalty for 3-2.
A glimpse of the bad old Moreno. Now we get to see whether or not he can shake off what was a flashback performance. Moreno is still viewed by many with enough distrust that one false move can be a career-defining one in a Liverpool shirt.
Self-destructing against Sevilla, just as he did in the Europa League final 18 months ago, will have unpicked much of the good will which has been flowing his way of late.
Still, one of the questions to ask is, with so much attacking talent, do we really need full-backs that throw as much caution to the wind as Moreno does?
Rightly or wrongly, the calls for Andrew Robertson have already begun, when Robertson's case itself remains a mysterious one.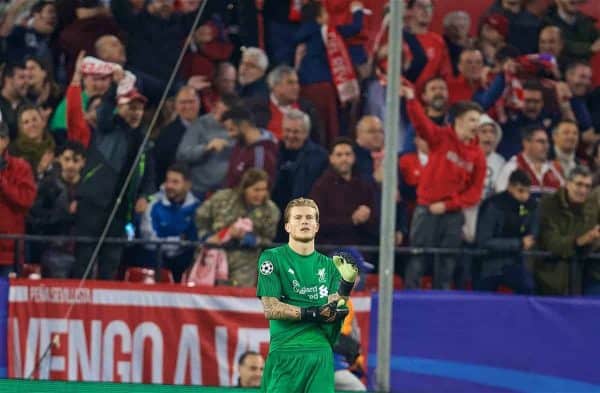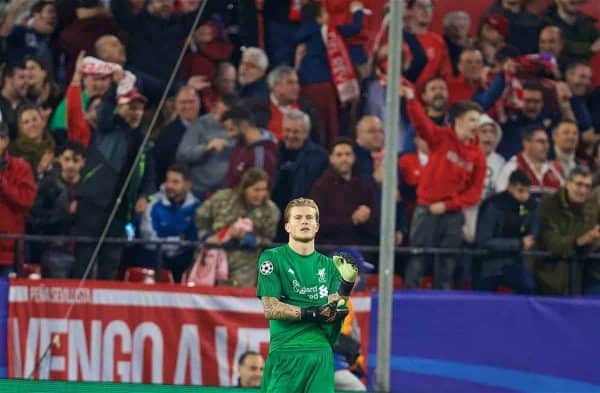 Ragnar Klavan, having done the basics very, very right in recent games, was guilty of failing to do the basics in the 93rd minute.
Emre Can could have been more switched on at that point too.
Sent on to help close out an increasingly fraught game the equaliser was painful, in both a systematic and sensory manner.
Loris Karius remains guilty by association, and a lack of deed, rather than misdeed. Not much he could do with the first and second Sevilla goals, but could have stopped the equaliser.
With Karius, it's that sense of him being too slow to get down, or him being rooted to the spot as he was in Moscow. A third of the goals he concedes feel entirely unnecessary.
We won't reach the business end of this competition if the Karius experiment continues into the knockout stages—should we get there in the first place.
Elsewhere, Jordan Henderson, resembling his old self on Saturday, was more polarising in Andalusia. Georginio Wijnaldum, imposing and dangerous during the first half, sank without a trace during the second half. He wasn't alone in that.
Upon his introduction, James Milner was James Milner.
George and Ringo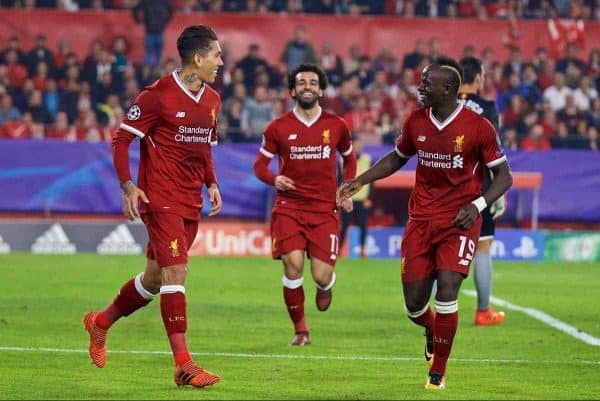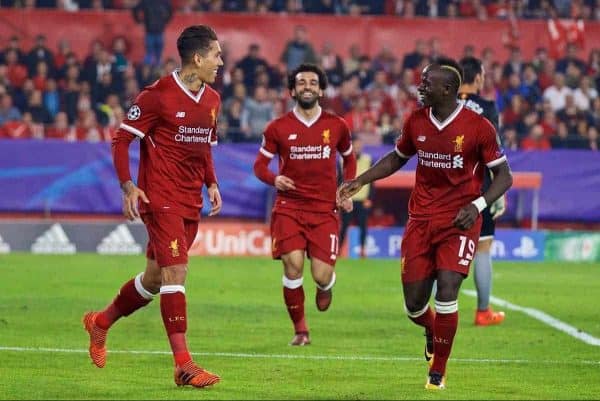 Roberto Firmino and Sadio Mane have largely played second fiddle to Mohamed Salah and Philippe Coutinho so far this season.
Their form has been sound, but their stars have not quite been as bright. They've been eclipsed to a degree.
Firmino and Mane have struck the image of George Harrison and Ringo Starr, to Salah and Coutinho's John Lennon and Paul McCartney.
It was great to see them so sharp in this one, and 30 minutes in this game was most definitely their well-deserved payday for the selfless performances they've put in, on the days when Salah has been the star attraction.
Maribor, Though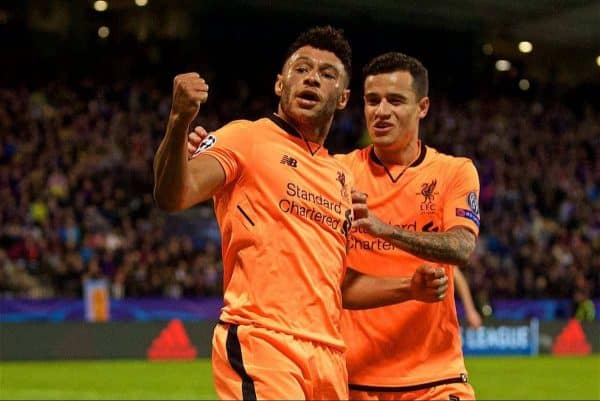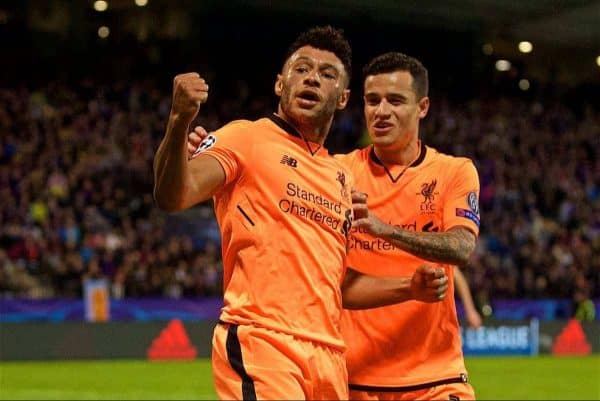 Despite some good football on the front foot, we've contrived to beat only Maribor during the group stages.
We haven't beaten a team of substance in the Champions League since we dismantled Real Madrid in 2009.
Maribor. Debrecen. Ludogorets. The. Sum. Total. Almost a decade since we had an open pass to the last four.
Navigate our way beyond Spartak, into the knockout stages, and that will be an anomaly which will need to change, should we harbour serious ambitions of drifting into the latter stages of the tournament.
The thing is that we possess players who are capable of such startlingly good football.
Reach the last 16, and a whole new competition starts.
Conversely, it's hard to feel we can travel deep into that competition, after seeing us go 3-0 up in 30 minutes only to find ourselves holding on for a draw when in the depths of injury time.
Beautifully Annoying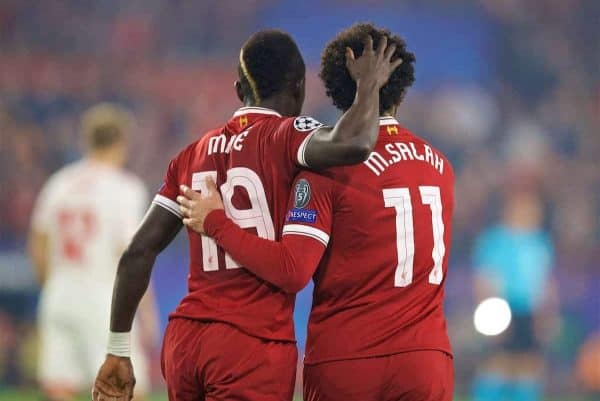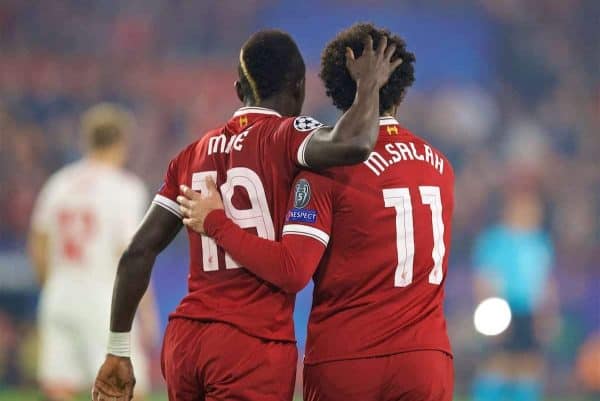 It was a very bad way to get a good result.
Statements about having been happy to take a point, before the game, have been uttered through gritted teeth.
You look at how we started, however, and it leaves you tearing your hair out.
Back to Domestic Issues on Saturday
Chelsea up next, before we head to Stoke City. Neither will be games for set-piece meltdowns and slow reactions.
Concentration will need to be high if we are to complete the month of November unbeaten.